Japan Says China's COVID Anal Swab Tests Cause Psychological Distress, Asks for Them to Stop
Japan is the latest country to speak out against China's use of anal coronavirus tests on foreigners entering the country.
Chief Cabinet Secretary Katsunobu Kato said at a press conference Monday the Japanese government has requested that Beijing stop giving the tests to its citizens who are arriving in China. He cited complaints of "psychological distress" brought on by the rectal exams.
Kato said officials contacted the Japanese Embassy in Beijing to request a testing reprieve. He confirmed that it is not known how many Japanese citizens had been given the tests.
Kato added that the use of the anal tests on people entering China "has not been confirmed anywhere else in the world." He said Beijing has not provided a response to Japan's request but added that he will continue to pressure China to take action.
Chinese Foreign Ministry spokesperson Wang Wenbin told reporters later Monday that China's pandemic response methods have been determined "in a scientific manner," taking into account expert recommendations, according to the South China Morning Post.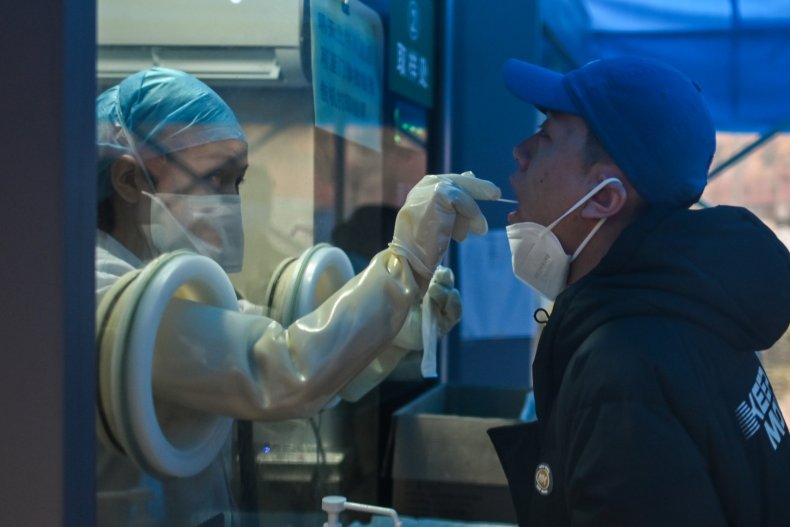 A number of Chinese scientists have endorsed the rectal swabs, saying they increase detectability of the virus and lower the chances of a missed or incorrect diagnosis.
"What we've found is that in some infected patients, the coronavirus survives for a longer period of time in their digestive tract or excrement than in their respiratory tract," said Beijing You'an Hospital's Li Tongzeng last month. Nasal and throat swabs are more convenient, but Chinese medical experts are still reviewing preliminary research on the increased efficacy of the anal tests.
The rectal swabbing method has already been in use in major cities in China, including Shanghai, but is usually reserved for individuals in virus hot spots. Health officials conducted millions of anal tests last month after the U.K. variant of the virus, which may be more deadly, broke out in key districts of the country.
Japan's reaction on Monday is another case of pressure by the international community to cease use of the anal tests, which have also been met with complaints by U.S. officials.
The Washington Post reported earlier this month that some U.S. personnel were reportedly given anal tests by Chinese authorities. A State Department spokesperson told the Post the department was assessing "all reasonable options" to protect the "dignity" of U.S. officials abroad, in accordance with the Vienna Convention on Diplomatic Relations.
A State Department spokesperson told Newsweek, "The State Department never agreed to this method of testing and protested directly to the [Ministry of Foreign Affairs] when we learned that some U.S. Mission personnel were subjected to it."
The spokesperson continued, "We have received assurances from [the Ministry of Foreign Affairs] that this testing was conducted in error and that diplomatic personnel are exempt from this requirement. Our guidance to diplomatic personnel remains the same as it has always been: to decline this test if it is asked of them."
Zhao Lijian, a spokesperson for the Chinese Ministry of Foreign Affairs, said on February 25 that "China has never asked U.S. diplomats stationed in China to have anal swab tests."
Newsweek reached out to the Chinese and Japanese embassies in Washington for comment on the use of the anal swabs but did not hear back before publication.
Newsweek, in partnership with NewsGuard, is dedicated to providing accurate and verifiable vaccine and health information. With NewsGuard's HealthGuard browser extension, users can verify if a website is a trustworthy source of health information. Visit the Newsweek VaxFacts website to learn more and to download the HealthGuard browser extension.