San Francisco Statue Honoring 'Comfort Women' Sex Slaves From World War II Infuriates Japan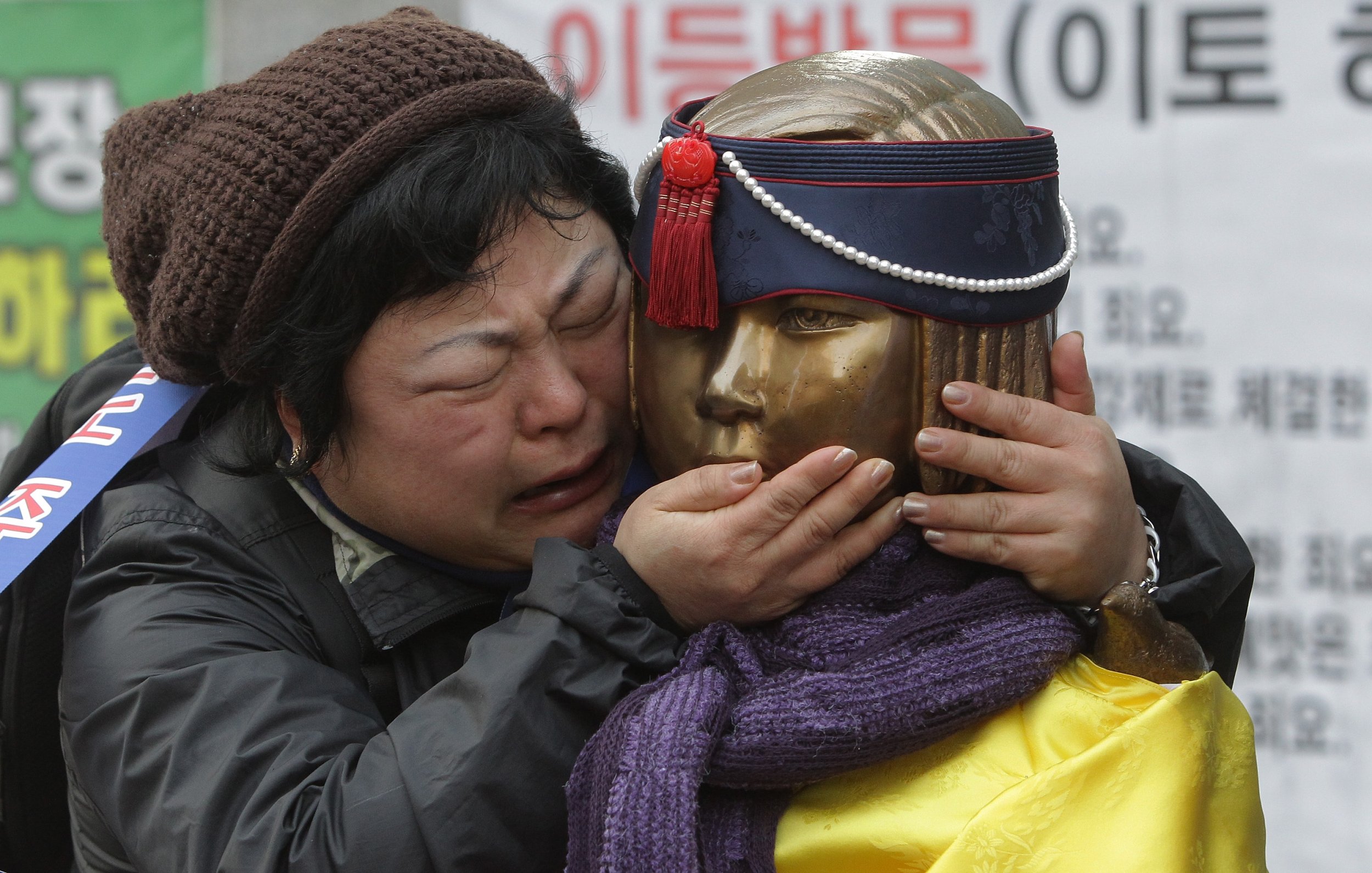 A statue in San Francisco honoring the so-called "comfort women" sex slaves from World War II has enraged officials in Japan, who say they're ready to cut ties with their sister city over it.
Osaka Mayor Hirofumi Yoshimura sent a letter to his California counterpart last month blasting the memorial to the women used by Japanese soldiers in the 1930s and '40s, according to the Japan Times.
Yoshimura said that if San Francisco Mayor Ed Lee doesn't "treat this issue with careful consideration," the sister cities may sever their relations after six decades. This was Yoshimura's second message so far about the memorial—the first, from September, disputed the accuracy of the comfort women history the statue promoted.
"There is disagreement among historians regarding historical facts such as the number of comfort women, the degree to which the former Japanese army was involved and the extent of the wartime harm," Yoshimura wrote previously.
The statue, which was unveiled last month, depicts a grandmother watching as three girls link hands. The first of its kind to be installed in a large U.S. city, it has a plaque explaining the monument "bears witness to the suffering of hundreds of thousands of women and girls euphemistically called 'comfort women'" who were enslaved by the Japanese Imperial Armed Forces in 13 countries before and after World War II, according to the Washington Post.
Awareness of the estimated 200,000 comfort women has grown in recent years as victims have become comfortable enough to speak out. In 1993, for example, then-chief cabinet secretary Yohei Kono apologized on behalf of the government, saying it was "an act, with the involvement of the military authorities of the day, that severely injured the honor and dignity of many women." In 2015, Japan agreed to pay about $8.3 million to the surviving South Korean comfort women, but victim advocates fought back—and have continued to do so, speaking up as recently as May.
Meanwhile Yoshimura, the Japanese government and even the Japanese consulate in San Francisco have opposed the erection of memorials honoring comfort women on the basis of historical accuracy.
Jun Yamada, San Francisco's Japan consul general, told NBC News last month the statues "perpetuate and fixate on certain one-sided interpretations without presenting credible evidence." Yamada said his issue was mostly with the memorial's inscription, which "obstinately singles out the Japanese case" and was "surely destined to be yet another addition to the existing quagmire surrounding 'controversial statues.'"
Regardless, comfort women statues are still popping up across the U.S. There are similar memorials in New Jersey, Virginia and Michigan, and one was installed in New York City on October 13.