Shinzo Abe Shot Despite Japan Having Incredibly Strict Gun Laws
The shooting of former Japanese prime minister Abe Shinzo has shocked his country, which has some of the strictest gun control laws in the world.
Current Prime Minister Fumio Kishida said Abe was in a "severe condition" following the incident during a campaign speech on Friday.
With a population of 127 million, the annual death toll from guns in Japan is frequently less than the number who might die in a single mass shooting in the U.S. In 2018 there were only nine firearm deaths in Japan according to GunPolicy.org, compared with more than 39,000 in the U.S. that year.
The low rates are the result of a number of factors, both cultural and legal. While the U.S. Constitution enshrines access to guns, Japan starts with the premise of forbidding it.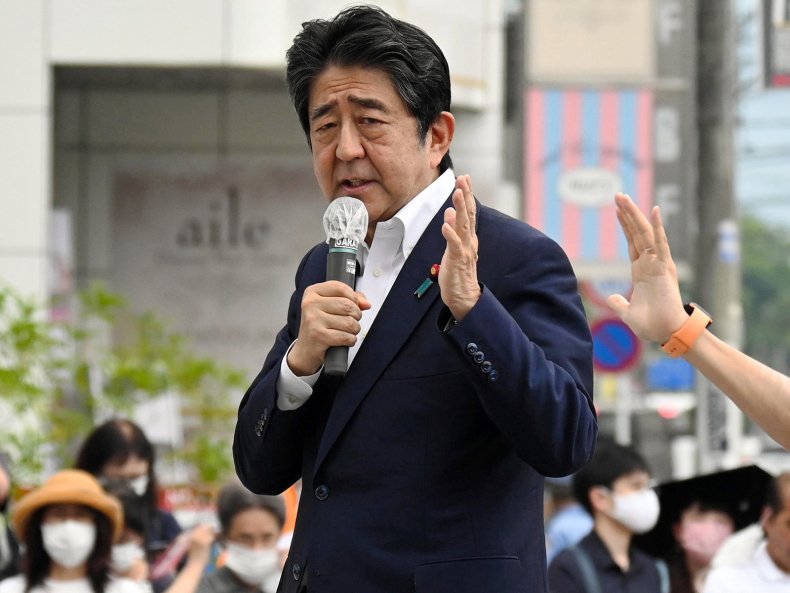 In 1958, it was written into Japanese law that "no person shall possess a firearm or firearms or a sword or swords,"—the opposite of the U.S. Second Amendment's affirmation of the "right of the people to keep and bear arms."
Handguns are forbidden, while small-caliber rifles have been illegal to buy, sell or transfer since 1971.
The only guns that Japanese citizens can legally buy and use are shotguns and air rifles. To do so involves negotiating a head spinning amount of red tape, requiring attendance at an all-day class, passing a written test and getting at least 95 percent accuracy during a shooting-range test.
This is followed by a mental-health evaluation at a hospital and a background check involving the examination of police records and interviewing friends and family. Every three years a class and an exam have to be retaken.
There can be no more than three gun shops in most of the country's 40 or so prefectures and new cartridges can only be bought after returning spent cartridges from a previous visit.
Iain Overton, executive director of Action on Armed Violence and the author of Gun Baby Gun told the BBC in 2017 that Japan was the first country to impose firearms laws which "laid down a bedrock saying that guns really don't play a part in civilian society."
Police in Japan did not carry firearms themselves until 1946, when ordered to by the American occupation authority.
Japanese police get more hours of firearms training than their American counterparts, according to an authoritative study published in the 1993 Asia Pacific Law Review, which said weapons training dovetails with martial arts practice. They are also forbidden from carrying the weapons while off duty and even the infamous "yakuza" criminal organizations forego the use of guns.
The study—which described Japan's gun laws as "the most stringent in the democratic world"—said that the fact that the "Japanese are so thoroughly instructed in a weapon which they are expected to use in only the rarest of circumstances testifies to the highly cautious approach of the Japanese police towards firearms."
The study by U.S. gun rights advocate David Kopel also noted that Japanese citizens are "more willing than their American counterparts to consent to searches and to answer questions from the police."