Japan Steps Up on China, Russia and 'Strategic Issues' Amid Defense Review in Biden Call
In his first in-depth meeting with U.S. President Joe Biden, Japanese Prime Minister Fumio Kishida signaled his country's willingness to step up against undesirable actions pursued by major powers China and Russia, while simultaneously setting out to shore up his nation's military capabilities at home.
Friday's virtual chat lasted nearly an hour and a half and marked the second time the two men met face-to-face and their first extensive dialogue since Biden took office in January 2021 and Kishida in October. Officials from both sides detailed a warm, candid conversation that spanned a range of topics pertaining to the economic and political nature of the 70-year Washington-Tokyo alliance.
One Japanese official speaking to Newsweek summed up the call in six points: "First, the building up of the personal relations plus the face-to-face although online meeting, second, the Free and Open Indo-Pacific, third, the alliance, fourth, China and other regional issues, fifth, the economy and sixth, nuclear."
But the same official saw a common thread among these topics, saying that "the interesting thing is that the wide variety of issues actually is closely intertwined."
"Most of the economic issues are actually strategic issues, in this day and age, how to strengthen the rule-based economy order in the Indo-Pacific, this is kind of a reflection of the reality that that kind of rule-based economic orders is being challenged by some other camps," the official said.
"Strengthening the alliance, China and the close cooperation on economic issues are all closely related," they noted.
Beyond this, the official also added nuclear-related topics to the equation, stating that "nuclear disarmament, which is, of course, coming from the Japanese people's long-standing wish to achieve a world without nuclear weapons, it actually has a very strategic connotation as well if you look at the strategic situation of Japan, with North Korea's increasing development of its missile and nuclear capabilities and also the untransparent strengthening nuclear force by another country, it is very closely related."
A senior Biden administration official revealed the country in question to be China.
The senior administration official described an "in-depth discussion" on China, including a mutual desire "to promote and defend the Free and Open Indo-Pacific, concerns about some of the steps that China had taken across the board in terms of intimidating neighbors, taking steps that were predatory on trade in other realms," during a press call.
"Prime Minister Kishida was particularly concerned about the nuclear buildup in China and what that augured for regional security more generally," the senior administration official said.
During his own press conference, Kishida told reporters he and Biden "spent a considerable amount of time" discussing China, the U.S.' top global competitor and also Japan's number one trade partner. Specific issues discussed were said to include the status of semi-autonomous Hong Kong, the treatment of Uighur minorities in Xinjiang, and, especially, territorial disputes in the East and South China Seas.
"We exchanged views on issues surrounding China, opposed unilateral attempts to change the status quo in the East China Sea and South China Sea, opposed economic intimidation, and agreed to work closely on those issues," Kishida said. "Regarding Taiwan, there was such an exchange that emphasized the importance of peace and stability in the Taiwan Strait and promoted a peaceful solution to the cross-strait issue."
The Japanese leader said he and Biden also saw eye-to-eye on another issue thousands of miles away in Eastern Europe, where 100,000 Russian troops have amassed near the border with Ukraine amid Moscow's warnings against Kyiv joining the U.S.-led NATO military alliance.
"President Biden and I will continue to work closely with the United States and other allies and partners to take strong action against any attack as a joint effort to deter Russia's invasion of Ukraine," Kishida said.
The senior Biden administration official said that Kishida and Biden were "in very close alignment on the challenges that Russia is presenting to Ukraine."
"I think Japan's Prime Minister complimented the president on his handling and made clear that Japan would be fully behind the United States in the challenging days ahead," the senior administration official said.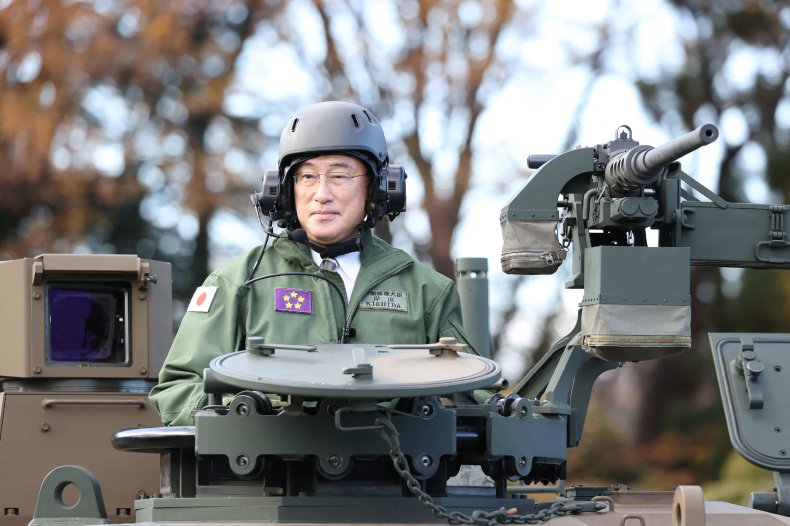 The Japanese leader's commitment to join the U.S. in its challenges against Beijing and Moscow has drawn particular geopolitical attention.
Kishida, who hails from Hiroshima, one of two Japanese cities targeted by U.S. atom bombs in World War II as part of the only-ever use of nuclear weapons in combat, has placed arms control efforts high up in his agenda, including through a joint non-proliferation statement adopted by Washington and Tokyo on Thursday.
At the same time, he has pledged to reconsider longstanding restrictions that have defined Japan's pacifist military doctrine since a U.S.-imposed constitution at the end of World War II. Japan's Self-Defense Forces have gradually expanded their capabilities in the decades since, but Kishida has raised the possibility of going even further.
"Regarding security, I expressed my determination to formulate a new national security strategy and drastically strengthen Japan's defense capabilities," Kishida said following Friday's virtual meeting with Biden.
Last month, Kishida's ruling Liberal Democratic Party launched a review of the National Defense Strategy and Kishida made it clear in the days leading up to his call with Biden that the government was not ruling out any considerations in reforming Japan's military doctrine.
"Through this process, we will realistically examine all options, including possessing what is called 'enemy base attack capability,' without excluding any possibilities," Kishida said during a speech to parliament last week. "We will fundamentally reinforce our defense capabilities with a sense of speed, including through the supplementary budget enacted last month and the budget for fiscal year 2022."
Such a shift has long been the center of serious debate within Japan. The country finds itself at the forefront of growing U.S. tensions with both China and Russia, as well as uncertainties surrounding North Korea, which has launched four missiles this month in the absence of diplomacy toward peace on the Korean Peninsula.
Japan's quest to expand its conventional arsenal while seeking to cap the nuclear capabilities of others has also elicited criticism from abroad.
During a press conference Friday, Chinese Foreign Ministry spokesperson Zhao Lijian dismissed Thursday's joint U.S.-Japan statement on non-proliferation as "a trick to deflect attention, shift responsibility and conceal their deplorable track record in the nuclear sector."
He branded the U.S. as "the top threat to global strategic security" due to its own pursuit of more advanced nuclear strike capabilities and took aim at Japan as well.
"Japan has long styled itself as a 'model student' in international nuclear disarmament and non-proliferation," Zhao said. "Actually, it says one thing but does another. As a non-nuclear-weapon state, Japan keeps in long-term storage a large amount of sensitive nuclear materials exceeding its actual needs, including weapons-grade plutonium, which poses severe nuclear proliferation risks and constitutes nuclear security hazards."
"To retain the benefits of the U.S.' nuclear umbrella, Japan spares no effort to thwart the adoption of a no-first-use policy by the U.S," he added. "If Japan really intends to advance the international nuclear disarmament and non-proliferation process, it should respond to these international concerns in a responsible manner and win the trust of the international community with concrete actions."
Despite strains on their relationship, Beijing and Tokyo have sought to maintain working ties and last month held their 13th Round of High-Level Consultations on Maritime Affairs. And in the face of their existing feuds in this realm, the two sides managed to reach a six-point consensus.
At the heart of their territorial row at sea are the Pinnacle Islands, referred to as Senkaku by Japan and Diaoyu by China. While effectively under Japanese control, China has regularly sent ships to patrol the islands just 200 miles off its mainland and Biden on Friday "resolutely affirmed" that the U.S.-Japan Mutual Security Treaty applied to the Pinnacle Islands.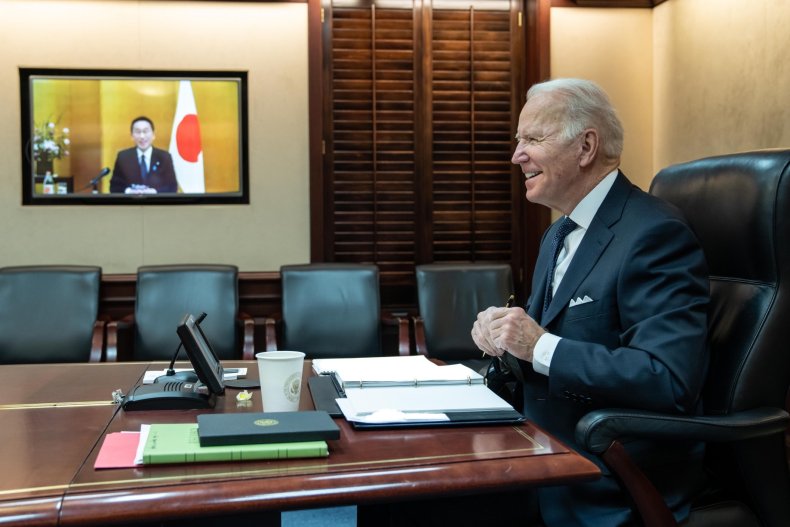 But China is not the only major power with which Japan has territorial issues. Since the end of World War II, Russia has administered the Kuril Islands chain, four islands of which are still claimed by Japan as the Northern Territories.
The row has prevented Moscow and Tokyo from ever signing an official peace treaty after World War II, leaving them technically at war, even as they maintain largely stable relations. These ties, however, have been under pressure as well as the U.S.-Russia relationship soured.
Both China and Russia have expressed opposition to the deployment of U.S. missile defense systems in the Asia-Pacific region. The security dynamics of the alliance between Washington and Tokyo have been the subject of talks between Russia and Japan.
"Our two countries have been discussing security in the Asia-Pacific region, including the challenges and threats caused by the efforts by Japan and the United States to step up their military and political cooperation, in a face-to-face format, primarily at the level of our respective security councils," Russian Foreign Ministry spokesperson Maria Zakharova told a press briefing Thursday on the eve of Biden and Kashida's virtual meeting.
She noted, however, that these consultations have been interrupted, even as Moscow was in the process of planning a visit by Russian Foreign Minister Sergey Lavrov to Japan.
"For objective reasons, with the onset of the coronavirus pandemic these contacts have been suspended of late," Zakharova said. "Our embassies are also working on these matters. We do hope that these contacts will resume as we overcome the pandemic."
Meanwhile, developments continue in the region as Russia moves to establish a special economic zone on the islands still claimed by Japan. In the military realm, a Russian submarine launched a Kalibr cruise missile from the Sea of Japan on Thursday, demonstrating the country's own Pacific power at a time when Beijing and Moscow were coordinating more than ever in the Asia-Pacific.
Japan, for its part, has increased cooperation with the U.S. as well as Australia and India to form the Quadrilateral Security Dialogue (Quad) in order to enforce their shared vision of a "Free and Open Indo-Pacific."
As Chinese President Xi Jinping and Russian President Vladimir Putin prepare to hold a summit of their own at the start of the Winter Olympics Games in Beijing next month, Kishida announced Friday he would host fellow Quad leaders for a gathering in Japan in late spring.
The senior Biden administration official said that the U.S. president "graciously accepted that invitation" with details to be worked out, marking what would be the leader's first trip to Asia since taking office a year ago.