Japan Takes On China Far From Home—in Africa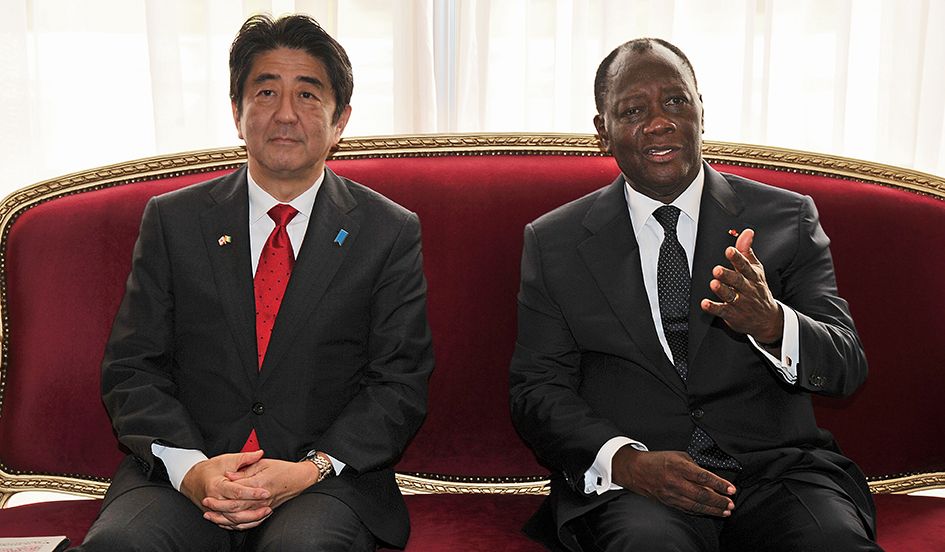 In the courtyard of a small compound in Geta, 1.7 miles above sea level in southern Ethiopia, members of a local farming cooperative pound and sift barley, the chaff picked up by the vicious wind that blows across the mountains. Behind them, taped to the wall of their packing house, is a poster bearing two kanji characters, hand drawn in marker pen: Kai and Zen.
Loosely translated as "changing for the better," Kaizen refers to a Japanese management philosophy, pioneered by Toyota, that emphasizes constant innovation and improvement in business. It is an incongruous sight in a region dominated by small-scale agriculture, where incomes barely scrape above the $1.25-a-day poverty line.
The village, a two-hour ride by four-wheel drive through a landscape of rough farmland and forests stripped for firewood, is home to a few scattered projects run by the Japanese International Cooperation Agency (JICA). Each is the product of just a few thousand dollars of investment, designed to turn subsistence farmers into small businesses that can sustain themselves financially using management practices imported from Japan.
A few miles away, cement dust rises over the red dirt hills. A Chinese company is building a multimillion-dollar paved road that will connect the remote village to the nearby town of Walkite, and onward to Debre Zeit and Addis Ababa. The road, says Badrum Shekur, the barley cooperative's chairman, will change the economics of the region, linking farmers to urban markets even when the annual rains make the dirt tracks impassable.
It is an illustration of the contrast between the strategies of the two Asian giants in Africa, and of the challenges that Japan faces as its prime minister, Shinzo Abe, pushes for greater influence on the continent.
In May 2013, Abe announced a total of $32 billion in public and private funding for Africa, including $14 billion in development assistance and $6.5 billion for infrastructure projects. In January, he made a highly publicized visit to the continent, meeting leaders and promising huge investments. It is a dramatic shift, and one that analysts say is a direct response to the strategic challenge posed by Chinese interests in Africa.
After rattling its saber in a territorial dispute over the Senkaku Islands in the East China Sea, Tokyo is taking its rivalry with China to Africa. Ethiopia, the seat of the African Union and the diplomatic heart of the continent, is likely to become the front line.
"Japanese aid to Africa until very recently was more of a philanthropic endeavor than anything strategic," says Shihoko Goto, an expert on Tokyo's international affairs at the Wilson Center. "Given the challenge that China is posing to Japan, I think it really has felt the need to not just provide assistance on the ground but for it to be more visible."
For decades, Japan has been a quiet partner in African development. Its bilateral aid arm, JICA, has adeptly walked the fine line between assistance and interference, running small but generally effective interventions in agriculture and education, staffed by technical experts or the Japanese Overseas Cooperation Volunteers, which is loosely analogous to the U.S. Peace Corps. Practicing the softest of soft power, Japan became one of the largest but least visible donors to Africa.
China, by contrast, pursued a nakedly acquisitive course, exchanging enormous infrastructure projects for access to resources. That the infrastructure was needed in countries with crumbling roads and intermittent power supplies is not disputed. Whether the bargains the Chinese made were fair is another matter.
China's annual trade and investment with Africa is now estimated at around $200 billion, up from $10 billion in 2000. Japan's is barely 25 percent of that. In 2011, China's direct investment in Africa was $3.17 billion; Japan's was $460 million.
China's foreign minister traditionally tours the continent in his first overseas visit of the Chinese new year. Within weeks of becoming president in March 2013, Xi Jinping flew to Tanzania, South Africa and the Democratic Republic of Congo, announcing billions in new infrastructure and investment deals.
Japan's new strategy has borrowed from China's, and in many ways Abe's January tour mirrored Xi's last year. In Ivory Coast, the recovering economic and political powerhouse of francophone Africa, he spoke to leaders from across West Africa, promising $83 million to support peace in the Sahel region. In Mozambique, where Asian energy majors have joined a rush for the richest discovery of offshore natural gas in decades, he announced funding for a $174 million gas-fired power plant.
It was in Ethiopia, though, that Abe emphasized Japan's differences.
He talked about Japan's postwar ascent and its "development state," the government-guided economy that backs "champion" companies and balances state intervention with private sector competition. Pledging education, investment and guidance in management techniques—in particular Kaizen—Abe laid out a future of consensus-based aid that emphasized African ownership of the continent's future.
Although many African leaders and economists admire the Chinese development model, which has lifted the country from poverty to a global economic leader in less than 30 years, they have found that the reality of massive Chinese interest in their countries has often been the hollowing out of their nascent manufacturing sectors, leaving them with cash but no jobs for their young, restless populations.
The balance of trade between China and most of Africa is depressing reading: Oil, gas and minerals are shipped out; finished goods of all kinds are brought in. Last year, the then-central bank governor of Nigeria, Sanusi Lamido Sanusi, articulated many Africans' concerns, calling the structure of the relationship "the essence of colonialism." Abe's speech in Addis Ababa seemed to be laser-targeted at the principal criticisms leveled at China and its mercantilist push into Africa.
Tokyo has played down the competitive dimension of its Africa strategy. Beijing has not. In response to Abe's visit to Ethiopia, Xie Xiaoyan, the Chinese ambassador to the African Union, gave a press conference in which he called the prime minister "the biggest troublemaker in Asia" and said he considered Japan's activities in Africa to be part of a strategy to contain China's expansion.
He may be right. Although Tokyo appears to be handling its interests with more sensitivity, its goals in Africa are similar to Beijing's.
The Fukushima disaster prompted Japan to shut down its nuclear generators, increasing the pressure to find new sources of gas. Japanese industry has begun to worry about the long-term viability of its mineral supplies. When Indonesia, which supplies 51 percent of Japan's nickel, banned exports of unrefined metals in January of this year, it sparked a diplomatic row that is still unresolved. China has begun to restrict supplies of rare earth metals, which are critical to the manufacture of advanced electronics.
Africa has the world's largest unmined deposits of minerals; the largest unexplored territories likely to yield coal, oil and gas; and the largest reserve of undeveloped arable land.
It also has something in short supply in Japan: growth. Even after two decades of economic stagnation, Japanese companies have been hesitant to push out into frontier markets. As African economies grew year-on-year, Japan's most visible consumer presence was—and remains—the secondhand Mitsubishis and Toyotas in wide service as taxis.
In Addis Ababa, China's commercial power is hard to miss. Chinese contractors are building the new metro line being cut through the middle of the city. The Chinese-built African Union headquarters towers over the stacks of corrugated iron lean-to shops on the edge of the city center. About 25 miles away, a Chinese-backed industrial park hosts the Huajin shoe factory and a Lifan car assembly plant. Countless products, from the plastic sandals sold at market stalls to the flat-pack desks in the Ministry of Industry, are Chinese-made. Even the coffee cups used in Ethiopia's daily coffee rituals are stamped Made in China.
For Japan, making a visible impact, in the shadow of the huge Chinese presence, will undoubtedly be difficult. Maintaining hard-won good will among African policymakers and populations while simultaneously pursuing national interests could be harder still.
Over a traditional Ethiopian lunch of injera in Addis Ababa, Kimiaki Jin, the head of JICA's Ethiopian office, tries to shrug off the difficulties of scaling up. Asked what has changed since Abe's grandstanding, the diplomatic Jin says simply, "For the Ministry of Foreign Affairs, visibility is very important."
Jin is in many ways an archetypal Japanese development worker. First posted to Ethiopia as a volunteer in 1990, he is practical, apolitical and consumed with the practical details of project work. On his third tour in the country, he says making large and visible donations has never been the priority: "What we wanted to do was create results on the ground."
That approach, he insists, will never change, no matter what the competition does or how much it spends.
"We don't believe in giving big fish without first teaching people how to catch them," he says.
Correction: An earlier version misstated where Shihoko Goto is an expert, she is at the Wilson Center.