On a bright winter day in the Japanese village of Nagoro, a group of life-size dolls stand silently at a bus stop on a long-canceled route. One, dressed in a suit, furrows his brow with permanent impatience. At 65, the artist who made them, Tsukimi Ayano, is one of the youngest of Nagoro's 35 remaining villagers. She sewed each doll to look like a former resident who died or moved away. Her dolls now outnumber her neighbors.
They are a reminder of a time before the nation's population began its precipitous slide and the countryside emptied out, leaving an estimated 10,000 "ghost towns" to slowly crumble. Japan has the oldest population in the world and the second lowest birthrate. New census data in February showed the population shrank by around 1 million people in five years. The population is expected to shrink by a third in the next 50 years, and as a result, "the shadow of an economic collapse is creeping over Japanese society," according to the Japanese Center for Economic Research. Facing that bleak forecast, the government is encouraging people to have children by subsidizing everything from speed dating to day care. But so far, those programs haven't had much success.
With the window to act narrowing, women's advocates warn that politicians are now targeting reproductive rights as a way to boost the birthrate. "This whole movement of having more babies could lead to a ban on abortion and reproductive choices," says Tomomi Yamaguchi, an associate professor of anthropology at Montana State University. She says the conservative, majority Liberal Democratic Party (LDP) is pushing measures to chip away at Japanese women's relative reproductive freedom. Japan legalized the birth control pill only in 1999, the last U.N. member state to do so. Abortion is illegal, but there is an exemption for economic hardship, which is claimed by most of the 200,000 women who have abortions each year in Japan.
"The rule is, you can only get it if you don't have the money to support the child, but in reality we do the procedure for whoever needs it," says Dr. Yoshiko Onishi of Tokyo's Parkside Hiroo Ladies Clinic.
That kind of easy access could be restricted if a new women's health bill passes, Yamaguchi says. "The bill may sound nice on the surface, but it imagines women simply as people who bear children, and there's nothing protecting their choice not to have children."
Although the bill does not specifically address abortion, Yamaguchi and others fear it is a first step toward a shift in policy that would eventually lead to restrictions on women's reproductive rights. The bill calls for increased funding and research for pregnancy-related conditions like endometriosis, fibroids and depression, as well as some diseases of old age, including osteoporosis. But it barely mentions other significant women's health matters, such as sexual violence and Japan's high rates of sexually transmitted diseases, says Mari Miura, a professor of political science at Sophia University in Tokyo.
"The purpose is very clear: The state really needs more babies to be born," she says.
Feminist groups like the prominent Soshiren organization have accused the government of purposefully shifting the burden of a struggling economy onto women, in the guise of legislation designed to help them.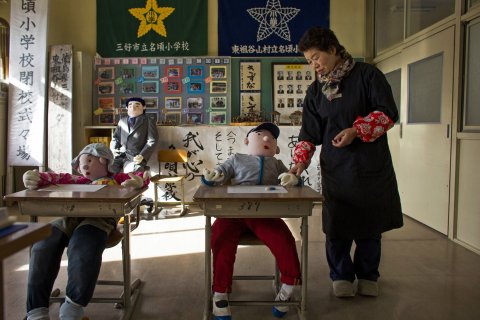 The bill didn't get a vote before the parliament dissolved last session, but the LDP says it will reintroduce it this year. Its author, Representative Takagi Emiko, declined repeated requests for an interview. Her party has floated the idea of decreasing reproductive choice as a way to increase the population before. Haruko Ariumura, the minister in charge of women's empowerment, has said she would like to ban abortion, and in 2013 a five-term member of parliament, Seiko Noda, wrote an editorial for one of Japan's largest newspapers advocating a ban on abortion to boost the birthrate. " With 200,000 pregnancies being terminated per year, if we are to counteract the falling birthrate, then we must begin there," she wrote.
Women's health experts blasted such plans. "It's really a stupid idea," says Dr. Masato Takeuchi of the Toho Women's Clinic in Tokyo. "This kind of thinking is coming from the conservative elderly men in government, but I don't think they'll be able to push through a full ban."
In June, LDP members heckled Tokyo Metropolitan Assembly member Ayaka Shiomura as she spoke about proposals to expand reproductive options for women, shouting, "Hurry up and get married!" and "Can't you give birth?" Former Health Minister Hakuo Yanagisawa sent a similar message when he called women "baby-making machines" in a speech about the shrinking population.
Prime Minister Shinzo Abe apologized on behalf of his party in both cases and is now pushing what he calls a "womenomics" agenda that he says will help solve Japan's economic problems by bringing more women into the workforce.
It has had some success: Last year, 66 percent of Japanese women worked, a record for the country but still lower than most advanced economies. The real story, though, is in the type of work they do. The majority are "non-regular workers," a vast underclass that does the same jobs as "regular workers" but for less pay and no benefits. Some women are shunted into these positions when they return from maternity leave; others are assigned "mommy track" jobs from the beginning. On top of that, a shortage of day care—in April, about 23,000 children were on waiting lists—makes it hard for many women to return to work.
Only a handful of women are in leadership positions. Just 9 percent of Japanese managers are female, compared with 43 percent in the U.S. In 2003, Abe set a goal of increasing that to 30 percent by 2020, but in December his administration announced it was slashing the target in half.
As policymakers struggle to find solutions, young women are realizing they are now responsible for both raising the birthrate and expanding the shrinking labor force. Nozomi Hasegawa, a 21-year-old political science student at Tokyo's Sophia University who recently landed a prestigious internship at the Financial Times, says she's already wrestling with the competing pressures.
"It's something I think about all the time," she says. "I hear about how important it is to have children young, but also how hard it can be to come back after maternity leave."
Feminists are also worried about other moves in the parliament, which is debating whether to allow women to keep their maiden names (after a Supreme Court ruling that married couples must use the same name) and a proposal to revise the constitutional guarantee of gender equality. But not everybody is pessimistic. Kathy Matsui, a chief Japan strategist at Goldman Sachs whose research shaped Abe's womenomics agenda, told a Tokyo women's group that as the looming economic crisis forces these issues into the open, big changes could be coming.
"Japan doesn't take forever to change; it takes forever to decide to change," she says. "It's a homogeneous society, and everyone wants to fit in, so once a decision is made, changes will happen very quickly."