Japan Avoids Plumbing Catastrophe as Fans Rush to Bathrooms During World Cup Halftime
Preparations by the Tokyo waterworks bureau helped avoid a potential World Cup-related plumbing crisis earlier this week.
Tokyo fans watching Japan's 2-1 victory against Colombia on Tuesday rushed to the bathroom at halftime, causing a 24 percent increase in water use, the city's waterworks bureau said on Friday.
"We presume it's because a lot of people holding off on a trip to the bathroom all went at once. Water use can fluctuate, especially during football matches, which have only one break in the middle," an anonymous official told Agence France-Presse.
Anticipating the halftime bathroom dash, the bureau had altered Tokyo's supply and pressure standards to ensure people had steady water service.
Newsweek subscription offers >
AFP reported that similar toilet use patterns occurred across the country, with viewers attentively watching the game and rushing to the bathroom during halftime and at the end of the match. Water use rose 50 percent after the game had concluded.
Japan will face Senegal on Sunday and Poland on Thursday, and the bureau is predicting similar trends in bathroom use. "We are ready to prepare for a stable water supply during the next match on Sunday," the official said.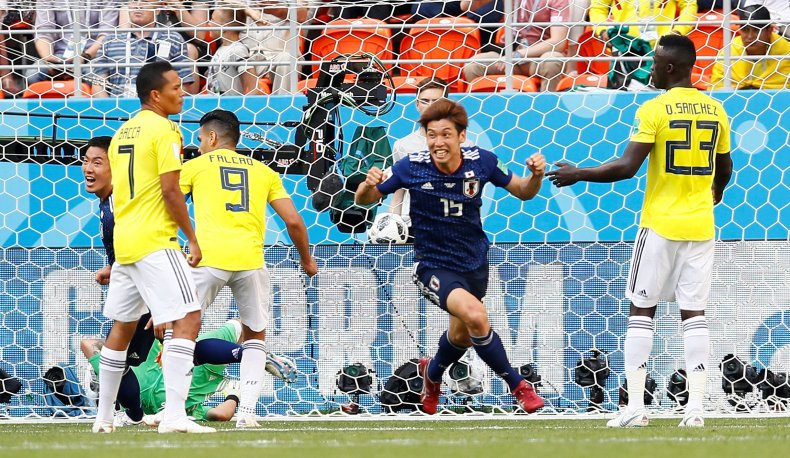 The number of people watching the game likely helped fuel the massive rise in water demand. National viewership numbers notched an annual record during the contest, with 48.7 percent of viewers watching the second half of the game, according to AFP. This figure significantly superseded the previous annual record of 33.9 percent, set when the country tuned in to watch Japanese figure skater Yuzuru Hanyu win a gold medal in the Olympics.
Newsweek subscription offers >
Japan's unexpected victory over Colombia was the first time an Asian team has prevailed over a South American contender in the World Cup. The win offered a reprieve for the country and helped lighten the national mood after Monday's Osaka earthquake left at leastfive people dead and 400 others injured.
"A lot of people were negative (about the team) before the game, with the last-minute change of the coach and other stuff," University student Tatsuya Abe told Reuters. "But with this win, Japan as a whole is going to turn positive. This win will boost people's spirits."
Prime Minister Shinzo Abe, who will be flying to Russia to watch Japan take on Senegal, expressed tempered hope in his nation's team. "If they beat Colombia, they can defeat their next opponent, too," he told Reuters. "I think they can get as far as the last eight."
Japan Avoids Plumbing Catastrophe as Fans Rush to Bathrooms During World Cup Halftime | World