Founder of Japanese Anime Studio Speaks Out After Deadly Arson Attack, Says 'Our Hearts Ached'
Kyoto Animation (KyoAni) CEO Hideaki Hatta has opened up for the first time at length since a fire broke out last year in the building that houses the company's internationally-renowned studios, killing 36 employees and injuring dozens of others.
In an interview with The Hollywood Reporter published on Friday, the 69-year-old businessman said he was at an 11 a.m. meeting with Japanese broadcaster NHK on the morning of July 18, 2018—when suspected arsonist Shinji Aoba allegedly started the blaze on the first floor of the building by covering the floor of Studio One with gasoline before igniting it.
Less than a minute later, the flames had reached up to the third floor, and would take five hours for firefighters to put the majority of it out.
"I didn't think much of this news," Hatta told The Hollywood Reporter, recalling the moment he received news of the incident. The outlet noted that Hatta's informant "hadn't seemed particularly alarmed" and the CEO thought "something small" might have started the blaze.
It wasn't until he arrived to the scene later that morning that he found out the extent of the damage done. "The feeling of normal everyday life is still very far away," he said. "Our leaders were lost. Our hearts ached."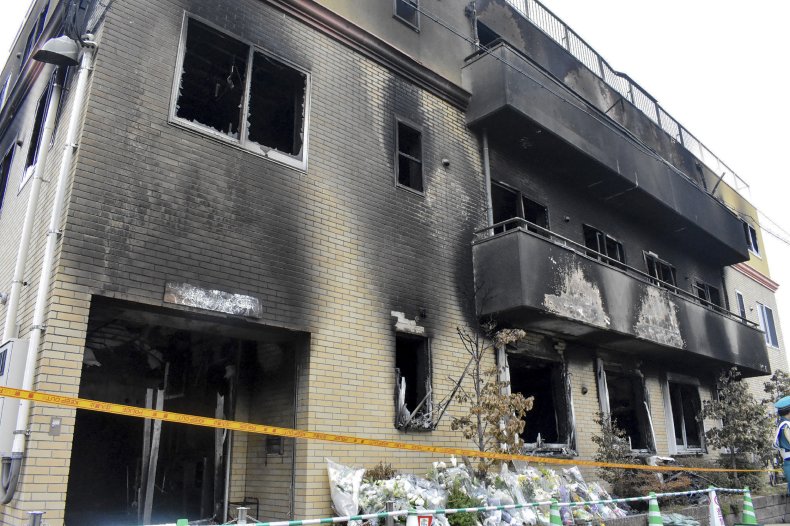 Witnesses reportedly heard 41-year-old Aoba shout the word "Die!" while being badly burned himself—and the building did not have sprinklers or indoor fire hydrants at the time, though they were not legally required under fire regulations. According to reports, Aoba told police arriving to the scene that he started the blaze because the company had allegedly plagiarized a novel he entered in the company's annual writing contest.
Created in 1981, KyoAni is responsible for popular magical realism anime productions such as The Melancholy of Haruhi Suzumiya, Air, K-on! and the critically-acclaimed 2016 animated feature, A Silent Voice. Its 13-episode franchise, Violet Evergarden, was picked up by Netflix in April 2018.
Last month, KyoAni announced the new official release date of Violet Evergarden: The Movie—originally slated to open in January 2020—which had been delayed by the fire, as news emerged that Aoba was participating in informal talks with Kyoto police while being treated for his burns at a hospital in Osaka.
"KyoAni helped make anime into an art form for the masses," noted director Makoto Shinkai, the force behind highly praised teen romance anime films Your Name (2017) and Weathering With You (2019), according to The Hollywood Reporter.
He continued: "Typical high school students and adult professionals who aren't hard-core fans now watch anime casually at home, sing anime theme songs at karaoke, buy merchandise around town. KyoAni helped create this culture and changed a whole generation's behavior — its work had that kind of power."