Japanese Haunted Drive-Through Makes Halloween Spooky Again Despite COVID Restrictions
While nationwide coronavirus case counts have dropped in recent weeks—down to an average of 53,772 new cases per day over the past week, according to the New York Times—the projected spread of COVID-19 will continue into October, which will no doubt disrupt trick or treating and other Halloween social activities. But people are always finding new ways to get really scared, and the latest innovation in terror can be found in Tokyo, Japan.
Japanese haunted house creators Kowagarasetai have built a drive-through haunted house, so visitors can enjoy a good scare from the virus-isolated confines of their vehicle.
Loosely translated, thanks to Google algorithm, as The Frightening Corps, Kowagarasetai pride themselves on creating haunted houses and other horror events in a wide variety of venues. They also offer zombie-actors for rent.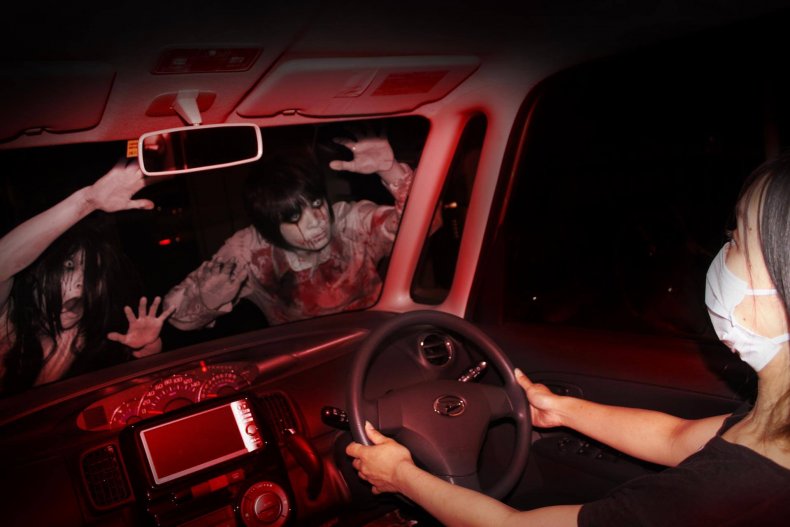 Their latest attraction keeps visitors isolated from potential COVID infection by keeping people in their vehicles (to be extra cautious, cars are disinfected with alcohol after the show), then bombarding them with trained actors playing zombies and other haunted house staples. There's also a story component that uses the car radio, narrating events in the outside world as the zombie horde attacks.
But maybe the most unique feature of Kowagarasetai's drive-through haunted house is the option to have your vehicle splattered with blood. The bloody option includes a cleaning wipe down after the event, though they warn it may not be possible to clean off every speck of red left behind after the bloody events you've just survived.
Visiting the haunted house costs approximately $75 per vehicle, and an extra $10 should you opt for blood splattering. But, at least for now, the Kowagarasetai drive-through haunted house is completely booked.
While Halloween is still more than two months away, the prospects for a haunted October in the United States are looking grim. Americans spent about $2.6 billion on candy in 2019, but organizations like the National Confectioners Association are uncertain how much less people will spend this year, in light of coronavirus restrictions.
Party City, which makes a fifth of its revenue during Halloween, according to The Detroit News, plan to keep locations open like any other year, with Halloween-specific retailer Spirit Halloween also making plans to open their 1,400 locations beginning in August.
"We heard you're crushed, disheartened, and downright sad," Spirit Halloween said in a Facebook post. "It's been a challenging year, but we promise to keep the Halloween spirit alive."
While trick or treating, bobbing for apples and screaming respiratory droplets into each other's faces may not be part of the celebration this year, you can always find new ways to scare yourself this Halloween.