The Japanese House Talks Anxiety, Sexuality and 'Good At Falling'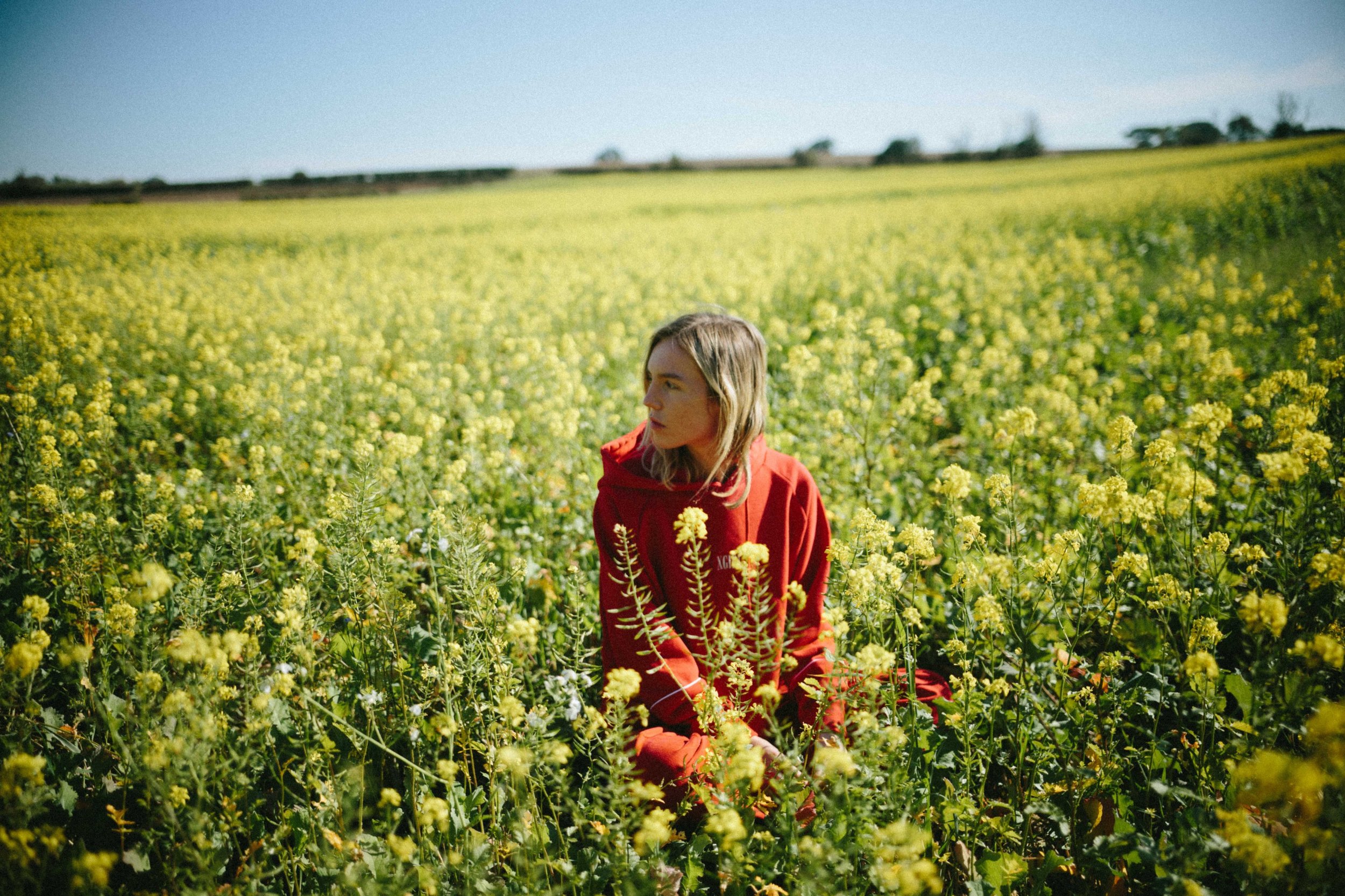 Amber Bain, musically known as The Japanese House, is a one-woman powerhouse of indie synths and hypnotizing vocals, and she's ready to answer anything. Bain has lost a care for privacy after beginning her career as a mysterious, shadowed figure, who many assumed was a side project designed by her Dirty Hit label partners, The 1975. But now, Bain is ready to have her face in the spotlight, even if it means accepting she wants to be loved by crowds of people.
"Looking back, I'm embarrassed of myself," Bain told Newsweek of her early career, in which she didn't like the idea of being on stage. "I want to shake myself and be like 'shut the f*** up. You're so lucky.' I had this vision of myself like, 'I'm an introvert. I don't want to perform in front of people. I'm not that materialistic. I don't want people to love me. They don't know me.' I think it's because I didn't like the idea that I'm this person that actually does want that."
Bain has released four EPs, each one as immersive as the next, and her first album, Good At Falling, is due out March 1. She's already touring a handful of new material, though, all of which lie in a theme of self-reflectance, from former relationships to mental health.
Good At Falling is a collection of upbeat sounds with sad lyrics, as Bain described. She didn't enter her writing sessions with a theme in mind but has stepped back to see a trend: the narration of her past relationship, which began and ended within the course of writing the album and narration of her own life. She spoke of the personal moments on the album that drive the tone, beginning with an upbeat, celebratory-sounding track "You Seem So Happy."
"There are songs about my health anxiety which I suffered really badly from. Basically just having panic attacks and thinking that I'm dying," she said of her own mental health. "I have OCD. It's horrible. After I had my first panic attack, I didn't know what it was. I thought I was having a stroke. Then I got obsessed about being poisoned. So everywhere I'd go, if like if I touch certain things—or say if someone gave me a drink and I didn't see where it came from, or if I left that can there, I couldn't drink it. Still, I probably couldn't do it."
The track, which Bain played at her December 4 show in Chicago, has a sunny sounding guitar pattern and lyrics, "These things don't happen to anybody but you. Oh, you seem so happy to everybody. These things don't happen to anybody like you."
Bain also spoke of her favorite song on the upcoming album, "Saw You In A Dream." The original track has already been released, but the album version is redesigned in an angelic, stripped-back light. Bain wrote the song about her first love, who died four years ago to the day of her interview with Newsweek.
"I hadn't written anything about that after she died," she said. "And then when I wrote that, it was like a big release for me. I didn't really know how to approach it. And then she was in my dreams. I just thought that was the perfect way to write about someone who's dead. That's why I felt that had to be on the album. I've just never written a song that's in my eyes, so perfect. And that song to me—I wouldn't change anything about it."
Bain also noted she's not overtly vocal about her sexuality, but wonders if she should be. "[It's] probably because I don't really know what my sexuality is," she said. "But I know that I'm not a straight girl. I was wondering in my head if that is something I should be more vocal about. I don't really know. To me, my fans must know. They MUST know."
While her sexuality isn't an obvious theme on Good At Falling or any of her other releases, Bain explained a track off the new album, We Talk All The Time, that lyricizes an experience from one of her past relationships. "There's a song about a lack of sex in a relationship, which I think is a very common thing in lesbian relationships after a certain point," she said. "And not a very spoken about thing because lesbian relationships are very sexualized, so it almost seems alienized for the idea of two women not having sex anymore."
As for her role as a woman in the industry, Bain explained she may not have received so many inquiries into The 1975's involvement in her work had she been a boy. Bain is responsible for writing all of her material and has worked with both Matty Healy and George Daniel in production. She noted even Healy questioned if they should announce their involvement in her production as she began her career but the pair decided it was best not to lie.
And Bain said it's time to change the assumption that women aren't experienced producers. "My mind had been molded like that too. As a kid, I'd be like 'Oh, she does her own production. Cool.' With a boy, I'd just assume. It's no one's fault that we're built that way, but it's definitely time—you have to retrain your brain."