Japanese Lawmaker Says LGBT Rights Go Against Preservation of Species Amid Record-Low Birth Rates
Japanese lawmaker Kazuo Yana of the ruling Liberal Democratic Party (LDP) has said that LGBT rights go against the preservation of species amid record-low birth rates in the East Asian country.
During a party meeting on Thursday local time, Yana, 42, a third-term member of the Japanese House of Representatives, reportedly told members that LGBT people run counter to the basis of biology, according to Japan Times. Participants of the meeting quoted Yana as saying that his remarks aren't meant to discriminate against LGBT people but same sex relationships "resist the preservation of the species."
Asked for comment, Yana told Kyodo News, "I will refrain from commenting about the [LGBT] remark as it was a closed meeting."
Openly gay lawmakers Kanako Otsuji and Taiga Ishikawa, members of the Constitutional Democratic Party, strongly criticized Yana's comments.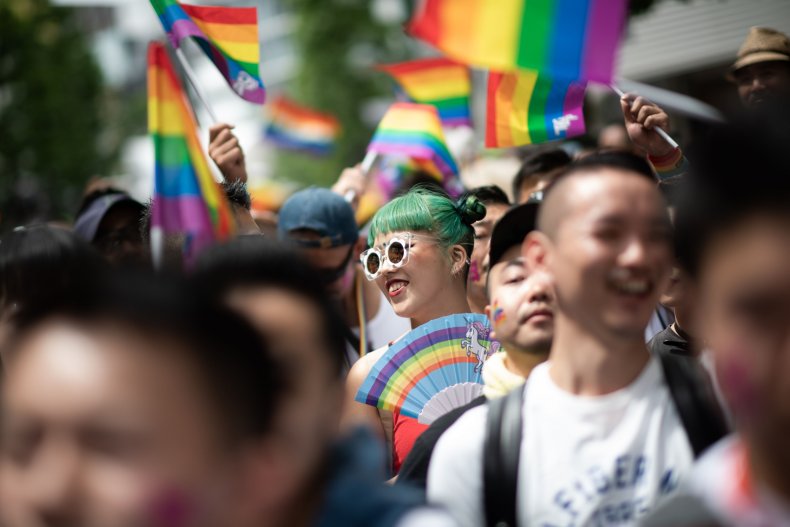 "I demand he retract the remarks," Otsuji said. "How much does he have to hurt [LGBT] people and neglect their human rights to be satisfied?"
It's an "extremely stereotypical view," Ishikawa added.
Japan Alliance for LGBT Legislation, a coalition of pro-LGBT groups, said Yama's remarks "hurt not only [LGBT] themselves but also their families, friends and acquaintances, cannot be overlooked."
Japan's consistently low birthrate has caused the country's population to age and shrink over the past 14 years. With more than 30 percent of its population over 65, the Asian nation has struggled to contain its stagnation in births as an increasing number of women swap motherhood for the workforce due to the country's economy.
In 2020, Japan's birth rate fell to a record low 872,683, with 25,917 fewer babies born domestically and to Japanese nationals living overseas compared to a year earlier. The current 2021 birth rate indicates another drop of 1.3 percent, with 7.2 births per 1000 people, according to MacroTrends.
The figure represents the latest point of a continuing decline, with a 1.3 percent drop in 2019, 1.3 percent drop in 2018 and 2.4 percent drop in 2017.
Japan's Ministry of Health, Labor and Welfare has suggested that the coronavirus pandemic may have contributed to the country's birth rate crisis, but cautioned that its full effects cannot be determined until at least the end of 2021.
"The gender stuff is pretty consistent with trends around the world—men are having a harder time," said Anne Allison, a professor of cultural anthropology at Duke University, according to The Atlantic. "The birth rate is down, even the coupling rate is down. And people will say the number-one reason is economic insecurity."
Newsweek reached out to the Embassy of Japan in Washington D.C. for comment. This story will be updated with any response.