Japanese Princess Ayako Abdicates Royal Status to Marry Commoner
Princess Ayako of Japan has renounced her royal status to enable her to marry a commoner in a traditional ceremony in Tokyo.
Princess Ayako, 28, and Kei Moriya—a 32-year-old who works for shipping company Nippon Husen—were wed Monday at Tokyo's Meiji Shrine, the Associated Press reported.
Women who marry into Japan's imperial family—the Yamato Dynasty—automatically become members of the royal institution. However, any royal women who marry commoners must leave the family.
Regardless, Ayako, the daughter of the ruling emperor's cousin who died in 2002, told reporters after the ceremony: "I am filled with happiness." She may have to give up her royal titles, but Ayako will at least get a nice wedding gift from the imperial family—$1.3 million, according to the Japan Times.
Moriya said his attention would now turn to family life. "I want us to work together, hand in hand, to create a family filled with smiles," he said, adding that he hoped to help Ayako adjust to life as a commoner.
The happy couple were shown on Japanese national news arriving at the shrine and slowly walking into one of the complex's pagoda-style buildings. The ceremony included an exchange of rings and sharing a cup of sake, AP said, which are traditional elements of Shinto, the traditional religion of Japan. Around 30 close family and friends attended the ceremony and heard the couple recite their vows.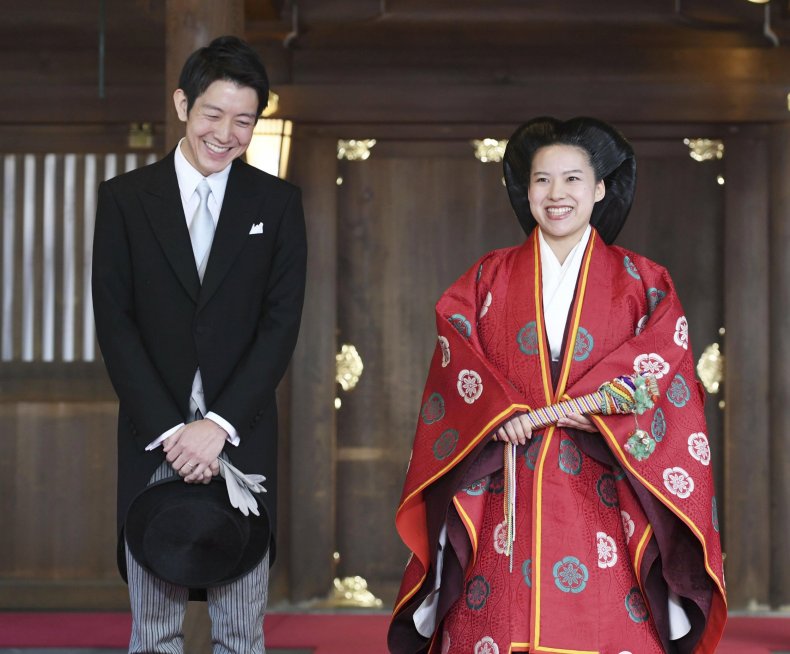 Ayako was sporting a traditional Heian hairdo and wearing a traditional hakama pants and a kimono robe bearing red and green patterns, while Moriya wore coattails. Ayako later changed into a red robe.
Though she will be losing her royal status, Ayako hopes to remain close to the emperor and empress. She will retain honorary positions at two organizations despite officially leaving the family, Japan Times said, in an unprecedented break with convention.
The two said they met through their mothers, who were friends. When they announced their wedding earlier this year, the pair said they hit it off immediately. "It didn't feel as though we had met for the first time," Ayako said. Moriya "knew I wanted to spend the rest of my life with her," noting her gentle spirit.
The number of royal family members has now fallen to 18, 13 of whom are women. Another will leave the family in 2020 when the emperor's granddaughter, Princess Mako, marries a commoner.
Emperor Akihito, 84, plans to abdicate next year having ruled since 1989. His eldest son, Crown Prince Naruhito, 58, will ascend to the throne on May 1.