Japanese Sushi Chain Spends $117,000 on a Giant Tuna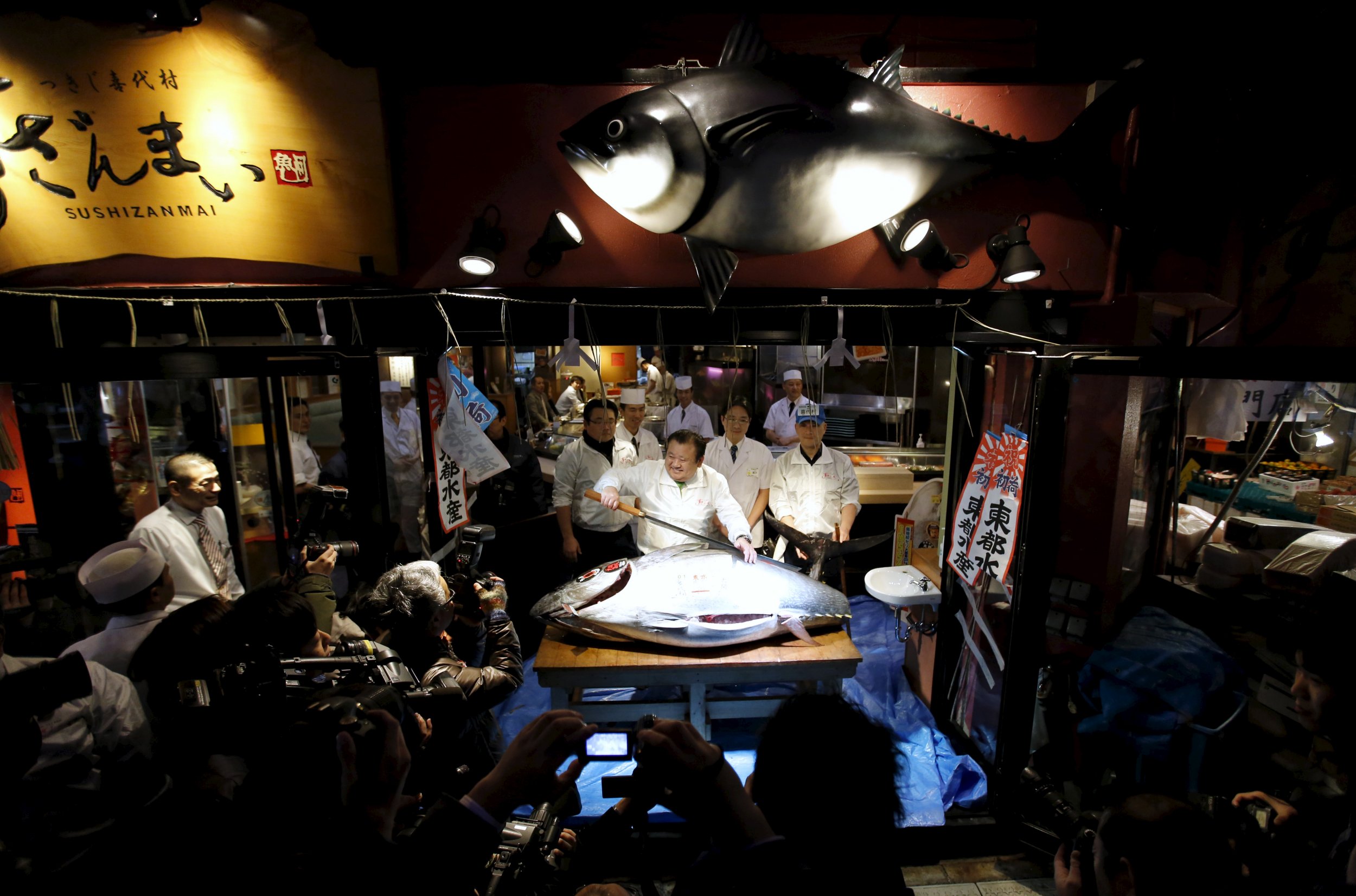 Congratulations are in order for Kiyoshi Kimura, the president of the Japanese restaurant chain Sushi Zanmai. He is now the proud owner of a whopping 441-pound bluefin tuna that only set him back a mere $117,000 or $265 per pound.
The gigantic fish was the prize sale at the famous Tsukiji fish market's New Year auction in the Japanese capital of Tokyo, the Washington Post reports . It has sentimental value too—the market, which has been judged unhygienic and unable to cope with the crowds of tourists it attracts, is due to be torn down this year and rebuilt on a man-made island in Tokyo.
"[The tuna] was a little more expensive than expected, but it's the highest quality for its shape, color and fat," Kimura said. "I want our customers to be happy." The whale of a fish was caught off Aomori prefecture, at the northern tip of the Japanese island of Honshu. Its price was more than treble that of the 2014 New Year's auction prize catch, but it was not record-breaking. In 2013, Kimura paid $1.8 million for a 490-pound tuna after he got caught up in a frenzied bidding war with a Hong Kong restaurant owner. Kimura has won the winning bid every year now since 2012.
The New Year's auction is marked by over-priced bids as buyers vie to win the first big tuna of the year. Under the jubilation though, lies a serious problem. Marine conservationists have repeatedly warned that bluefin tuna are close to extinction due to overfishing, the Guardian reports. In 2012, stocks of the fish were estimated to have dropped 96 percent from unfished levels nearly a century ago.
In September 2014, Japan and other tuna-fishing countries failed to agree on new conservation measures to protect the specie. Continued demand for the fish prompted the International Union for Conservation of Nature, an organization based in Switzerland, to move it to the "vulnerable" category on its list of threatened species in 2014.