City officials in Noto, a fishing town in Japan, have caught criticism after using coronavirus relief funds not to buy PPE or support small businesses, but to construct a statue of a giant squid.
The BBC reports that the 45-foot-long statue is on display in the town's port, as the flying squid is the town's "delicacy." According to local media, the town used 25 million yen (approximately USD $228,913) to construct the statue, in hopes that the large flying squid will attract tourists post-pandemic, and ultimately revitalize the town's economy. Yahoo Japan explained that the funds used for the statue were part of a larger government covid relief grant of 800 million yen or over USD $7 million.
All local governments had the authority to use the relief grants how they saw fit, says Yahoo Japan, and ultimately did not need to use the funds for COVID relief.
"I thought that it would be possible to make something with impact and use it as a catalyst for industrial promotion," said the Noto official in charge of the town in an interview with Yahoo Japan. "Even if it is not related, it can be used if it leads to future economic measures."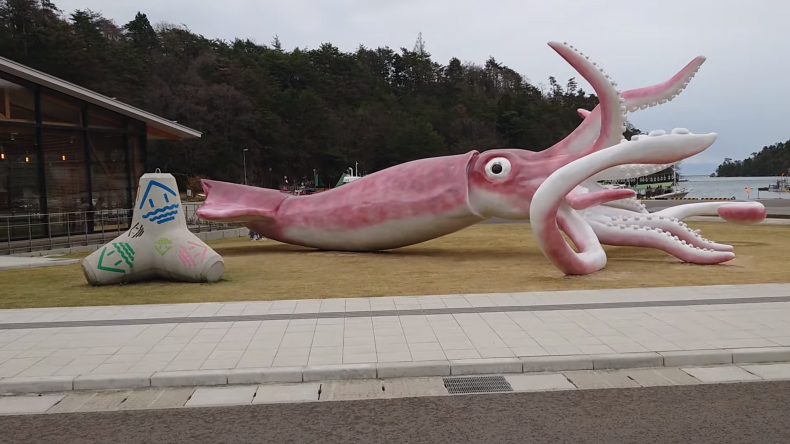 Japan is currently facing another surge in coronavirus cases but, the BBC reports, Noto's case count has been rather low. That said, the outlet also shared that the town has been significantly impacted by the drop in tourism.
Noto's officials told local media that the giant squid statue doubles as both a playground set and a photo spot, which of course, makes the statue both family and Instagram friendly. While the statue would otherwise be a nice addition to the community, the pandemic is still a clear and present threat, and not all locals are happy with the allocation of these funds.
"It may be effective in attracting customers in the long run, but there may have been a way to use it generously where there is an urgent need for support due to the corona disaster, such as medical staff and long-term care facilities," said an opposing local to Chunichi Shimbun newspaper.
Another local shared: "Although the purpose of tourism promotion is correct in the sense of regional revitalization, there must have been a way to solicit ideas from the residents."
The town's officials know that residents are upset. In response to their criticisms, the Noto official in charge told Chunichi Shimbun newspaper: "I understand that there are various opinions. After installation, we will try to maximize the effect and gain understanding while verifying by questionnaires to users."