BTS Kicked Off Japanese TV Over Jimin 'Hiroshima' T-shirt
BTS's appearance on a Japanese TV show has been canceled after one of the group's members was pictured wearing a controversial T-shirt.
Japanese fans of the K-pop group expressed anger at the outfit worn by Jimin, which seemingly depicted the American atomic bombing of Japan.
The seven-member boy band was due to appear on TV Asahi's Music Station show on Friday evening.
But the image of Jimin, 23, went viral with many fans who shared the image believing it celebrated the atomic bomb. It had the slogan "Patriotism our history Liberation Korea" and images of what looks like a mushroom cloud.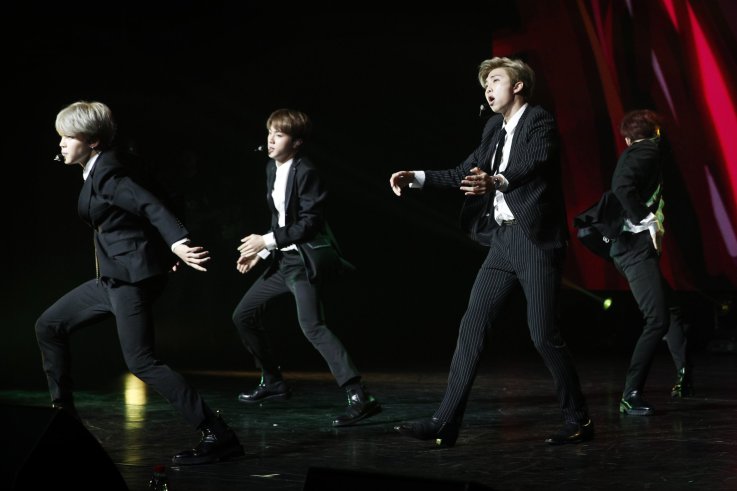 In 1945, two atomic bombs were dropped on Hiroshima and Nagasaki, killing hundreds of thousands of people. It eventually led to the independence of the Korean peninsula from Japanese rule.
Jimin, 23, was photographed wearing the shirt on 15 August, when Koreans mark the anniversary of the end of the Japanese occupation. The image went viral and many fans posted their distaste on Twitter.
One fan tweeted: "I can never accept the fact that #BTS member wore the atomic bomb T-shirts humanely. The problem is not the relation between Japan and Korea. It's just humanity."
"I am a resident of Hiroshima, I will not allow BTS to appear on the music station. They made a joke of the atomic bomb," another said, according to the BBC.
In a statement, TV Asahi said: "We have seen news that a T-shirt worn by one of the members has set off a furor. After asking their record company about this, we made the decision to postpone their appearance on our November 9 show" (via The Guardian).
BTS apologized for the cancellation but did not mention the T-shirt. "We apologize for disappointing fans who were looking forward to this. BTS will continue their efforts to connect with fans on stage and also through music," the group said.
There has been an increase in tension between Tokyo and Seoul recently and there is a particular sensitivity over Japan's role in World War Two. A court in South Korea ruled last week that a Japanese company should pay compensation for wartime labor, to Tokyo's anger, The Japan Times reported.
BTS Kicked Off Japanese TV Over Jimin 'Hiroshima' T-shirt | Culture