This Japanese Video Shows Exactly How Quickly A Virus Spreads and It's Not Pretty — There's a Black Light
Using fluorescent paint, a Japanese broadcast provided a dramatic example of how contact transmission can spread a virus, particularly in a group setting involving food.
NHK, Japan's national broadcasting corporation (similar to the United Kingdom's BBC), demoed how a virus can spread via contact infections aboard cruise ships and other close conditions in a video posted online Friday.
Under consultation from unnamed experts on viral transmission, NHK gathered ten people in a room meant to simulate a cruise ship buffet. After one person's hands were coated in a fluorescent paint—simulating viral droplets from a cough—participants dished up food from buffet trays, then took their seats. 30 minutes into the meal, the lights were turned off and black lights were activated.
The results are dire:
The fluorescent "virus" managed to spread to dishes and hands all over the room. After the infected passed through the buffet line—making contact with catering tray lids, tongs and drink pitchers—the paint managed to spread to every single other participant. Three subsequently touched their mouths or other parts of their face, presumptively "catching" the virus.
While cruise ship buffets are probably best avoided during a pandemic generally, the NHK write-up of the casual experiment did note that separation between catering dishes, frequently exchanged tongs and washed hands minimized the transmission.
While the NHK demonstration dramatized how high-touch surfaces were unexpectedly efficient viral spreaders, surfaces seem to play a relatively minor role in the transmission of the coronavirus COVID-19. The Center for Disease Control notes that "the virus is thought to spread mainly from person-to-person," via coughs, sneezes or talking in close proximity to another person.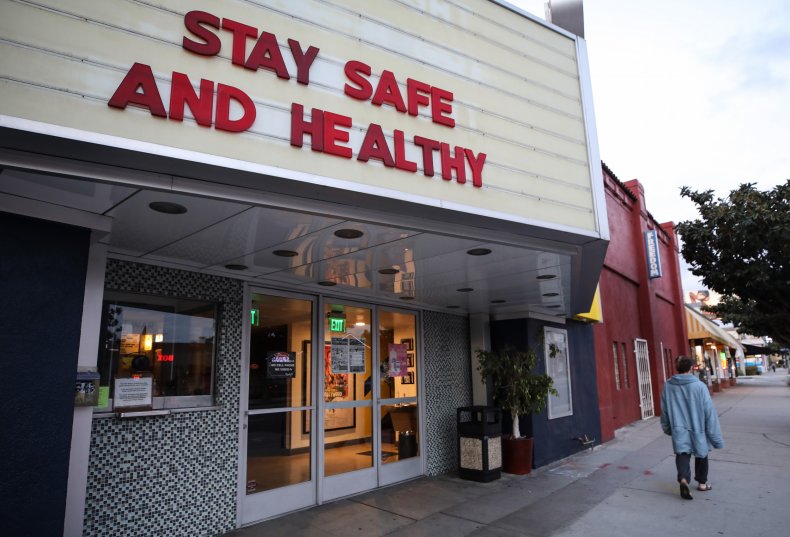 The CDC further included "touching surfaces or objects" under a list of ways the virus is not believed to spread easily.
"It may be possible that a person can get COVID-19 by touching a surface or object that has the virus on it and then touching their own mouth, nose, or possibly their eyes. This is not thought to be the main way the virus spreads, but we are still learning more about this virus," the CDC cautions.
On Monday, deaths from the coronavirus passed 80,000 people in the United States. The U.S. is in the midst of the largest outbreak worldwide, with more than 1,344,512 people infected with the virus. According to Johns Hopkins University, more than 4 million cases of the coronavirus have now been diagnosed worldwide, with the virus spreading to 187 countries.