Japanese Workers Ignore Government Request to Work Remotely, Return to Office
With the Tokyo Olympics a few months away and a state of emergency extended through May 31, the Japanese government is struggling to contain the spread of the coronavirus through nonobligatory restrictions.
During the "Golden Week" holiday, there was an influx of people at popular tourist spots and young people drinking in the streets because bars are closed. When the holiday ended, many people defied requests to work remotely and returned to their offices on packed trains. After the holiday, Tokyo logged 907 new cases, up from 635 when the state of emergency began in the capital last month.
"I understand there are concerns about hosting the Olympics," Prime Minister Yoshihide Suga said, adding that foreign athletes and other participants will be strictly separated from the Japanese public and that "it is possible to hold a safe and secure Olympics while protecting the people's lives and health."
For more reporting from the Associated Press, see below.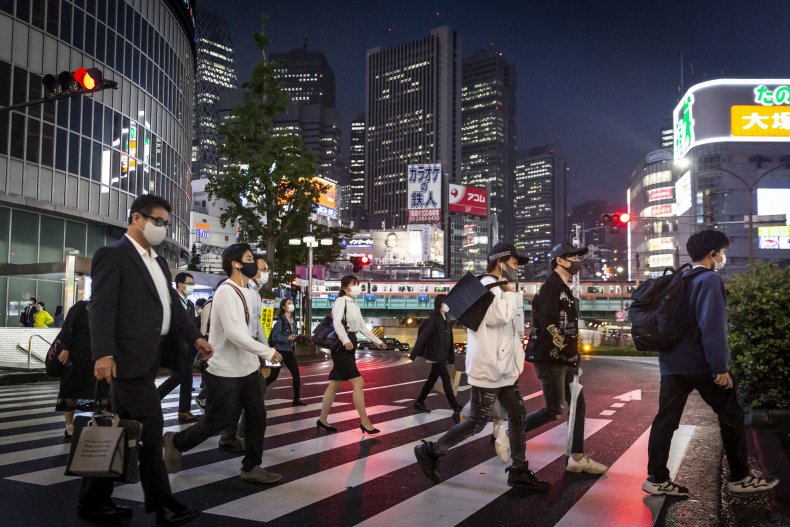 Japan has avoided implementing a hard lockdown to curb infections and most past measures have been non-mandatory. Some restrictions have been toughened, but citizens have become more impatient and more reluctant to comply, making emergency declarations less effective.
Despite criticism for being slow to take virus measures, Suga pledged to keep the state of emergency "short and intensive," though experts said just over two weeks would be too short to effectively slow the infections and even the extension may be insufficient.
For Suga, the emergency declaration is both a health measure and a political tightrope walk as domestic criticism rises of Japan's seeming determination to hold the Olympics at any cost.
Suga said a donation of vaccines by Pfizer Inc. to the International Olympic Committee for athletes will be "a big contribution" to a safe Games.
A speculated mid-May visit by International Olympic Committee President Thomas Bach has become "extremely difficult" because of the extension of the emergency, Japanese organizing chief Seiko Hashimoto said at a news conference Friday.
The government has also been criticized over its snail-paced vaccination rollout, which has fully covered less than 1% of the population since inoculations began in mid-February.
Suga pledged on Friday to speed up inoculations so all 36 million elderly Japanese can be fully vaccinated by the end of July. He set a daily target of 1 million shots, more than 20 times the current daily average, but did not explain how that would be possible amid a dire shortage of medical workers who can give vaccinations.
The current state of emergency in Tokyo and Osaka, Kyoto and Hyogo prefectures in the west was scheduled to end Tuesday. Suga said his government has decided to extend it in those areas and expand it to Aichi in central Japan and Fukuoka in the south.
The extension deepens uncertainties over a speculated May 17 visit by International Olympics Committee President Thomas Bach, and whether Japan can safely host the Olympics postponed from last year and currently scheduled for July 23 to August 8.
Dr. Shigeru Omi, head of a government taskforce, cautioned officials Friday that a hasty lifting of the emergency would only invite an immediate resurgence.
The ongoing emergency is Japan's third and came only a month after an earlier measure ended in the Tokyo area.
Less stringent, quasi-emergency measures will be expanded to eight prefectures from the current six, where bars and restaurants are required to close early.
Japan has had about 621,000 cases including about 10,600 deaths since the pandemic began.
Medical systems in hardest-hit Osaka have been under severe pressure from a COVID-19 outbreak there that is hampering ordinary health care, experts say. A number of patients died at home recently after their conditions worsened while waiting for vacancies at hospitals.
Past emergency measures authorized only non-mandatory requests. The government in February toughened a law on anti-virus measures to allow authorities to issue binding orders for nonessential businesses to shorten their hours or close, in exchange for compensation for those who comply and penalties for violators.
Shutdown requirements will be eased somewhat. Bars, karaoke studios and most other entertainment facilities will be required to remain closed until the end of May, but department stores will be able to operate for shorter hours and stadiums and concert halls will be allowed to have up to 5,000 people or half their capacity.
Wearing masks, staying home and other measures for the general public remain non-mandatory requests.