Japan's 'Slowest Roller Coaster' Derails And Stops Midride, Passengers Didn't Even Notice
Japan's "slowest rollercoaster" derailed and stopped midride last week and some passengers didn't even notice.
The Family Coaster at Arakawa Amusement Park in Arakawa Ward, Tokyo, described as the "slowest coaster in Japan" on the company's website, left seven adults and 12 children suspended 16 feet above the ground when it broke down around midday on Friday.
"The coaster was moving so slowly, I didn't notice it had stopped," a passenger in her 30s, who was on the ride with her six-year-old son, told Asahi Shimbun.
The woman said that the incident did get "scary" when staff started banging the back of the train with hammers. At that point, none of the passengers had been notified that the ride had broken down.
Some passengers then called 110, a police emergency number, and alerted authorities. Police arrived at the scene within an hour and safely rescued everyone on the ride. No one was hurt in the incident.
Ogaki police are investigating. According to local media, the incident occured when the wheel on the first car of the carriage disengaged from the rail.
The Family Coaster is around 459 feet long. Although advertised as the "slowest coaster in Japan," the ride is also said to reach "brisk jogging speeds" at various points.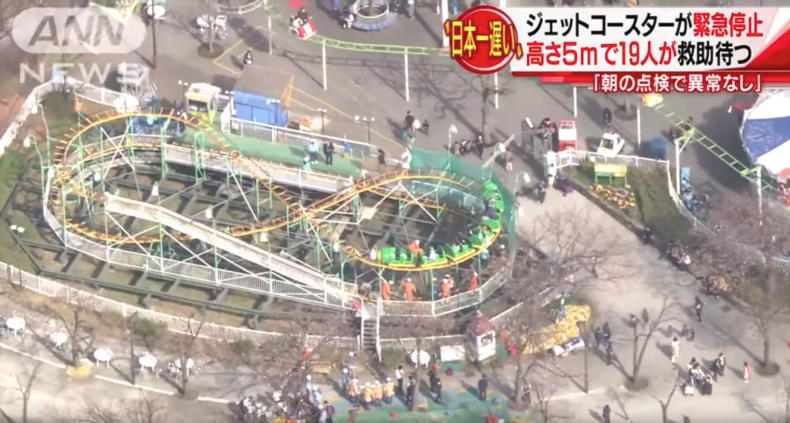 Arakawa Amusement Park opened its doors in 1950 as the only ward-operated amusement park in Tokyo.
Although rare, rollercoaster accidents still happen in theme parks around the world. On Thursday, passengers on the Buzzsaw rollercoaster in Australia's Dreamworld, in the Gold Coast, were left hanging upside down after the ride suddenly stopped midway while completing a circuit.
"The BuzzSaw controlled stop sensors were activated today at approximately 1.40 p.m. bringing the ride to an immediate stop," a Dreamworld spokesperson said.
The accident occurred less than 18 months after four people were killed on a water ride in the same theme park.