Japan's Stance 'Unchanged' After Biden Taiwan Pledge But Wary Over Ukraine
Japanese Prime Minister Kishida Fumio has said that his nation's stance toward Taiwan has not changed after ally U.S. President Joe Biden declared for a fourth time that he would commit U.S. troops to defend the disputed island from China.
And yet, the Japanese leader expressed a growing wariness of the security situation around his country in the wake of Russia's war on Ukraine, a development that has further prompted Tokyo to further invest in military capabilities.
Kishida addressed geopolitical challenges concerning both Moscow and Beijing as he spoke at a press conference on the sidelines of the United Nations General Assembly in New York on Thursday.
Asked specifically about Biden's recent remarks in which he once again broke with longstanding U.S. strategic ambiguity by explicitly stating that he would send U.S. forces to counter "an unprecedented attack" by China against Taiwan and whether Japan would do the same, Kishida declined to discuss the hypothetical and said his "response would be defined after the contingency occurs."
"Our mission is to defend the livelihood of our people, and the contingency and the security and safety legislation has been implemented," Kishida said, "and we will take all responses that will uphold the legal framework."
"And that position is unchanged," he added.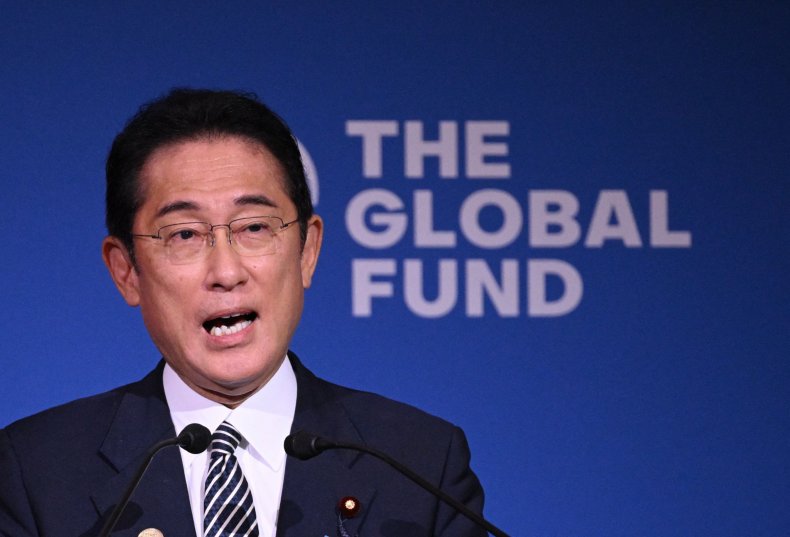 As for the broader trend of the relationship between Japan and China, set to mark its 50th anniversary next week with little high-level fanfare, Kishida said that it was "important for both nations to build constructive and stable Japan-China relations in which we will assert what needs to be asserted to China and ask for their responsible behavior and actions and to cooperate with China on common challenges."
"This has always been the position of Japan," he added.
The two countries are locked in a territorial dispute over the East China Sea's Pinnacle Islands, referred to by Japan as the Senkaku Islands and by China as the Diaoyu Islands. Run-ins between vessels from both sides in the vicinity of these islands have been the subject of frequent diplomatic protests between Beijing and Tokyo.
Japan has also expressed concern about an increasingly powerful Chinese People's Liberation Army, which has accelerated its capabilities on all fronts, especially at sea, in recent years. China, for its part, has criticized Japan's own military build-up and the presence of U.S. military bases and defense systems in Japan.
Kishida defended Japan's ongoing national security reforms, which mark a further deviation from the country's original pacifist constitution established under U.S. occupation just two years after the end of World War II. In the 77 years since Japan's defeat in the world's deadliest conflict, Kishida said his country "has continued our journey as peace-loving nation."
"The strong aspirations of our country to prosper with the countries of the region has already been demonstrated in Asia and the world," Kishida said.
But "having said so," he added that "witnessing Russia's aggression in Ukraine, I myself have a strong sense that Ukraine today may be East Asia tomorrow," a warning he previously issued in June.
Japan has joined in international U.S.-led sanctions against Russia, a country with which Japan shares a disputed border that has prevented Tokyo and Moscow from ever finalizing a post-World War II peace treaty. Nascent cooperation over the contested islands between them has collapsed since the conflict in Ukraine began and Russia has moved to deploy further military assets to the region.
Kishida said Japan's position "is not to pursue confrontation," but rather "a stable international order through dialogue." And yet, he warned Japan would have to prepare for unrest to hit closer to home.
"At the same time," he added, "we must be prepared for the emergence of an entity that tramples on peace and the security of countries by force."
This is a developing news story. More information will be added as it becomes available.