Japan's Sweet Killer 'Mochi' Rice Cakes Choke Two People to Death Despite Annual Warnings
They are round, sweet...and deadly. Japan's festive treat known as mochi has killed two people who suffocated on the rice cakes traditionally served on New Year's Day.
Seven others were listed in serious condition, as a total 15 people were taken to hospital on January 1 after eating mochi, the Tokyo Fire Department said on Tuesday, quoted in the Japanese newspaper The Asahi Shimbun.
The sometimes fatal incidents brought about by the cakes have plagued Japan for years. Authorities issue annual warnings explaining how to avoid suffocating—cutting the cakes into small, bite-sized pieces and chewing slowly to produce enough saliva to swallow the sticky treats—and how to help someone who's choking on them, depending on whether they are conscious or unconscious.
If the victims are conscious, they should be made to lie face down so the rescuer can press hard on their back while supporting the chest or lower jaw to spit out the cake, but if they are unconscious, a heart massage should be given first before attempting to expel the substance.
But as desperate times call for desperate measures, people have also been known to use vacuum cleaners to suck the cake out of a relative's throat—that's how a daughter saved her 70-year-old dad's life in 2001, as the BBC reported at the time, although health officials do not advise using the method as it could harm a person's internal organs.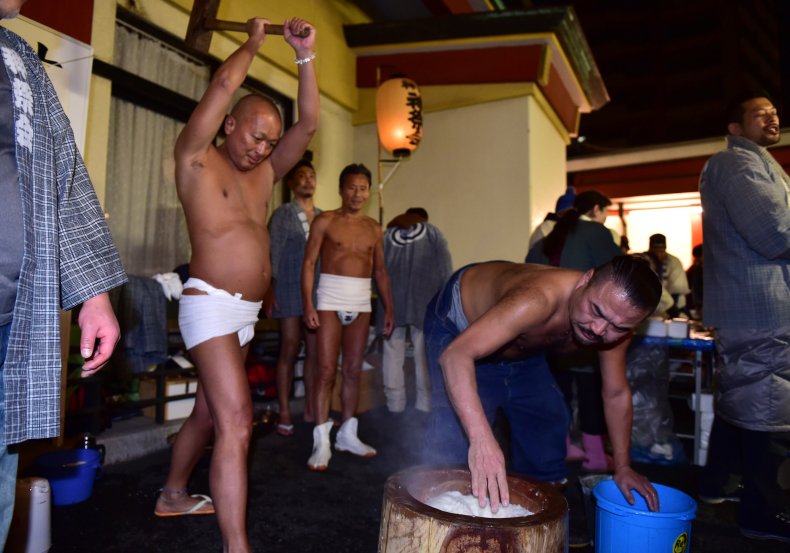 Children and the elderly are particularly vulnerable to the threat of suffocation. Figures quoted in Asahi showed that over the past five years, those over 64 made up around 90 percent of the hospital admissions related to the consumption of the cake, made of glutinous rice steamed and pounded into a paste and then molded into a round shape and served in sweet or savoury soup; toasted, accompanied by sweetened soy sauce or wrapped in sheets of dried seaweed.
As people aged 65 or over make up nearly a third of Japan's 127-million population, Japanese companies have tried to produce mochi that can be consumed with less risk, including in the recipe an enzyme that makes them less sticky, as The Guardian reported in 2013.
Efforts to prevent mochi-related deaths have had mixed results. According to official figures, four people died in 2014 because of the rice cakes, while the death toll in 2015 rose to nine. One elderly woman was reported to have died in 2016.
Japan's Sweet Killer 'Mochi' Rice Cakes Choke Two People to Death Despite Annual Warnings | World