Why Jared Goff and Carson Wentz should not be the top picks in the 2016 NFL draft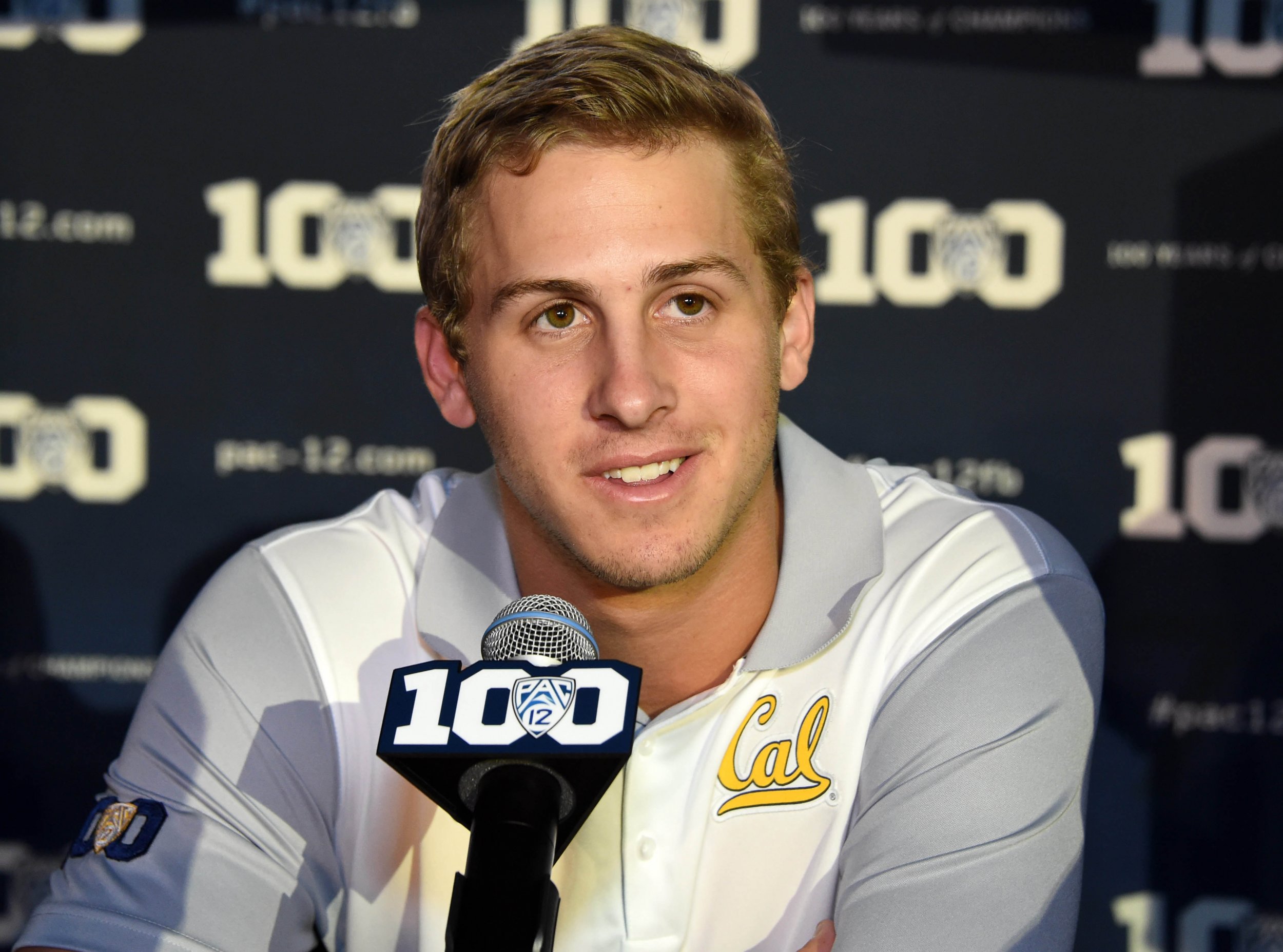 In the past two weeks leading up to Thursday night's NFL draft, the Los Angeles Rams and Philadelphia Eagles traded away 11 combined picks for the rights to select first and second overall, respectively. The Rams reportedly covet University of California quarterback Jared Goff and dealt their first-round pick both this year (No. 15 overall) and next, plus four other picks to the Tennessee Titans, in order to land him.
The Eagles want a quarterback too, so they traded their first-round pick this year (No. 8 overall) and next year, plus three more picks, to the Cleveland Browns in order to leap into the second slot (perhaps the Browns' greatest victory in at least a decade). Watch Philadelphia, whose general manager, Howie Roseman, has said that they will use the second pick to draft a quarterback, take Carson Wentz of North Dakota State.
Are Goff and Wentz worth that 11 combined draft picks? Not unless either one of them is the next Aaron Rodgers, who was the 24th pick of the 2005 NFL draft.
In the past dozen years, 15 quarterbacks have been selected among the first five picks of the NFL draft. Just one of them, Eli Manning, owns a Super Bowl ring (he has two, just like his older brother Peyton). A few of them, such as Alex Smith of the Kansas City Chiefs, Matt Ryan of the Atlanta Falcons, Matthew Stafford of the Detroit Lions, Andrew Luck of the Indianapolis Colts and reigning NFL MVP Cam Newton of the Carolina Panthers, are established as starters and as the faces of their respective franchises.
Just as many, however, are busts. Vince Young, the No. 3 pick in 2006, never won a playoff game. A knee injury early in his third season curtailed a promising career, and he was out of the league by 2011. JaMarcus Russell, the top pick of the 2007 draft, is not only the greatest miss of all time but earlier this week told Sports Illustrated that he would "play for free" on an NFL scout team if that is what it took to be invited to an NFL camp. Sam Bradford, the No. 1 overall pick of 2010, is currently on the roster of the Philadelphia Eagles—the same franchise that just traded away five picks in order to draft Goff or Wentz.
There are mock-draft picks and then there are lock-draft picks. The former, such as Goff and Wentz, appear all winter and early spring near the top of every sports website. The latter are guys who will definitely, barring injury, enjoy long and fruitful NFL careers.
Goff and Wentz both have the NFL-ready size that teams look for: about 6 feet 4 inches and 225 pounds, depending on what time pizza delivery arrives. Goff played in the Pac-12, which has a slew of future NFL defensive players, while Wentz led his team to a 28-3 record in two seasons as a starter and a pair of national championships at the Football Championship Subdivision (FCS) level. However, between them Goff and Wentz have zero victories against top 20 teams at the Football Bowl Subdivision (FBS) level.
What the Rams and Eagles may have fallen victim to is recency bias. Last year the top two picks in the NFL draft were quarterbacks Jameis Winston and Marcus Mariota. The difference was that both those players had won a Heisman Trophy and played in a national championship game. Heisman Trophies do not augur future NFL success per se, particularly not for quarterbacks. But both Winston and Mariota entered the NFL with all the tools of Goff and Wentz, plus reams of experience defeating defenses that were loaded with future NFL talent.
No matter what the war-room gurus in Los Angeles and Philadelphia tell the media, the fans and themselves, they are gambling here. The Seattle Seahawks may have taken a risk by selecting Russell Wilson at quarterback a few years ago, but Wilson, who has taken Seattle to a pair of Super Bowls in his first four seasons, was a third-round pick.
Hence, I am offering, pro bono, my services to the Rams and the Eagles. Here are five lock-draft picks, a quintet of players that offer no risk and high reward. These are future perennial Pro Bowl players, which is not a promise that can be made of either Goff or Wentz.
Just because you select a quarterback No. 1 (or No. 2) overall does not mean he can becomes the next Cam Newton. Besides, it was the guy who was chosen immediately after Newton in the 2011 NFL draft, linebacker Von Miller, who was named MVP of Super Bowl 50.
1. Jalen Ramsey, CB, Florida State
How valuable are cornerbacks in a league in which 300-yard passing games are practically mundane? Josh Norman just signed a five-year, $75 million deal to play that position for the Washington Redskins, which is more than all but eight quarterbacks earned last season. When the 6 feet 1 inch Ramsey heard that the Rams had traded up to the No. 1 spot, he quipped, "I didn't know the Rams loved me that much."
Was Ramsey kidding? Who cares? He's the best player in this draft.
2. Ezekiel Elliott, RB, Ohio State
Granted, the Rams do not need a running back, having selected Todd Gurley last year, but ask them how glad they are they did. The 6 feet 2 inch Gurley, taken 10th overall, gained 1,106 yards, was named to the Pro Bowl and was the league's offensive Rookie of the Year. Elliott, in two seasons as a starter for the Buckeyes, had 21 100-yard games and was the team's key offensive weapon during their 2014 national championship run. The worst thing Elliott did in two seasons as a starter in Columbus was complain that he did not touch the ball enough in the team's only loss of the 2015 season, and he was correct.
3. Joey Bosa, DE, Ohio State
In three of the past four years J.J. Watt has been the NFL's Defensive Player of the Year, and in two of those seasons, the Houston Texans defensive end has led the league in sacks. Bosa (6 feet 6 inches, 275) is roughly the same size as Watt (6 feet 6 inches, 289) and is also an alumnus of the Big Ten. He's not a Watt clone, but he brings a similar passion to every play. Bosa is a disruptor; he is going to ruin a lot of quarterbacks' Sundays in the coming years. Pick him.
4. Ronnie Stanley, OT, Notre Dame
Stanley is 6 feet 6 inches, 312 pounds, and even on that frame, his arms seem too long. Laremy Tunsil of Mississippi is also worthy of this spot, and like Stanley, he has faced the stiffest competition in college football. Stanley is the safer pick only because Tunsil has suffered a few injuries already (knee, torn biceps) and had a few off-field issues with the NCAA. Both are solid, though.
5. DeForest Buckner, DE, Oregon
At 6 feet 7 inches and just under 300 pounds, Buckner is a nightmare edge rusher who will affect the game on every passing down. The entire premise of The Blind Side was based on stopping human freight trains like him. In college Buckner played at Oregon, which means that he was a Duck. That's the same word beaten offensive tackles will be shouting back at their quarterbacks the moment Buckner flies past them.