Video: Jared Goff Throws One of the Worst Interceptions of This NFL Season
Jared Goff threw one of the most bizarre interceptions of the season on Sunday night, as the Los Angeles Rams suffered an unexpected loss at home to the Philadelphia Eagles.
Having steamrolled opponents in the two-thirds of the season, the Rams and Goff have struggled in the three games since their bye, losing the last two in a row. The Los Angeles offense had fired on all cylinders until the bye but has since begun to stutter and Goff has thrown seven interceptions in the three games since the bye, as opposed to the six he had thrown in the combined 11 prior games.
Read more: Nick Foles saved the Eagles again and everyone on Twitter made the same joke
On Sunday, the one-time MVP completed 35 of 54 passes for 339 yards and two interceptions, one of which was particularly bizarre.
With the Rams down 23-13 in the third quarter on a third-and-1, Goff fumbled the snap and nearly fell on the ball, allowing the Eagles defense to recover the football and drive the Rams back down the field.
Goff has now gone two games without throwing a touchdown and admitted the Rams had to find a way to overcome their offensive issues.
"Teams are doing different things to us," he told NFL Network. "They're trying out different things and we just need to find a way to respond.
"It's good to go through some adversity at some point. Going through this now, we're in a position where we know we're in the playoffs, but at the same point, we have to be urgent about getting these things fixed."
Rams head coach Sean McVay admitted Goff needed to improve and "make better decisions" but suggested he retained full confidence in the quarterback.
"He did a good job continuing to compete [...] and that's what you love about Jared. But there's some things that we all got to be better," McVay said.
"He's got to make better decisions, especially when we end up falling out underneath the center on third-and-1. You know, sometimes the only play is to just eat it and take that sack [...] but in trying to make plays, we learn from all of our mistakes."
The 30-23 defeat against the Eagles on Sunday was the first the Rams have suffered on home turf this season. While they have already clinched the NFC West, consecutive losses over the last two weeks could complicate the Rams' postseason plans.
A win on the road against the Panthers on Monday night would see the New Orleans Saints move to 12-2, moving one game ahead of the Rams in the race to secure home-field advantage throughout the playoffs.
The Rams travel to Arizona next week to face the Cardinals, before hosting the 49ers in the final game of the regular season.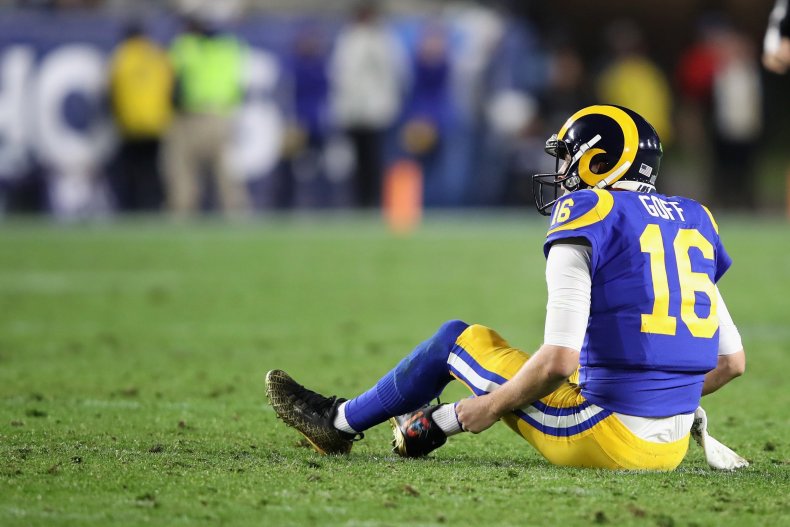 Video: Jared Goff Throws One of the Worst Interceptions of This NFL Season | Sports