Late Show host Stephen Colbert slammed President Donald Trump's daughter and son-in-law's appearance in Israel on Sunday, branding the couple "peace treaty Barbie and collusion Ken."
Ivanka Trump and her husband, Jared Kushner attended the opening of the new U.S. embassy in Israel, controversially moved to the divided city of Jerusalem—a city claimed as capital by both Israelis and Palestinians.
Related: Ivanka Trump and Jared Kushner blessed by Rabbi who compared black people to monkeys
"The president couldn't be there himself… so instead," Colbert remarked, "he sent 'peace treaty Barbie' and 'collusion Ken'."
Colbert then set up a clip of Kushner speaking that had been dubbed over with someone doing a squeaky voice, a joke referring to the minor uproar last year after Kushner finally spoke publicly, surprising many with his timbre.
After Kushner's speech saying people would remember that day as part of a "journey to peace," Colbert said "we'll see if there's peace but we'll definitely remember. It's like the saying: when the house is finally burned down we will look back and remember that this journey started when we decided to install a deep-fat fryer in the living room."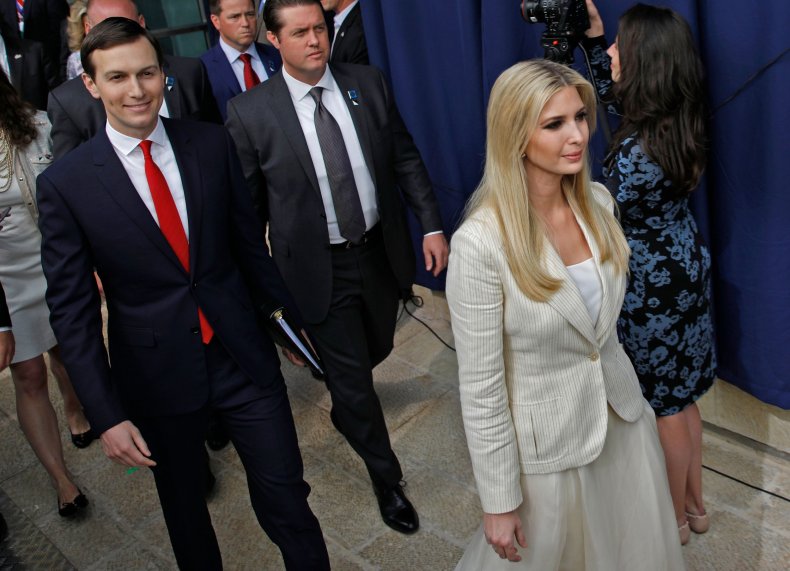 Then showing a clip of Ivanka Trump's slight mistake in referring to her father as the "45th President of the United States on America", Colbert said that it "certainly feels like he's on us, I think we all get $130,000 now."
Trump has faced mounting issues since allegations came to light that his lawyer sent $130,000 in hush money to adult film star Stephanie Clifford, better known as Stormy Daniels.