Ivanka Trump and Jared Kushner Could Visit Israel On Foreign-Trip-Turned-Family-Vacation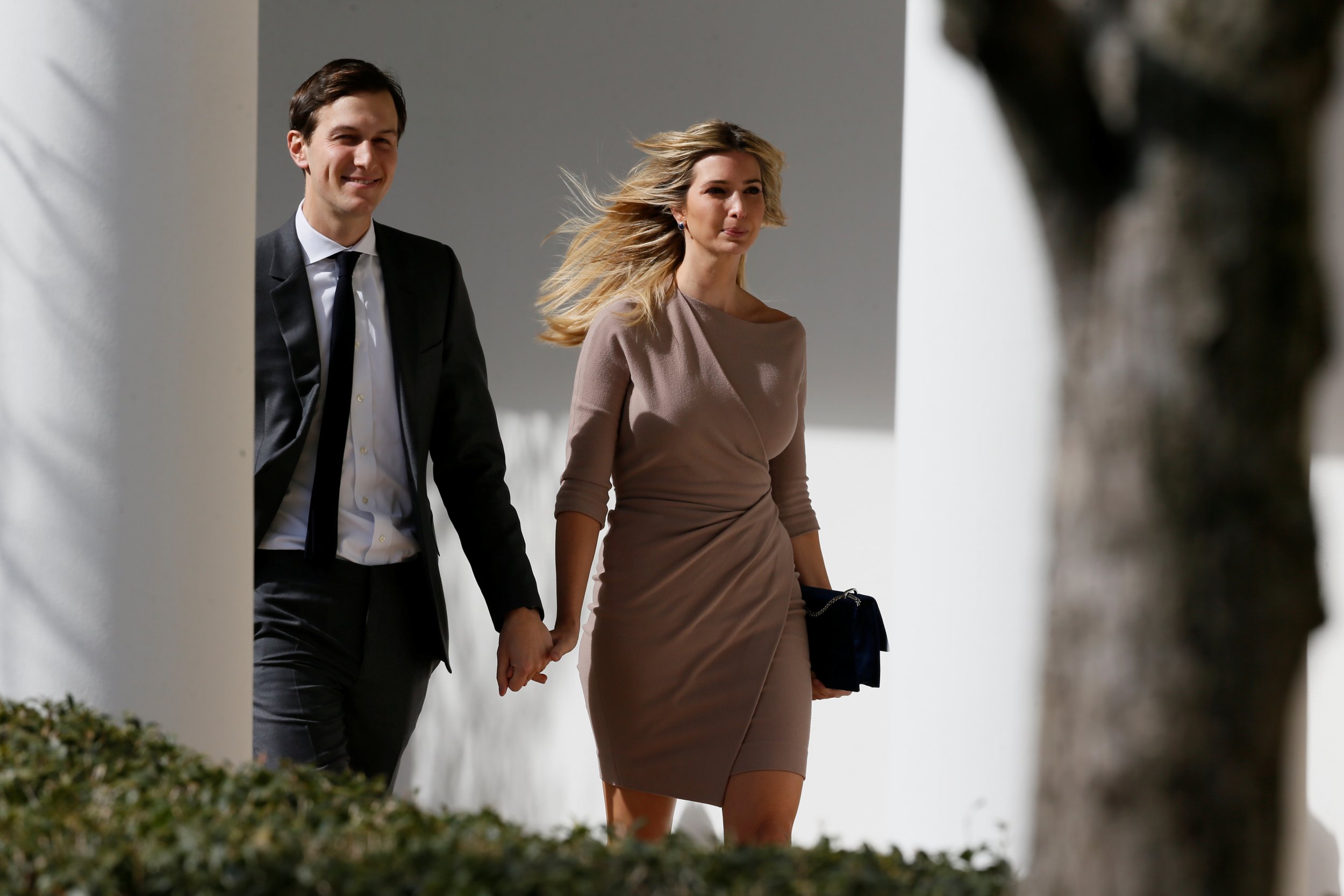 Donald Trump is turning his first foreign trip as president into a family vacation. Not only will first lady Melania Trump accompany him, as reported last week, but so too will his daughter Ivanka Trump and her husband.
Several White House officials told Politico that Ivanka Trump, whose official title is assistant to the president, and Jared Kushner, whose official title is senior adviser, will tag along with the commander-in-chief's entourage for at least part of the upcoming tour to Saudi Arabia, Israel, the Vatican, Rome, Brussels and Sicily. Other people traveling with Donald Trump for legs of the journey include press secretary Sean Spicer, chief of staff Reince Priebus and chief strategist Steve Bannon.
The entire team will be in the spotlight. But if Jared Kushner and his wife stop in Israel, they could draw particular attention, as Ivanka Trump converted to Judaism before marrying Kushner in 2009.
"For us it is like a reality show on the biggest screen," Uri Dromi, the director general of the Jerusalem Press Club, told Forward in April.
Over the past few months, Kushner and Ivanka Trump have proven to wield a lot of power over the president. First son Eric Trump told the Daily Telegraph in April that Ivanka Trump encouraged her dad to launch airstrikes against Syria after a chemical attack that killed more than 80 people, and Kushner reportedly intervened to convince Trump to abandon his plan to pull out of the North American Free Trade Agreement.
Meanwhile, the couple and their religion are constantly under scrutiny because of their fame.
Late last year, for example, some of the leading rabbis in Israel announced that, even though they were reviewing the legitimacy of certain Orthodox conversions overseas, Ivanka Trump's status would not be threatened. The decision inspired some skepticism among people who argued Israeli leaders were just trying to get on Donald Trump's good side.
"It would definitely be embarrassing to the State of Israel and for the rabbinate if the Jewish family like Ivanka Trump's family was to visit Israel and for the official Jewish authorities in Israel to not recognize their Judaism," Elad Kaplan of ITIM, a religious advocacy group, told USA Todayat the time.
In Israel, Donald Trump is expected to meet with not only Israeli Prime Minister Benjamin Netanyahu but also Palestinian Authority President Mahmoud Abbas.
The president's foreign visit as a whole starts Friday and will last through May 27.