Jared Kushner Wanted 2020 Re-Election Campaign Launch At Trump Tower but President Rejected Idea: Report
President Donald Trump's son-in-law Jared Kushner reportedly advocated for the Trump 2020 reelection campaign kickoff to take place at Trump Tower, in order to harken back to the 2016 campaign launch, but the president rejected the idea.
Kushner's idea "was to return to the iconic beginning as a way of showcasing all Trump has accomplished in his first 2 1/2 years in office," a person with knowledge on the Trump team's discussions told The Washington Post in a report published Monday. Kushner also suggested possibly holding a rally after the event at Trump Tower.
However, Trump agreed with other Trump campaign members who pushed for Florida as the location. The president was sold on having a rally with a huge crowd, in addition to the significance of him winning the state over Hillary Clinton in 2016. Securing the swing state of Florida again will be critical for Trump, whereas New York, where Trump Tower is located, is historically a blue state.
Trump's reelection bid will launch on Tuesday in Orlando at the Amway Center, which can hold 18,500 people.
"Big Rally tomorrow night in Orlando, Florida, looks to be setting records," Trump tweeted on Monday morning. "We are building large movie screens outside to take care of everybody. Over 100,000 requests. Our Country is doing great, far beyond what the haters & losers thought possible - and it will only get better!"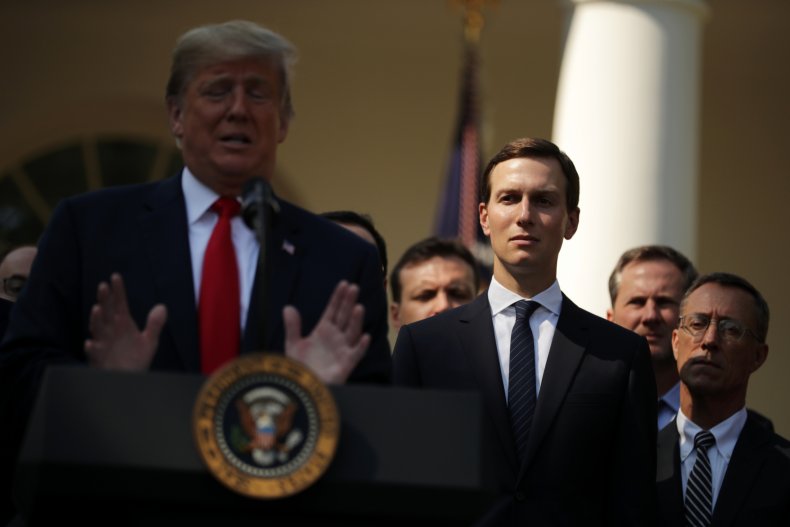 Trump has trusted Kushner, as a senior White House adviser, with various hefty issues including a Middle East peace plan, which has been held from release due to political issues in the region.
In April, Trump said that Kushner had a "very easy life" before entering the West Wing and that everything his son-in-law has touched has "turned to gold."
While speaking last month about his forthcoming Middle East peace plan, Kushner joked that disappointing Trump as a father-in-law was worse than disappointing him as president of the United States. The Washington Institute for Near East Policy's executive director Robert Satloff asked Kushner if Trump had discussed with him if the peace plan was a winner, before approving it to be released.
"When you work for a president, you try hard not to disappoint, but you can disappoint," Kushner replied. "When you work for your father-in-law, you can't disappoint."
Kushner continued: "I think I've established a good track record now on all the different tasks he's given me. I've come back with results and I've come back with good advice, and I do think that this is something that I do think he will be proud of."
Trump's campaign launch in 2015 at Trump Tower was attended in large part by passersby and other people who were paid to be there. Though the 2016 kickoff had somewhat amateur elements including homemade signage, and was scoffed at by competing campaigns, Trump went on to win the Republican nomination and the presidency.