Jared Kushner Speaks in Public, and Here's How His Voice Sounds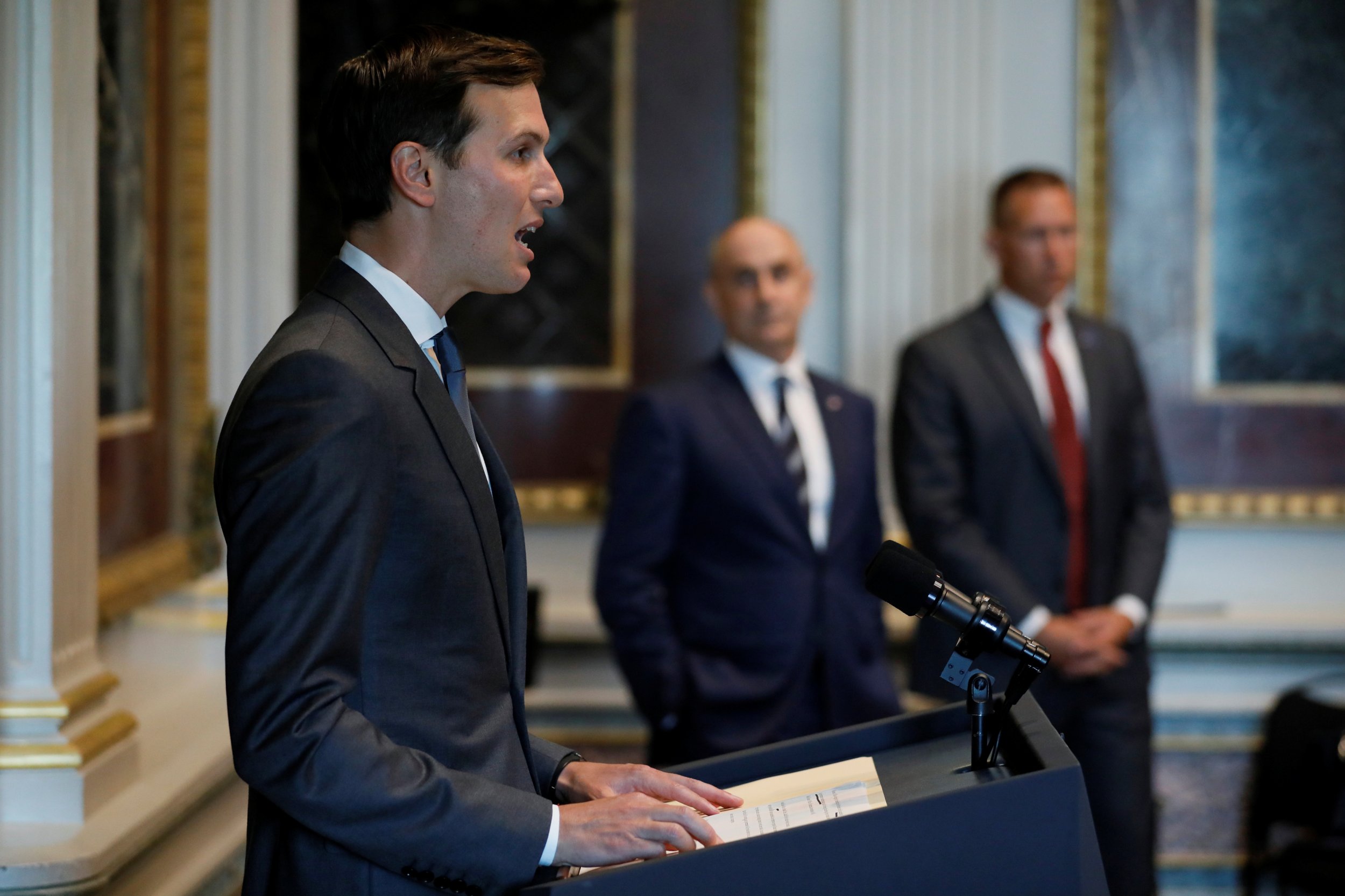 Jared Kushner, son-in-law of President Donald Trump and White House senior adviser, doesn't seem like a chatty type. In fact, up until Monday, if you'd asked me what his voice sounded like, my answer would have been "Ehhh," accompanied by a shrug.
But that is no longer my answer. Kushner, a man tasked with solving a number of the world's most pressing problems, actually spoke in public Monday. Finally we know more about his voice, which is largely pretty normal, if a bit high-pitched and nasally.
Kushner's previous silence had not gone unnoticed. TV's Saturday Night Live famously tasked host Jimmy Fallon with impersonating the 36-year-old formerly known for his real estate dealings. In a send-up of Trump's old TV show Celebrity Apprentice, Fallon's Kushner and SNL's representation of adviser Steve Bannon (the Grim Reaper) competed with each other to keep from being fired. Fallon, dressed in a blazer and bulletproof vest, mostly posed for the camera and said nothing at all. Playing Trump, Alec Baldwin addressed Kushner's silence.
"Jared, Steve, standing before me are my two top advisers. But I have only one photo in my hand. That's right, tonight is elimination night," Baldwin said. "Jared, I've sent you all around the world to represent me, but no one's ever heard you speak. You're like a little Jewish Amélie."
Delivering remarks Monday, Kushner, who is married to Trump's daughter, Ivanka, broke the silence at the first American Technology Council meeting, which featured CEOs from a number of major companies.
"We have challenged ourselves to pursue change that will provide utility to Americans far beyond our tenure here," Kushner said in a deliberate, relatively monotone fashion. "Together, we have set ambitious goals and empowered interagency teams to tackle our objectives. It's working, and it's very exciting.
"Our goal here is simple: We are here to improve the day-to-day lives of the average citizen," Kushner continued. "That's a core promise, and we are keeping it."
Kushner seemed to largely stick to his script—a bit of a break from the style of his father-in-law. Kushner's next step is a scheduled trip this week to the Middle East, where's he's expected to push for peace talks between Israel and Palestine. That tall task will certainly require him to use his vocal cords.