Jared Kushner and Ivanka Trump Working in the White House is 'Wrong' and They Should Be Fined $1,000 Daily, Democrat Says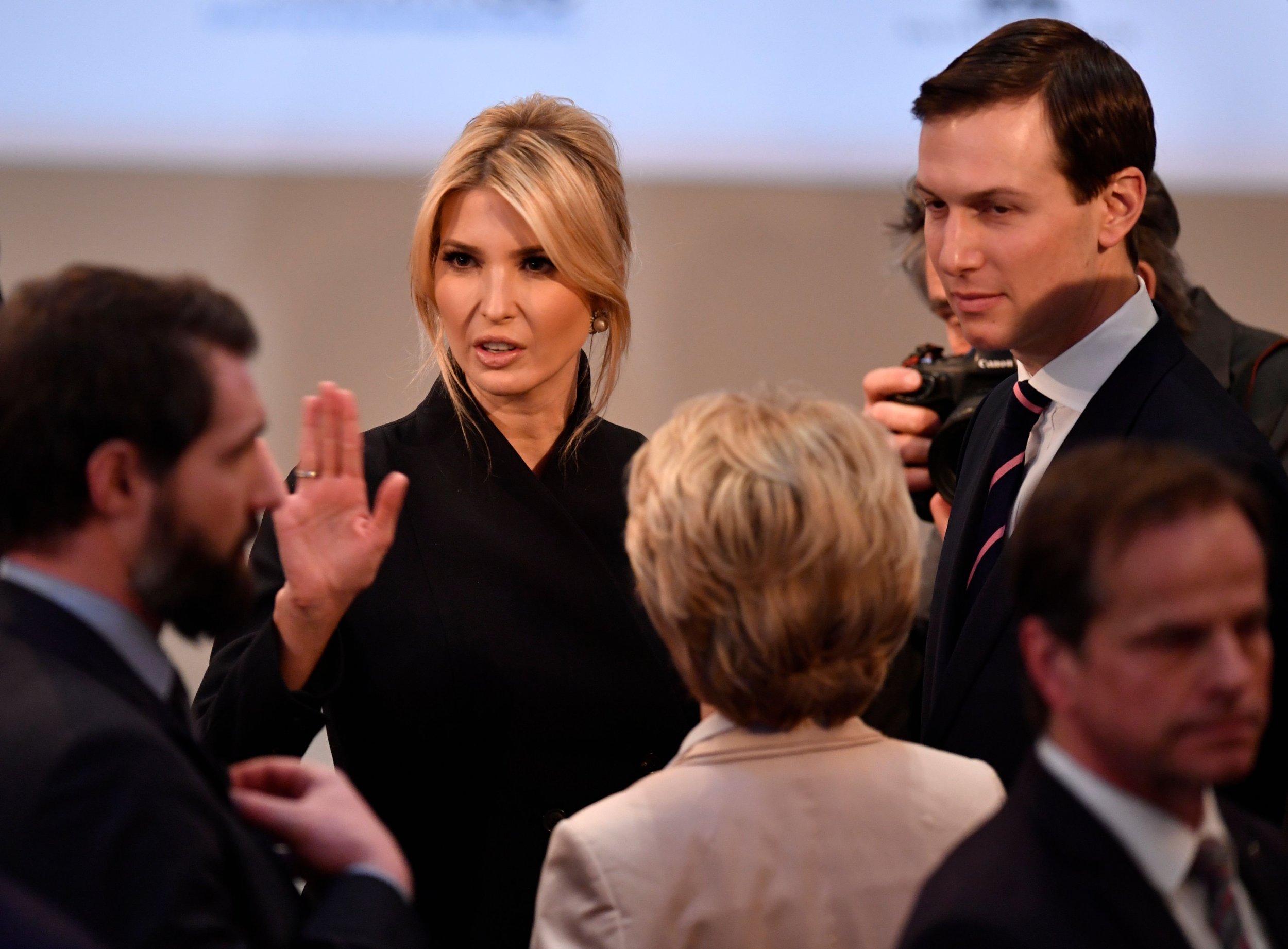 With first daughter Ivanka Trump and her husband Jared Kushner under renewed scrutiny recently for their security clearances and roles in policy making, Democratic Representative Jackie Speier said it is "wrong" that the president's daughter and son--in-law are employed in the White House, and pitched a bill that would fine them $1,000 per day they work for President Trump.
Speier appeared on MSNBC's Hardball with Chris Matthews this week, where she said President Donald Trump, "thinks this is a game, but we have rules and they were put in places after Bobby Kennedy was the attorney general, and that law basically said, no more nepotism."
"So what does this president do?" Speier said. "He decides he's going to make his daughter and son-in-law volunteers so they won't be subject to the nepotism law."
Ivanka Trump and Kushner have been working as unpaid senior White House advisers from the start of the Trump presidency.
"This is wrong," Speier said of the couple working in the White House. "It shouldn't have happened in the first place."
Speier then brought up the bill she introduced last month, HR 1028, the "Restoring Integrity, Governance, Honesty, and Transparency Act of 2019" (or "RIGHT Act"), which would require $1,000 per day fine on people who have been prohibited from paid work in the White House because of anti-nepotism laws but use the volunteer loophole to continue working for an administration.
"The bill would also require candidates for president and vice president to disclose their tax returns," Speier said.
Criticism around Ivanka Trump and Kushner's top-secret security clearances resurfaced after a Washington Post story late last month stated that the president pressured then-chief of staff John Kelly to grant clearances for the couple, against the advice of career intelligence officials.
In addition, journalist Vicky Ward's forthcoming book Kushner Inc. claims that the president wanted to get rid of his daughter and son-in-law because they were drawing negative press around his administration.
Speier introduced the RIGHT Act in early February, tweeting at the time that it was needed to "address unprecedented levels of unethical behavior, nepotism and misconduct in the Executive Branch that pose a clear and present danger to not only our electoral systems but the foundation of our democracy."
In late February, Speier called Kushner out by name in regard to the bill.
"@POTUS keeps highlighting that #Kushner wasn't getting paid for his work in the White House, like it was a sacrifice. But that still violates anti-nepotism laws," Speier tweeted. "We need to drain the WH swamp. I will soon introduce the RIGHT Act to do just that!"
Even if the bill were to be passed by the House, it would likely fail when it reached the Senate, which is controlled by a Republican majority. In the highly unlikely world where it did pass, the fines would have little financial impact on its two main targets. Ivanka Trump and Kushner have a combined estimated net worth of $1.1 billion and would likely be able to afford to continue volunteering. The couple would amass $2.92 million in fines through the end of Donald Trump's second term, if he is reelected, according to the San Francisco Chronicle, which would be just 0.27 percent of their wealth.