Jared Kushner Ignores Israeli Occupation As He Unveils Palestinian Development Plan
President Donald Trump's son-in-law and senior adviser Jared Kushner arrived in Bahrain on Tuesday to lay out his vision for the economic development of Palestinian communities, part of his long-touted Middle East peace plan.
"Over the past decades there have been numerous stops and starts to the Palestinian economy. Numerous well-intended programs, investments, and plans have been derailed by violence, political instability, and the lack of a resolution to longstanding core issues of this conflict," Kushner began. He then went on to urge listeners to imagine a bustling commercial center in Gaza and the West Bank.
But observers quickly pointed out that Kushner was ignoring the fact that the Israeli government was responsible for stymieing much of the economic development in the West Bank, Gaza, and East Jerusalem.
"In opening Bahrain remarks, the length at which Kushner goes to not mention the Israeli occupation of the [West Bank] or Israeli-led siege of Gaza when explaining how they'll improve the Palestinian economy is just painful for anyone who's from, lived, studied, or worked in 'the region,'" tweeted Miriam Berger, a journalist based in Israel.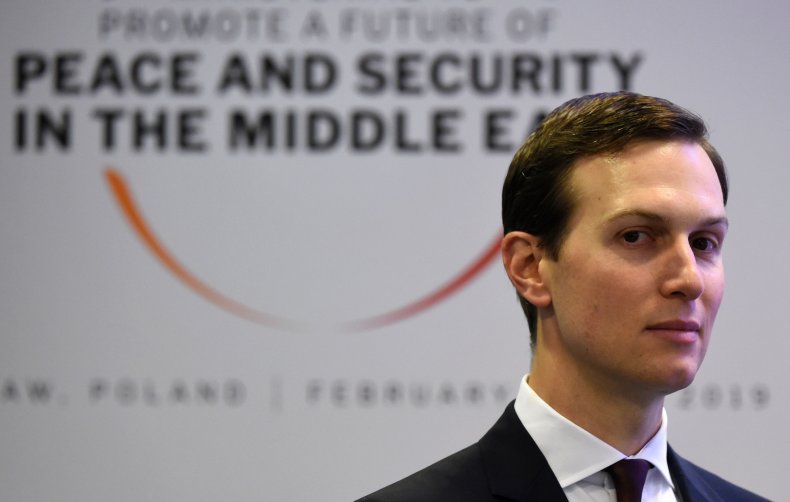 "Kushner is done. Steve Schwartzman, whose net worth is larger than Palestine's annual GDP, is now on stage telling the Palestinians they should be more like Singapore. This is the funniest thing I've ever watched," Tweeted Gregg Carlstrom, Middle East correspondent for The Economist.
On Saturday, the Trump administration released the first part of its Middle East peace plan, a document entitled Peace to Prosperity. The Economic Plan: A New Vision for the Palestinian People. The plan's stated aim is to "unleash the economic potential of the Palestinians by developing property and contract rights, the rule of law, anti-corruption measures, capital markets, a pro-growth tax structure, and a low-tariff scheme with reduced trade barriers."
But many advocates for peace in the region said that the plan also missed the mark.
"While the document's authors correctly identify many of the Palestinian economy's most pressing needs, they fundamentally misdiagnose the root causes of its problems. Underdevelopment in the Palestinian territories is not the result of natural market forces; it is the direct product of over fifty years of Israeli military occupation and policies explicitly designed to stifle the Palestinian economy," the organization Churches for Middle East Peace said in a statement.
"CMEP believes a political solution that grants the Palestinian people their full freedom and right to self-determination is a necessary prerequisite to economic prosperity. Even the most thorough and well-planned economic development proposals will ultimately fail if this most basic condition is not met," the organization continued.
Halie Soifer, executive director of the Jewish Democratic Council of America, argues that the Trump administration's approach is hypocritical given the fact that it cut funding to United Nations relief agencies and other development programs that aimed to help Palestinian communities.
"Jared Kushner's 'Peace to Prosperity Plan' is another example of the Trump administration's hypocritical and vacuous foreign policy. Kushner's glossy brochure features USAID programs this administration has cut, and individuals this administration has marginalized. If they are going to deprive programs of funding, they cannot get away with repackaging them into a brochure and claiming victory," Soifer said.
"Instead of repurposing old ideas and claiming them as their own, we strongly urge the Trump administration to reaffirm its support for a two-state solution, which has been U.S. policy for decades. Two states for two peoples, side-by-side in security and peace, is the foundation of any future peace agreement, not empty promises and glossy images," Soifer added.