Ivanka Trump Wishes Jared Kushner a Happy Birthday As He Faces Possible Federal Charges in Mueller Probe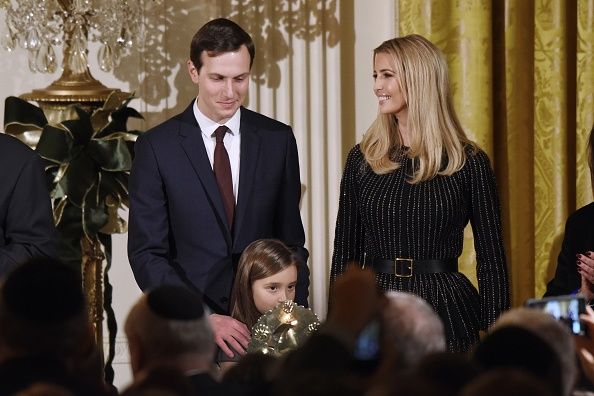 Jared Kushner received nothing but accolades in a birthday post Wednesday morning from his wife Ivanka Trump, who called him an "amazing" father, husband and best friend.
But for others— special counsel Robert Mueller's team and federal investigators, for example—perspectives on President Donald Trump's senior White House advisor are less rosy.
Kushner has landed in the news consistently in recent months, often in relation to the ongoing investigation into whether Trump's team colluded with Russia to influence the 2016 presidential election outcome.
Related: Jared Kushner For Secretary Of State? Trump Told Kelly His High Hopes For Son-in-Law, New Book Claims
The real estate mogul spoke with multiple Russian-linked officials both before and after Trump's campaign, including a June 2016 Trump Tower meeting in New York that former White House chief strategist Steve Bannon labeled as "treasonous" in Michael Wolff's new book, Fire and Fury: Inside the Trump White House, released last week. The meeting, which also included Donald Trump Jr., former campaign manager Paul Manafort and Russian lawyer Natalia Veselnitskaya, among others, was set up with the promise of Trump obtaining damaging information about Democratic candidate Hillary Clinton.
It remained under wraps until mid 2017.
Kushner's communication with Russia's ambassador to the U.S., Sergey I. Kislyak, has also raised eyebrows. In addition to at least three previously undisclosed phone calls between April 2016 and November 2016 on improving economic relations with Russia and collaborating to combat Islamist extremism, Kushner also met with Kislyak at Trump Tower in December 2016 with incoming national security advisor, Michael Flynn. During said meeting, Kushner proposed developing a "secret and secure communications channel" between Trump's transition team and the Kremlin via Russian diplomatic facilities, The Washington Post reported.
Mueller's investigators interviewed Kushner regarding this meeting, which had remained undisclosed until March, in November. The talk reportedly lasted less than an hour.
Trump's son-in-law has also found himself in hot water for failing to disclose financial dealings and potential conflicts of interest.
For example, Kushner failed to disclose ownership of a real estate tech company called Cadre, which is reportedly valued at $800 million, on his initial financial disclosure forms. An amended version in July revealed he valued his interest in Cadre from $5 million to $25 million.
The New York Times also reported earlier this week that prior to Trump's first diplomatic visit to Israel in May, Kushner's family received $30 million in investments from a large Israeli firm, Menora Mivtachim, for 10 Maryland apartment complexes.