Jared Kushner, Donald Trump Jr. Could Face Criminal Charges if Steve Bannon Claims Prove Accurate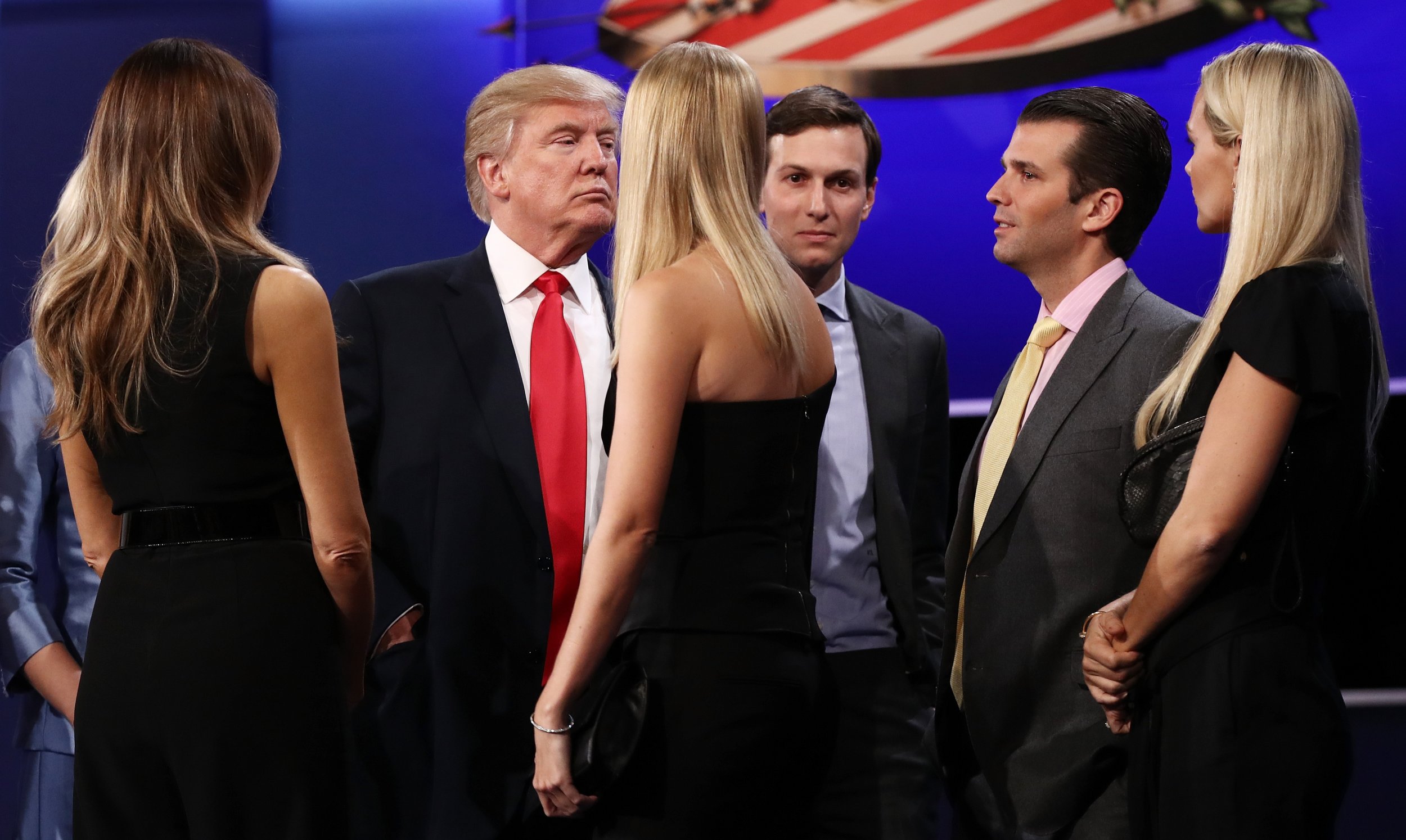 Donald Trump and his family could face further legal, and political, peril over a the June 2016 Trump Tower meeting between campaign officials, including Donald Trump Jr., and a Kremlin-linked Russian lawyer.
Related: Donald Trump Jr. likely brought Russians to his father after Trump Tower meeting, Steve Bannon says
The meeting is back in the spotlight thanks to explosive excerpts from a forthcoming book, which were released Wednesday. In the book, Fire and Fury: Inside the Trump White House by Michael Wolff, former White House chief strategist Steve Bannon is quoted as saying that "the chance that Don Jr. did not walk [the meeting's participants] up to his father's office on the twenty-sixth floor is zero."
During Wednesday's briefing, White House press secretary Sarah Huckabee Sanders denied the accusation. "As the president has stated many times, no, he wasn't part or aware of that," she said. In an earlier statement, Trump slammed Bannon, claiming that his former ally had "lost his mind" since being fired last August.
But what if the meeting with Donald Trump really took place? What could it mean for Trump and those around him, specifically Trump Jr. and Jared Kushner, a senior adviser to the president and also his son-in-law?
If that meeting is confirmed, most of the attention would be trained on Trump himself. But Peter Zeidenberg, who spent 17 years as a federal prosecutor, warns that from a legal standpoint, Trump Jr. and Kushner could face the greatest jeopardy, depending on what they told investigators from both the FBI and congressional committees.
Zeidenberg said that both men likely told investigators exactly what they've been saying publicly—that Trump had no knowledge of the meeting and wasn't present for any part of it. If this turns out to differ from the truth, they could be at legal risk.
"They would have been giving false information, so they would be subject to obstruction of justice or false statement charges," Zeidenberg told Newsweek. "Don Jr. has denied this. Kushner has denied this. Obviously, there'd be issues with that. This would mean the accounts that investigators have been given so far...[are] false."
Former national security adviser Michael Flynn and former campaign staffer George Papadopoulos have both pleaded guilty to lying to the FBI.
But Zeidenberg isn't ready to indict either man quite yet, calling into question the legitimacy of Bannon's statements.
"Bannon is speculating. It's pure speculation on his part," he said.
Regardless of the veracity of Bannon's claims, Richard Painter, chief White House ethics lawyer for President George W. Bush from 2005 to 2007, says it isn't clear that such a revelation would mean any legal repercussions for the president himself.
"You need to know what was said [to know if Trump broke the law]. It's hard to guess what was said in what meetings," Painter told Newsweek. "We need to find out the facts."
Zeidenberg took it a step further, arguing that short of a massive criminal act, special counsel Robert Mueller is unlikely to bring any charges against Trump at the end of his investigation.
"I think it's very unlikely Mueller is going to make a decision to indict Trump for anything," he said. "If I were a prosecutor, I would not want to bring a charge."
Politically, however, the corroboration of a meeting between Trump and the Russian lawyer could prove disastrous, Zeidenberg argued.
"Politically, it would be a big deal obviously because Trump's claimed all along that there were no meetings with any Russians. If in June he was meeting with a Russian, talking about Hillary Clinton's emails, that's a huge deal," Zeidenberg said.
The June 2016 meeting at Trump Tower was brokered by Trump Jr. and the Kremlin-connected Russian lawyer, Natalia Veselnitskaya, as originally reported by The New York Times.
When the meeting was being set up, Veselnitskaya told Trump Jr. that she had documents which "would incriminate Hillary and her dealings with Russia and would be very useful to your father." His response: "If it's what you say I love it, especially later in the summer." The meeting, which took place June 9, was attended by, among others, Trump Jr., Kushner and then-campaign manager Paul Manafort.