Jared Kushner Told Donald Trump That Firing Comey and Flynn Would Help End Russia Probe, Chris Christie Says
Jared Kushner told his father-in-law, President Donald Trump, that firing former FBI Director James Comey and ex-national security adviser Michael Flynn would help end an investigation into ties between the Trump campaign and Russia, Trump's ousted White House transition team chairman Chris Christie claims.
Kushner, who serves as a senior White House adviser, misjudged the two firings, Christie states in his book Let Me Finish, a copy of which was obtained by The Guardian ahead of its January 29 release. According to Christie's account, Kushner believed that firing Flynn would put a stop to conversations about links between the Trump campaign and Russia during in the 2016 presidential election. Kushner, Christie wrote, also told Trump that firing Comey would not cause "an enormous shit-storm." In both cases, Kushner's alleged advice proved to be spectacularly ill-judged.
"Again, the president was ill served by poor advice," Christie wrote, based on detailed talks with Kushner in which he acted in an informal capacity.
Trump in February 2017 fired Flynn, after he misled Vice President Mike Pence, White House Chief of Staff Reince Priebus and press secretary Sean Spicer about his talks with a Russian ambassador during the transition. The president in May 2017 fired Comey, who was then leading the probe into whether the Trump campaign colluded with Russians, citing his handling of an investigation into Hillary Clinton's private email server usage.
Christie, who served as New Jersey governor, was relatively kind to Kushner in regards to the 2016 Trump Tower meeting that he, Trump's eldest son Donald Trump Jr. and Trump's then-campaign manager Paul Manafort attended with Russians offering damaging information on presidential candidate Clinton.
The meeting was "dumb" and Kushner and Trump Jr.'s attendance was a "sign of profound inexperience," Christie wrote. It was a much more forgiving take than that included in journalist Michael Wolff's January 2018 book Fire and Fury: Inside the Trump White House, when he quoted fired White House chief strategist Steve Bannon as saying the meeting was "treasonous."
Christie on MSNBC's Deadline White House in December 2017 said that Kushner "deserves the scrutiny, you know why? Because he was involved in the transition and involved in meetings that call into question his role."
Kushner has reportedly been interviewed by special counsel Robert Mueller with respect to the Trump Tower meeting.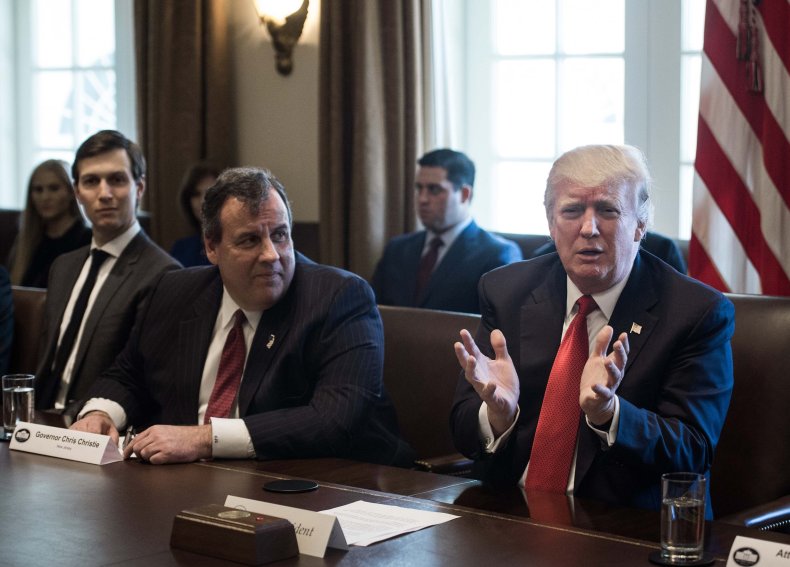 In his book, Christie also says Kushner was the main reason Bannon was carrying out his firing, not long after Trump won the election.
"Steve Bannon…made clear to me that one person and one person only was responsible for the faceless execution that Steve was now attempting to carry out. Jared Kushner, still apparently seething over events that had occurred a decade ago," Christie wrote.
"The kid's been taking an ax to your head with the boss ever since I got here," Bannon is quoted as saying.
Christie attributes Kushner's alleged acts against him as stemming from Christie's days as a U.S. attorney in New Jersey in the early 2000s. Christie prosecuted Kushner's father, billionaire real estate developer Charles Kushner, for tax evasion, illegal campaign donations and witness tampering, which led him to serve two years in federal prison.