Jared Kushner Says He's Qualified for White House Job Because His Father-in-Law Trusts Him
Senior White House adviser Jared Kushner said during a CNN political forum on Monday that he was qualified for his White House job because his father-in-law, President Donald Trump, trusts him.
CNN political commentator Van Jones in an interview with Kushner at the Citizen by CNN forum in New York City questioned Kushner about his "very small resume" in government and the "big, big portfolio" Trump gave him in the West Wing.
"What do you say to people who say like, 'What qualifies you to take on these tough issues all around the world?' I think that's one of the big questions people have," Jones asked. "Why should we have confidence in you to do all this stuff?"
Kushner replied: "I think the first thing is the president trusts me."
"I think he knows that every task he's given me, from the start of the campaign through, I've been able to do it quietly, I've been able to do it effectively, I've been able to deliver results," Kushner elaborated. "I don't make a lot of noise. I know noise is sometimes made about me, but I try to keep my head down."
Calls of nepotism sounded when Trump appointed Kushner and his daughter Ivanka Trump to unpaid senior White House official positions shortly after he took office.
Kushner said that both he and Trump are businessmen and that he looked at it as "all about accomplishing the objectives. You have to be very laser-focused, not get distracted by it."
The president's son-in-law then admitted that he often looks to others with experience on matters he is asked to tackle.
"A lot of these tasks it's an honor to work on, but I find that when I'm asked to take on something, the first thing I'll do is I'll reach out to people who have experience doing it," Kushner said.
Kushner said he would talk to "a lot of people," gather the different perspectives and create an action plan to execute it. He then touted his own work.
"To date, we've been successful in a lot of things that people thought we wouldn't be successful on. It started with the campaign," Kushner said. "There were a lot of people saying the campaign was disorganized, the campaign didn't have any infrastructure."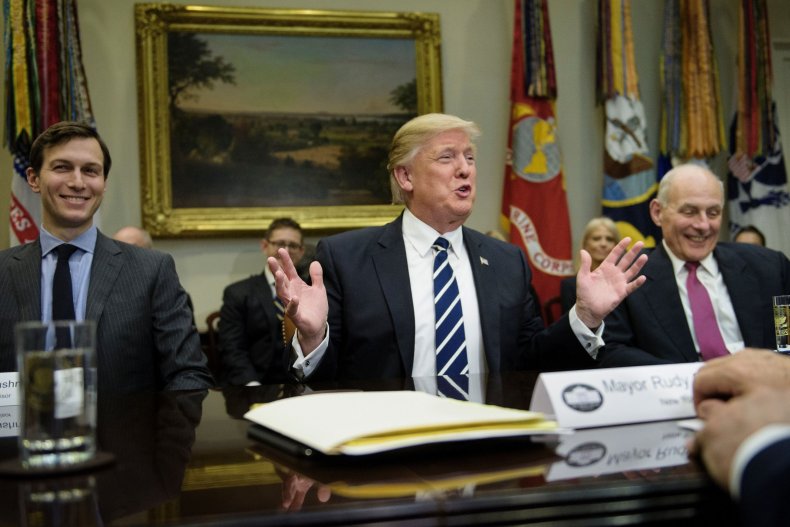 Kushner said the campaign had "a lot of infrastructure" and was "very organized," then cast himself and the group as humble.
"We just weren't out there talking about it and we didn't have the traditional people doing it. So we talked to a lot of conventional campaign people, we came up with a way to do it and then we executed on it very effectively," Kushner said. "And we've done a lot of the same things in government."