Is Jared Kushner Donald Trump's Fixer? 5 Things to Know About the White House Advisor Before Senate Hearings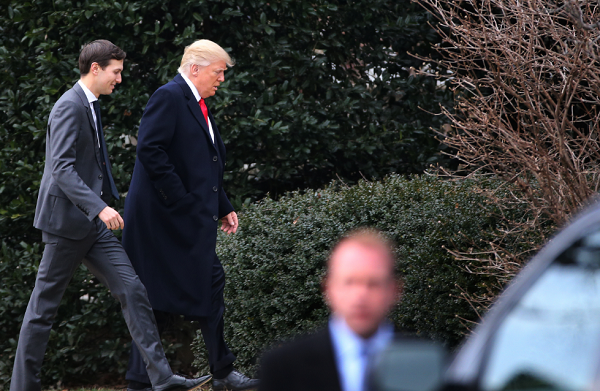 President Donald Trump's senior advisor, son-in-law Jared Kushner, has agreed to answer questions from the Senate Intelligence Committee about meetings he participated in with Russian Ambassador Sergey I. Kislyak after Trump's presidential win.
The FBI said Kushner wasn't a focus of the agency's investigation of ties between the Trump administration and Russia. However, open questions remained about Kushner's December meeting with Kislyak, also attended by Trump's former national security advisor Michael Flynn, who resigned after his conversations with Kislyak about sanctions against Russia became public. The former real estate magnate volunteered to be questioned about the meetings, CNN reported.
Trump attorney general Jeff Sessions recused himself from the ongoing investigation after his own conversations with the Russian ambassador during Trump's campaign were discovered.
The White House hasn't expressed much concern about Kushner's standing; Trump recently tasked him with organizing an office of "American Innovation," reviewing and reforming the federal bureaucracy, and he is also leading the Trump administration's efforts to broker a Mideast peace deal.
Here are 5 things to know about Trump's trusted advisor before his Senate Committee hearing:
1. His father was once the CEO of Kushner Companies: Like his wife Ivanka Trump, Kushner grew up with a real estate mogul for a father. Jared Kushner was studying law at New York University when his father, Charles Kushner, was arrested and sent to prison for tax fraud. Jared Kushner ditched his lawyer dreams and took over the family business in 2008. Chris Christie, then a U.S. attorney, helped prosecute the elder Kushner—which may explain why the New Jersey governor, despite having endorsed Trump, has not landed a White House job.
2. He's the mastermind behind Trump's social media: Kushner has been credited as a major force behind Trump's campaign. Although he had no political experience before joining his father-in-law's team, he had a hand in writing Trump speeches, assembling policy teams, managing the campaign's finances and managing Trump's schedule. It was also Kushner who curated Trump's social media, including Trump's Facebook initiatives, which Trump reportedly asked Kushner to take over while they were dining on McDonald's Filet-O-Fish sandwiches, according to a Forbes report.
3. He's private: Unlike his wife, Kushner is not fond of speaking with the press. He rarely gives interviews and has no social media presence. His Twitter account has zero tweets posted and the only times Kushner is seen on social media are when Ivanka Trump posts pictures of him, usually with their children. A recent New Yorker profile of the senior White House advisor said that Kushner "hates reporters and the press, viscerally," although he owns the former newspaper New York Observer, now observer.com.
4. He attended Harvard: Kushner's acceptance to the college was scrutinized long before he joined the Trump family. In his 2006 book, The Price of Admission: How America's Ruling Class Buys Its Way into Elite Colleges—and Who Gets Left Outside the Gates, author Daniel Golden reported that Kushner's father pledged $2.5 million to Harvard in 1998. Jared enrolled the following year. In February, thousands of Harvard alumni signed an open letter to Kushner urging him to honor the university's motto—Veritas, or truth— and to "influence the Trump administration, and Mr. Trump himself, in a positive way."
5. He's is an Orthodox Jew: Before their marriage, Ivanka Trump converted to Judaism. The couple and their children observe the Sabbath, turning off their cell phones and walking instead of driving from sundown Friday until sundown Saturday.