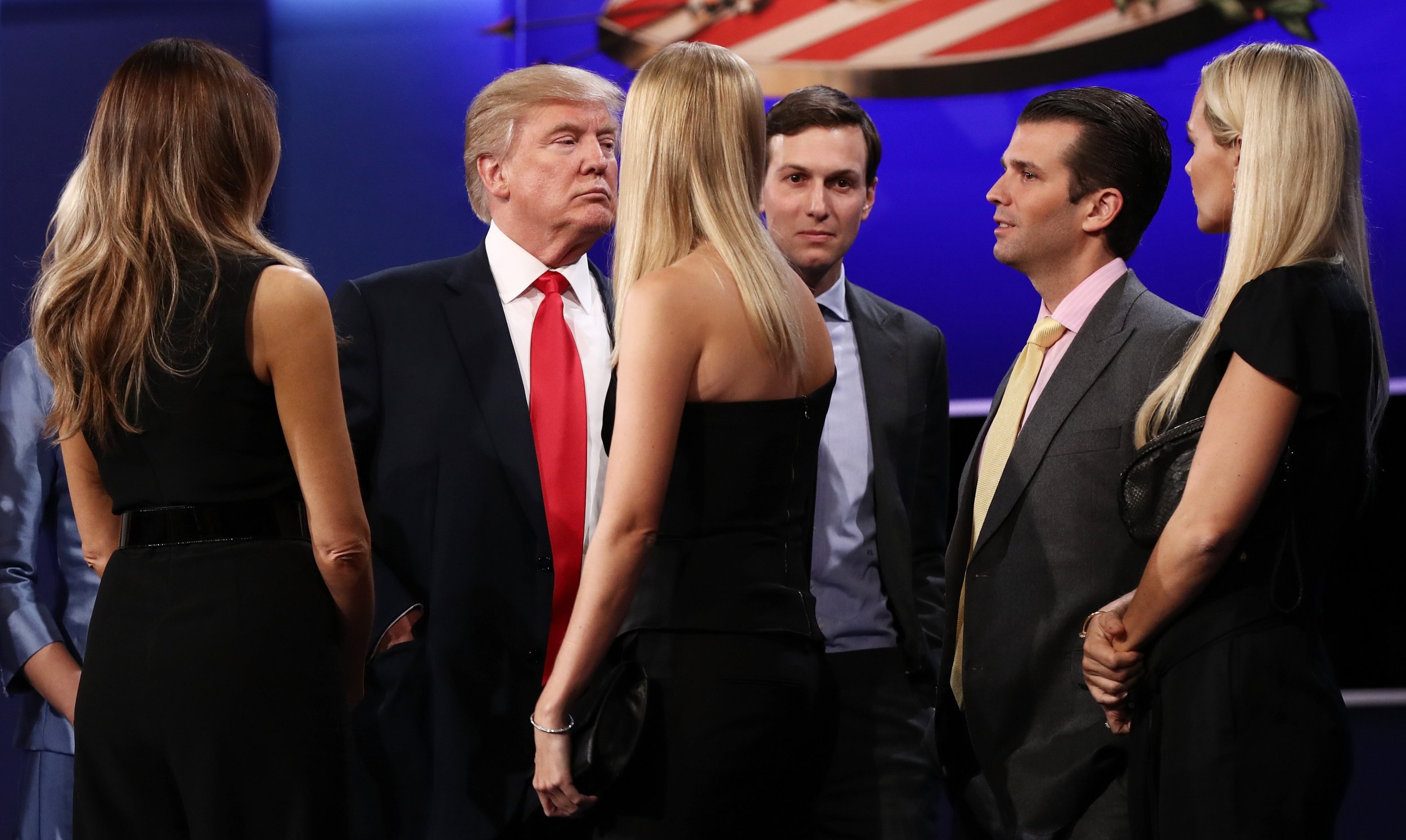 Former top White House adviser Steve Bannon has said that both Jared Kushner and Donald Trump Jr. likely laundered money over the course of their careers—and possibly during their time on the campaign trail and at the White House.
Bannon made the assertion and many others during interviews for a new book by Michael Wolff, a journalist who was granted access to the White House. President Donald Trump and Bannon have been duking it out in the public eye since excerpts from the book, Fire and Fury: Inside the Trump White House, were published Wednesday, and Washington remains transfixed.
Bannon reportedly told Wolff that Trump Jr.'s meeting with a Russian lawyer in Trump Tower during the 2016 election campaign was "treasonous" and "unpatriotic." Bannon also said that the investigation by special counsel Robert Mueller into possible Trump campaign ties to Russia is particularly dangerous to the Trump clan because it focuses on more than just that allegation. He noted that Trump Jr. and Kushner, the president's son-in-law and White House adviser, were the targets of a money-laundering probe.
"You realize where this is going," Bannon is quoted as saying. "This is all about money laundering. Mueller chose [senior prosecutor Andrew] Weissmann first and he is a money-laundering guy. Their path to fucking Trump goes right through [former Trump campaign manager] Paul Manafort, Don Jr. and Jared Kushner. It's as plain as a hair on your face."
Bannon added, "It goes through Deutsche Bank and all the Kushner shit. The Kushner shit is greasy. They're going to go right through that."
In an op-ed published Tuesday, the founders of the research and strategic intelligence company that produced the 35-page Donald Trump-Russia dossier—a document that is the subject of multiple investigations—asked congressional investigators to "look into the bank records of Deutsche Bank and others that were funding Mr. Trump's businesses."
Fusion GPS co-founders Glenn Simpson and Peter Fritsch wrote that they "found widespread evidence that Mr. Trump and his organization had worked with a wide array of dubious Russians in arrangements that often raised questions about money laundering."
Deutsche Bank has loaned billions of dollars to Trump, and he owes the bank about $300 million, according to Bloomberg.
Senator Mark Warner, the top Democrat on the Senate Intelligence Committee, told CNN on Wednesday that Congress may investigate these claims but that Mueller's investigation team is better equipped to handle such matters.
"At least to me, that falls more into what would be criminal activity, but those are discussions that will be ongoing," he said.
The White House responded to Bannon's assertions in the Wolff book by saying he had "lost his mind."