Jared Kushner's Jewish Family Was Unhappy He Worked During the Sabbath to Help Trump After "Access Hollywood" Tape, New Book Says
While critics were raging over President Donald Trump's sexist comments on the infamous Access Hollywood tape, Jared Kushner's family was mad at him for another reason. According to a new book, Kushner's Orthodox Jewish family was upset that he had gone to work during the Sabbath as the fallout from the tape rose up.
Related: Jared Kushner's old classmates have slammed him in an anniversary report
The tidbit comes from the book Born Trump, subtitled "Inside America's First Family," by Vanity Fair senior reporter Emily Jane Fox. The Access Hollywood tape was initially released by The Washington Post on October 7, 2016, just weeks before Election Day. In the tape, Trump said he "moved on" a woman "like a b***h" and that he could grab women "by the p***y" because of his fame.
Trump later said the conversation was "locker-room banter."
The Post released the tape on a Friday. Many Jewish people observe the Sabbath, a day of rest, from Friday evening to Saturday evening. In Born Trump, a person described as close to the Kushner family said some of Jared's relatives had "had taken issue" with his working during the debacle.
"Tensions between Ivanka's husband, Jared Kushner, and brothers had also surfaced during the campaign. Eric told others during the run-up to the election that he felt Kushner, for his own gain, had taken advantage of some of the candidate's weaknesses. Kushner's family, likewise, had taken issue with their son, an observant Orthodox Jew, going to work on the Sabbath after the infamous Access Hollywood tape surfaced, according to a person close to the family," one section of the book reads.
Slated to be published by Harper Collins on June 19, Born Trump is being advertised as a "dishy, deeply reported and richly detailed look at Trump's five children" along with Kushner, and includes "their dramatic and often fraught relationships with their father and with one another."
The book also claims to reveal why Kushner and Trump's eldest daughter, Ivanka, are bashert, a word of Yiddish origin used by Jewish people to describe an ideal soul mate.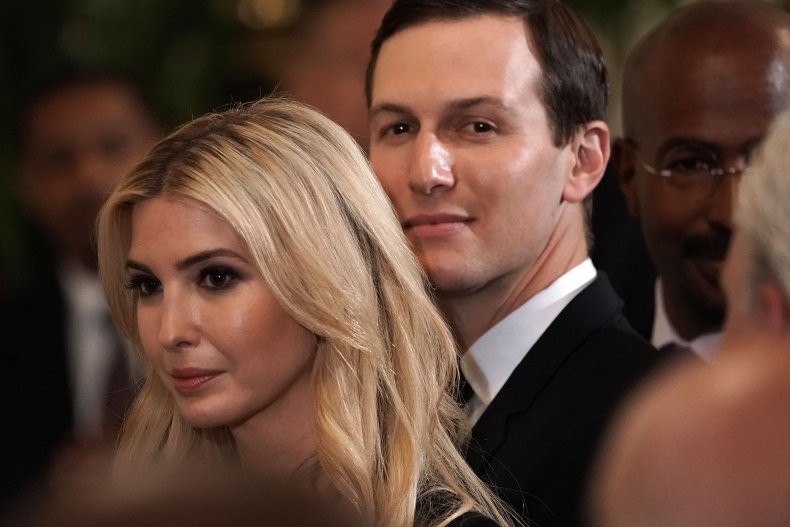 The power couple were recently criticized for images of them attending the opening of the U.S.'s controversial new embassy in Jerusalem while Israeli forces and Palestinians clashed in Gaza. Morning Joe co-host Joe Scarborough said they were "completely out of touch" as the images, often juxtaposed between the embassy opening and dusty, violent clashes, circulated. "[Those images] actually causes unrest across the region, does it not? And actually makes it more difficult for us to move forward with our Sunni allies," Scarborough said.
During his Late Show monologue at the time, Stephen Colbert branded the couple "Peace-Treaty Barbie and Collusion Ken," to laughter from the audience.