Jared Kushner 'Should Be Worried' About Flynn Memo Because They Were 'Dog and Pony' Close: CNN Panelist
President Donald Trump's son-in-law Jared Kushner "should be worried" about special counsel Robert Mueller's memo recommending that former national security adviser Michael Flynn face no prison time due to his "substantial assistance" in the investigation, a CNN panelist opined.
CNN contributor Douglas Brinkley shared his assessment on Tuesday night after anchor Don Lemon asked if there were parallels unfolding between the Watergate scandal and Mueller's investigation into Russian inference and possible collusion with the Trump campaign in the 2016 presidential election. Mueller earlier on Tuesday issued his memo pushing a more lenient sentence for Flynn, who a year ago pleaded guilty to lying to the FBI about his contacts with Russian officials while he served on Trump's transition team.
Brinkley, who is a Rice University history professor, said he saw "great Watergate parallels" but that a major difference between Mueller's probe and the scandal in the early 1970s was that the latter involve public hearings.
"In this case, we're getting this sort of drip, drip, drip coming out of, kind of the scraps of the Mueller report, redacted documents that we're all kind of trying to read what's really going on," Brinkley said. He then brought up Kushner, whom Trump named a senior White House adviser though he had no prior government experience.
"Jared Kushner could be one of the prime people that I would be worried, should be worried tonight," Brinkley said, "Because Flynn and Kushner were kind of a dog and pony team international."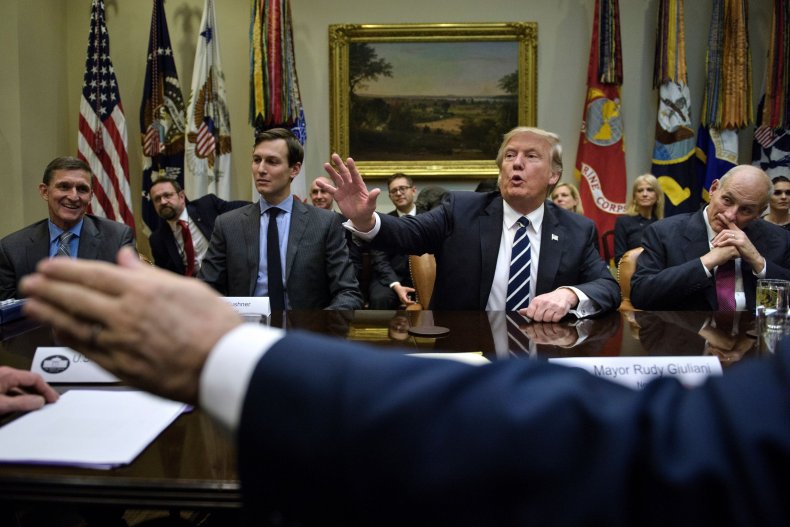 A dog and pony show is an elaborate presentation or overblown affair.
"They were going to create their own, you know, breaking of the Logan Act to create their own foreign policy," Brinkley said, referencing to the law forbidding private citizens from negotiating with foreign governments on behalf of the United States without authorization. Brinkley added that Kushner and Flynn "cut their own deals" and that Israeli settlements were noted in the documents that were disclosed.
"And I think we might have to separate Michael Cohen from Flynn in the sense that Flynn and Cohen don't have a lot of interaction," Brinkley continued, referring to Trump's former lawyer. "But Flynn and Kushner had a ton of it and it's not just Donald Trump that should be very worried on this significant evening, but I think the pressure on Kushner must be immense right now."
According to a Bloomberg report last year, Kushner ordered Flynn to attempt to talk Russia into blocking a United Nations vote condemning Israeli settlements.
Mueller's new document does not name Kushner, but alludes to Flynn admitting that he gave false information when he told investigators he had not spoken with a Russian ambassador about the United Nations vote, or about U.S. sanctions on Russia.
"Several senior members of the transition team publicly repeated false information conveyed to them by [Flynn] about communications between him and the Russian ambassador regarding sanctions," the document states, followed by redactions.