Jared Kushner Business Receiving 'Mysterious Sources of Funding' Raises Emoluments Concerns: Bush Ethics Chief
A report that a company partially owned by senior White House adviser Jared Kushner received millions in investments from an unknown overseas source is reason to investigate whether he violated the emoluments clause, an ex-chief ethics lawyer under President George W. Bush opined.
Cadre, a real estate company co-founded and still owned in part by Kushner, has received $90 million in investments from an unknown source overseas since 2017, The Guardian reported Monday based on corporate filings as well as interviews. The funds to Cadre, in which Kushner retains a holding worth $25 million to $50 million, were funneled through a Goldman Sachs-run vehicle in the Cayman Islands.
The foreign investors in Cadre through Goldman Sachs were not disclosed or required to be revealed, but two sources told The Guardian that some money to the Cayman Islands vehicle came from another overseas tax haven and about $1 million came from Saudi Arabia.
"Very mysterious sources of funding," former White House ethics chief Richard Painter told Newsweek on Monday. "If it's foreign government money, sovereign wealth funds and it's going to his business, then he's in violation of the emoluments clause."
Painter continued: "If it's private money, he's not in violation of the emoluments clause but we have serious concerns when businesses owned by high ranking U.S. officials are dependent on foreign national finances. We just have to know more, but there's a complete lack of transparency here."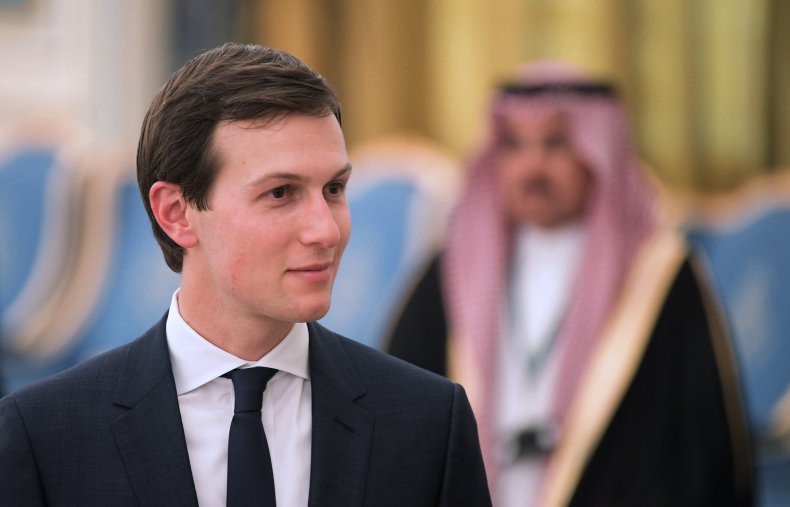 The emoluments clause—a provision of the U.S. Constitution prohibiting government officials from receiving payments, gifts or other things of value from a foreign state or representatives—applies to every person with a position in the government "so it definitely applies to Jared Kushner," Painter said.
Though it is unclear whether Kushner violated the emoluments clause with regards to the newly reported investments, Painter noted that a lot of Saudi money is sovereign wealth funds.
"I think there ought to be an investigation of both Trump and the Kushner business operations, where they're getting their money," Painter said. "We have no idea but we need to know."
Painter tweeted the Guardian story, which quoted him, and commented, "Congress needs to open an impeachment inquiry, serve subpoenas," in reference to Trump.
Even before news that the Mueller report did not exonerate Trump of obstructing justice, Trump critics called for his impeachment based on accusations that the president has been accepting foreign emoluments. In April, a federal judge ruled that a lawsuit brought by Democrats alleging that Trump had violated the emoluments clause could proceed.
Kushner co-founded Cadre with his brother Joshua Kushner and their friend and former Goldman Sachs employee Ryan Williams in 2014. Cadre markets itself as a place for investors to buy property, but also has a real estate investment fund with a valuation that has grown fivefold since Kushner entered the West Wing.
Upon taking an official position in the White House, Kushner resigned from his role as a Cadre board member and lowered his ownership stake to less than 25 percent, his attorneys have said. Kushner said he inadvertently failed to include Cadre in his first ethics disclosure form.
The White House, a lawyer for Kushner, and Cadre did not immediately respond to requests for comment from Newsweek on Monday.