Jared Kushner Is Growing More Powerful in the White House, Frustrating Trump Aides: Report
President Donald Trump's son-in-law, Jared Kushner, has reportedly been gaining more power within the White House since the chief of staff switch up, and aides are apparently frustrated over his ascent.
Since former Office of Budget and Management director Mick Mulvaney became acting chief of staff on January 3, replacing John Kelly, who imposed a strict chain-of-command protocol, the White House dynamic has reverted to the early days when Kushner, who serves as senior White House adviser, often said, "Everything runs through me," The New York Times reported on Wednesday.
Kushner's "appearance in B-roll shots on cable news channels, traipsing the halls of Congress shoulder to shoulder with Vice President Mike Pence, have left current and former Trump aides frustrated with the appearance that Mr. Kushner is serving as a de facto chief of staff," The Times reported.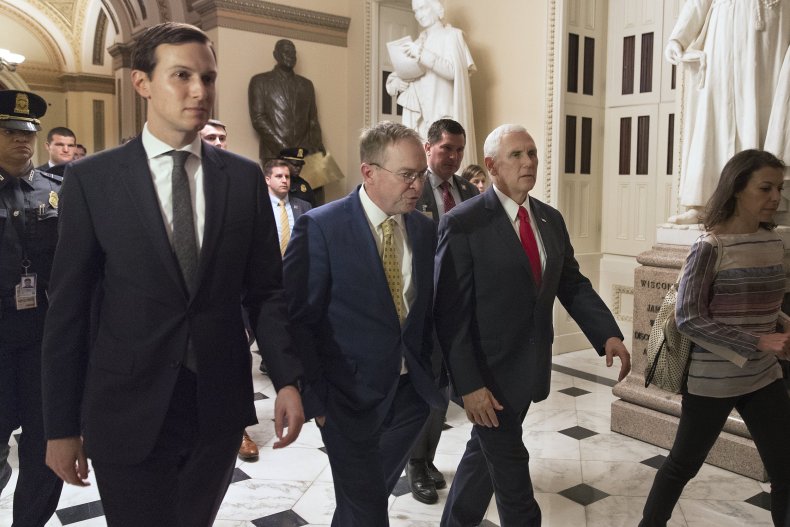 Several White House officials told the news outlet that Kushner seemed to rise in the ranks after the passage of a bipartisan criminal justice reform bill he helped to push through.
"Jared Kushner has been rising internally," Times White House correspondent Maggie Haberman, who co-wrote the story, said on CNN's New Day Wednesday. "We have seen him as part of the negotiations on the Hill. Though he doesn't really have a ton of relationships beyond his work on criminal justice reform, he is feeling ascendant."
Mulvaney apparently has done nothing to curb Kushner's influence. Instead, he treats Kushner and his wife and fellow senior White House adviser, Ivanka Trump, as assets. Mulvaney has reportedly allowed Kushner to contact Democratic lawmakers directly and brief legislative director Shahira Knight on his calls, whereas Kelly required that talks with elected officials be arranged by a legislative affairs director.
"Mick Mulvaney is not seen as a strong chief of staff because he's not providing a buffer between the staff and the president," Haberman said on the morning news show.
People close to Kushner told The Times that he was not trying to act like Mulvaney, and that he was merely lending a hand and planned to refocus on his long-term projects once the government shutdown ended.
But Haberman said otherwise.
"What you will hear from people around Jared Kushner is 'that's silly, he's got his own discrete pieces of work,' and those things are true," she said. "But as it was true during the campaign, whoever was in charge, especially in the later stages of the general election campaign, Jared Kushner was behind the scenes managing most of it, taking credit when things went well and distancing himself when they didn't."
By several accounts, Kushner and Kelly clashed. Kelly downgraded Kushner's top security clearance last year and according to The Associated Press, was "angered" by what he considered "freelancing" by Kushner and his wife. Kushner and Ivanka Trump were reportedly a reason for Kelly's departure.