President Donald Trump praised his son-in-law and senior White House adviser Jared Kushner's immigration plan as "common sense" in a briefing with Cabinet officials on Tuesday, but an afternoon meeting with a half-dozen Republican leaders was abruptly postponed and many lawmakers see no future for it.
Kushner gave Cabinet members a preview of his 620-page plan, drafted with the help of about two dozen GOP senators' offices, that is projected to bring $580 billion in revenue over a decade, a Trump administration official told The Washington Post. The details were not disclosed, but White House aides had described a point and ranking system based on immigrants' English-speaking proficiency, education and skills.
Trump praised Kushner's plan as "common-sense."
"It's a plan where we've studied almost every country," Trump said after Kushner's briefing. "Some good. Some bad. Some tremendously successful. Some not successful at all. And this is the best of everything. And it gives incentive to people."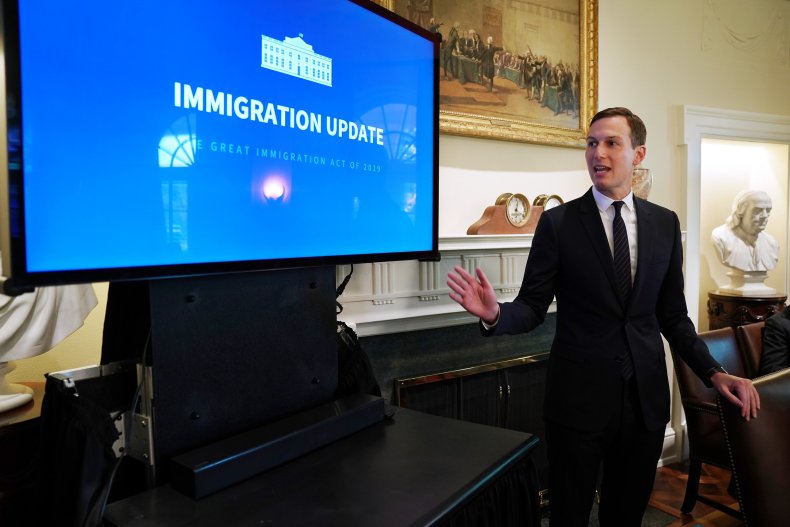 The second-ranking Republican in the Senate, Majority Whip John Thune, agreed with the president but doubted the plan would garner enough support from other lawmakers, especially Democrats.
"I think a merit-based approach makes sense, and most of our members agree with that," Thune said. "But, again, to get an immigration bill, to get 60 [votes] in the Senate and the Democrat House to vote for it, it's gonna be a very heavy lift."
​​
​For the bill ​to get to the floor, some bipartisan buy-in would be necessary, Thune said.
"There would have to be a lot of work that would get done, and I don't sense that they're anywhere close to having done that work with Republicans," Thune said, "Let alone with Democrats."
A senior Republican senator told The Post he didn't think "there's any chance that we have any bandwidth" to get the 60 votes needed to advance the legislation to the Senate. Senate Majority Leader Mitch McConnell doesn't plan to "waste time" on it, a senior GOP aide told the newspaper.
The White House did not immediately respond to a request for comment from Newsweek on Wednesday. But the White House reportedly privately recognizes that Kushner's plan is unlikely to move forward in its current state.
About 10 Senate Republicans have reportedly agreed to co-sponsor the bill, one of them possibly being Kushner's ally Senator Mike Lee. It is unclear if or when the White House may reschedule the meeting with congressional Republicans.
Trump entrusted Kushner, who had no prior government experience, with a broad portfolio that includes immigration, a Middle East peace plan, and prison reform, which is the only major issue the senior adviser has delivered on.
The president earlier this month said that Kushner and his wife and fellow senior White House adviser Ivanka Trump "work very hard and they sacrificed a lot to be doing this, but they want to do it."
Kushner in discussing his Middle East peace plan⁠—also yet to be released⁠—joked, "When you work for a president, you try hard not to disappoint, but you can disappoint. When you work for your father-in-law, you can't disappoint."