Jared Kushner Will Be Interviewed by Senate Judiciary Committee for Trump-Russia Investigation, Grassley Confirms
The Chair of the Senate Judiciary Committee confirmed Friday that President Donald Trump's son-in-law, Jared Kushner, will still be interviewed as part of the committee's investigation into Russian interference in the 2016 presidential election.
Related: Jared Kushner, whose father was jailed, has a plan to overhaul America's prison system
"Kushner is still going to be interviewed," Republican Senator Chuck Grassley, of Iowa, said at a town hall meeting in western Iowa. "We're getting some more documents, and that's not done."
Grassley assured constituents Friday that the interview would happen just days after expressing hesitation that his committee could easily secure a voluntary interview with Kushner after his Democratic counterpart, Senator Dianne Feinstein, published a 312-page transcript detailing a private interview with the founder of Fusion GPS, the organization behind the so-called Trump dossier. Grassley said Friday that the committee is just waiting on documents that Kushner has delayed in handing over before conducting the interview.
"We're going to do that," Grassley said as an Iowan rebuked him over the committee's five-month delay in interviewing Kushner. "Right now, Senator Feinstein is wanting more documents, and we wait until we get the documents, go through the documents, then we have a basis for the interviews that we're going to have."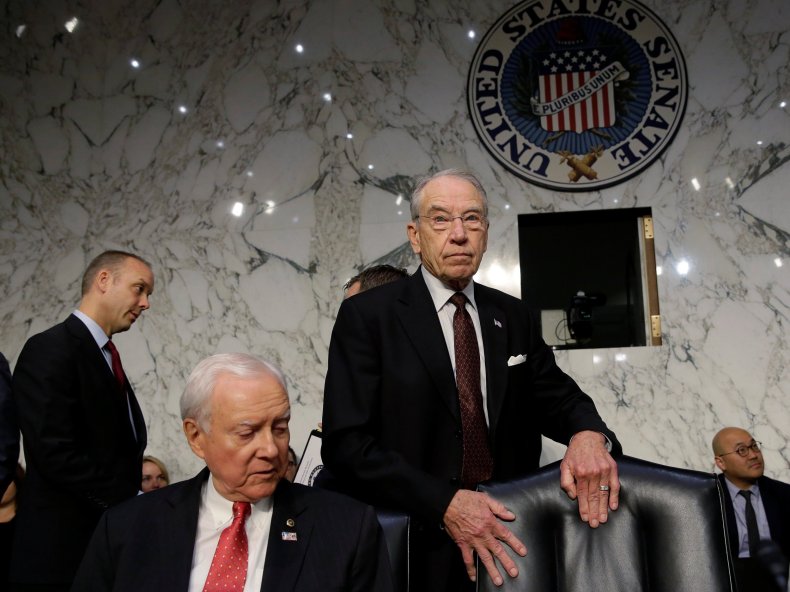 "How long does this process take?" a member of the audience asked during the town hall, which was broadcast by The Des Moines Register.
"Uh, it takes a long time," Grassley responded.
Kushner was interviewed by the House Intelligence Committee last July and was then questioned by Special Counsel Robert Mueller's team in November, according to reports. Much of the focus on Kushner has settled on his presence at a Trump Tower meeting in June 2016, which was also attended by a Kremlin-linked lawyer as well as Donald Trump Jr. and Paul Manafort, then Trump's campaign chair.
Grassley was also asked why his committee never interviewed Manafort, who was indicted in late October by special counsel Robert Mueller during a separate investigation into Russian meddling in the 2016 election.
"Manafort, he would not come before our committee and say anything because he's under indictment, and anything he said before our committee could be used against him," Grassley said.
Grassley hosts at least one public meeting in each of Iowa's 99 counties each year. The Des Moines Register's political reporter, Jason Noble, tweeted that discussion of Trump and Russia dominated the town hall discussion more than previous years.