New Jared Kushner, Ivanka Trump Financial Disclosure Revisions Show 'Pattern of Trouble With Their Filings,' Watchdog Says
Newly obtained certified financial disclosure forms by senior White House advisers Jared Kushner and Ivanka Trump show the couple has a "pattern of trouble with their filings," a government watchdog group says.
The watchdog Citizens for Responsibility and Ethics in Washington (CREW) received the certified disclosures of President Donald Trump's daughter and son-in-law Wednesday from the Office of Government Ethics.
The public financial disclosure reports for 2018 showed that Kushner amended his financial disclosure five times, including four times in the last month, and that Ivanka Trump amended her financial disclosure eight times, including six times in the past month.
Kushner's revisions within the last month came on March 14, 18, 19 and 27, while Ivanka Trump's were on March 14, 18, 19, 27, 29, and on April 2. Their combined 10 recent revisions to their forms are likely to increase questions about the couple's dealings and possible conflicts of interest with their White House roles.
"When taken together with their previous number of revisions on previous filings, it does show that they do have a pattern of trouble with their filings," CREW spokesman Jordan Libowitz told Newsweek on Thursday.
The pair originally filed their forms on May 15, 2018, and they were not certified by the Office of Government Ethics until Wednesday. CREW requested the forms multiple times, and Wednesday was the first time the office certified them.
"The OGE was not willing to certify their reports for so long, which possibly has to do with why it was revised (so many) times," Libowitz said. "So the question is, Why? We don't want to say what the reason is without knowing, but it's troubling."
What revisions Kushner and Ivanka Trump specifically made to their forms is unknown because previous versions were filed internally before the office certified them, instead of publicly, Libowitz said.
The couple have revised their forms multiple times in the past. Last May, Kushner made errors reporting information about two real estate loans, bringing the number of times he updated his federal disclosure form to at least 40 times, CREW revealed at the time.
"This isn't to the first time they've had problems with having revised forms over and over again, both financial disclosure and security clearance forms," Libowitz said. "So there certainly are questions about this pattern with them, and would this be acceptable behavior from people who are not related to the president?"
Democrats have long expressed concern over possible conflicts of interest that Kushner and Ivanka Trump could have serving in government in light of their business interests. Kushner has a family real estate company while Ivanka Trump had a namesake fashion brand she shuttered last year but which is still receiving trademark approvals from China. A recent report alleged that President Trump pushed then-chief of staff John Kelly to grant top security clearance for the couple, against the advice of national security officials.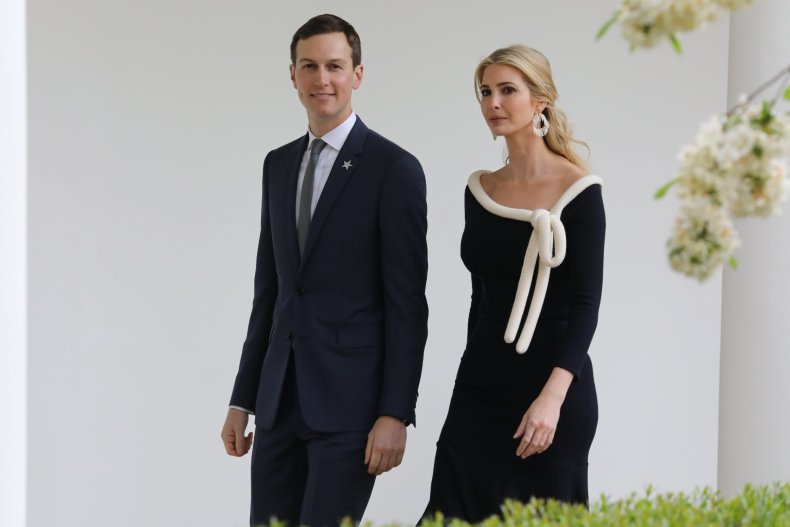 Libowitz said the repeated revisions call into question what the couple left off their forms and what they had to change in order to make the reporting accurate.
"It's something Americans deserve to know," Libowitz said.
An attorney at a firm with Kushner and Ivanka Trump's lawyer declined to comment to Newsweek on Thursday.