Jared Kushner a 'Clown Prince' Whom Nobody Would Care About if Ivanka Trump Wasn't His Wife, Gulf Emissary Wrote
Jared Kushner's position as the White House's chief negotiator working for peace in the Middle East was ridiculed in conversations between two businessmen who lobbied the Trump administration on behalf of two Arab princes.
Elliott Broidy and George Nader proposed deals with the crown princes of Saudi Arabia and the United Arab Emirates totaling $1 billion, according to a report from the Associated Press Monday. In order to make good on their proposals, the report stated, the two men engaged in a "secret campaign" to influence President Donald Trump's White House and, in particular, advocate for policies that opposed the two countries' regional rival Qatar.
Broidy, a top Trump fundraiser, met with the president-elect in early December 2016, offering the princes' help in the Middle East peace process. However, his associate Nader thought little of the man heading up those efforts on behalf of the United States.
"You have to hear in private my Brother what Principals think of 'Clown prince's' efforts and his plan!" Nader wrote to Broidy about Kushner, according to the AP. "Nobody would even waste cup of coffee on him if it wasn't for who he is married to."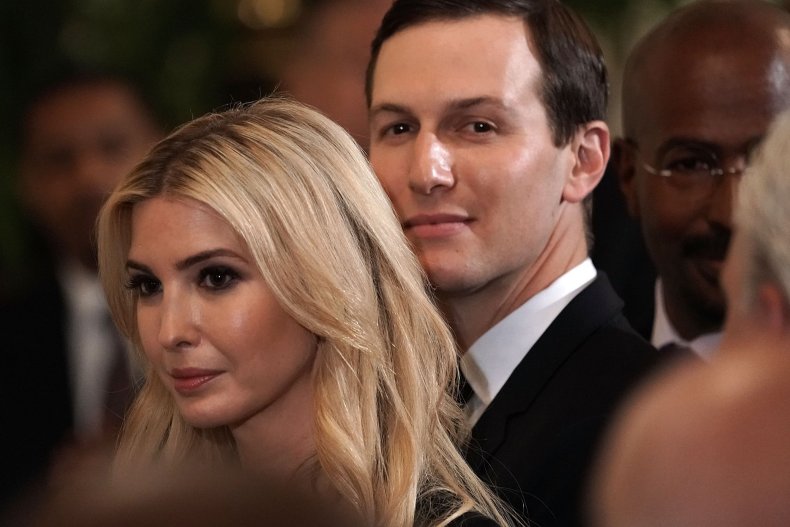 Kushner, the husband of the president's daughter, Ivanka Trump, has faced plenty of scrutiny as part of the administration. As well as being chosen to lead Middle East peace efforts, he acts as a White House senior adviser, despite having no previous political experience. Last week Kushner attended the opening of the U.S. embassy in Jerusalem, a move that inflamed tensions between Israel and Palestinians and further complicated hopes for peace after Israel killed dozens of Palestinians on the border with Gaza.
Kushner claimed the opening of the embassy and the recognizing of Jerusalem as Israel's capital, would help foster peace.
"As we have seen from the protests of the last few months and even today, those provoking violence are part of the problem and not part of the solution," Kushner said. "When there is peace in this region, we will look back upon this day and remember that the journey to peace started with a strong America recognizing the truth."
Kushner has also been under scrutiny for his relations with Qatar. Last week it was reported that Kushner Companies was closing in on a massive bailout of its troubled building at 666 Fifth Avenue in New York City by a company with ties to Qatar's government.