John Kelly Has Cut Jared Kushner's Many White House Roles, Report Says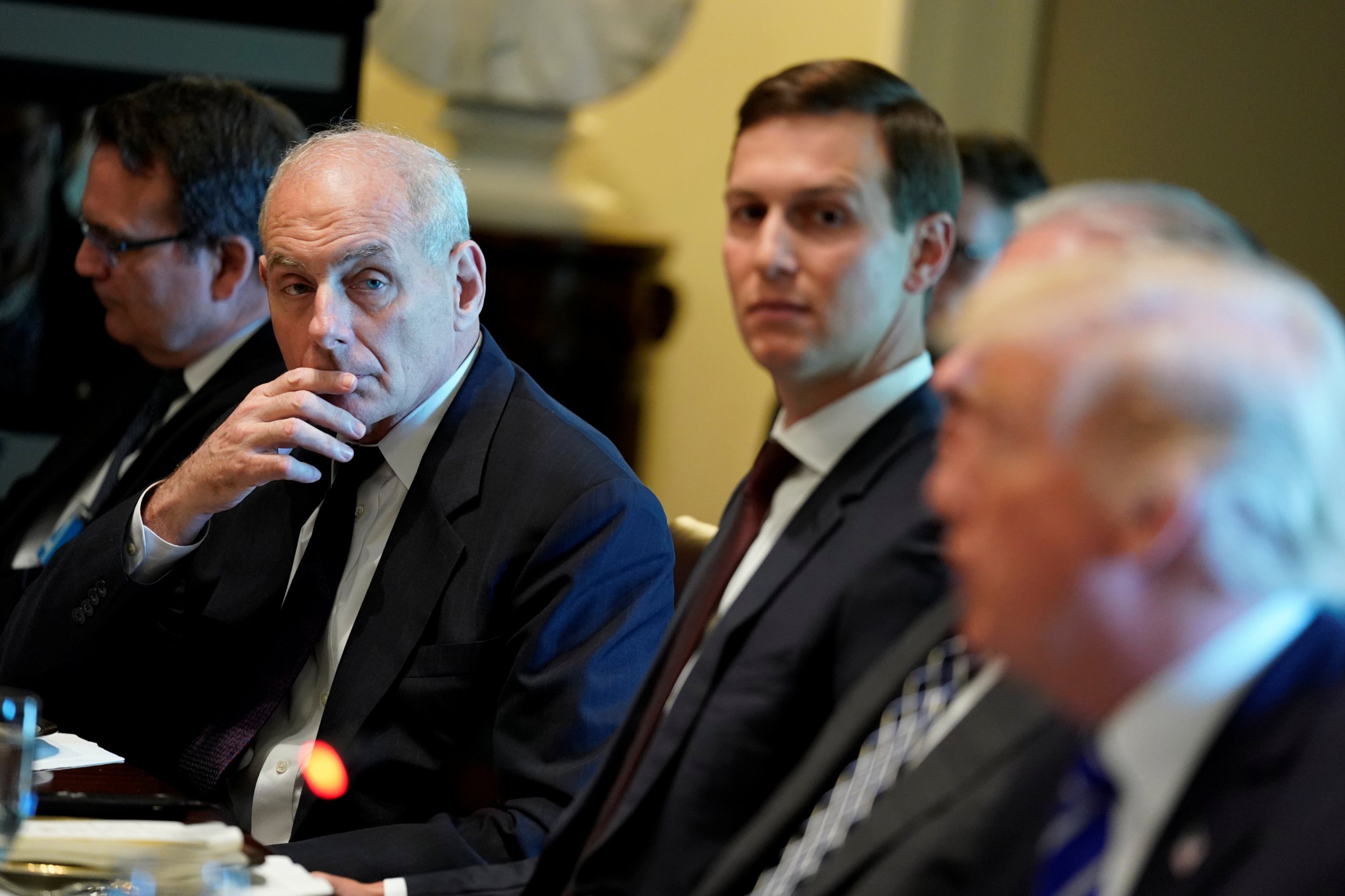 Jared Kushner still holds the titles of senior adviser and assistant to his father-in-law President Donald Trump, but his influence in the White House appears to be waning.
And Chief of Staff John Kelly may be responsible for his loss of access.
"Kelly has clipped his wings," a high-level Republican with ties to the White House told Vanity Fair in a Tuesday report.
Trump entrusted Kushner, who had no government experience, with such hefty tasks as rewriting the U.S.'s trade agreements, ending the opioid epidemic, reforming the Department of Veteran Affairs, leading relations with China, and forging peace in the Middle East. But Kushner's portfolio has been reduced to just the latter since Kelly began his reign over the West Wing in July, according to sources close to the White House.
And even his remaining role may be threatened. Kelly reportedly was not happy with Kushner's trip to Saudi Arabia last month, which occurred days before Saudi Crown Prince Mohammad bin Salman arrested billionaire Prince Alwaleed bin Talal and 10 other Saudi royals.
Kushner and the Saudi crown prince apparently were up "planning strategy" until 4 a.m., leading some to suspect that they helped orchestrate the arrests. White House press secretary Sarah Huckabee Sanders told Vanity Fair that "Chief Kelly and Jared had a good laugh about this inquiry as nothing in it is true."
The day before his inauguration, Trump praised Kushner, saying, "If you can't produce peace in the Middle East, nobody can."
But Republicans close to Trump said the president lately has been displeased with Kushner's political input. Namely, his advice to fire FBI Director James Comey, which Kushner has denied, and support losing Alabama GOP Senate candidate Luther Strange.
Perhaps most damaging to the president is Kushner's participation in a June 2016 meeting with a Russian operative who promised dirt on Hillary Clinton before the election. Kushner was invited to the meeting by Trump's eldest son, Donald Trump Jr., and he is now subject to the investigation by special counsel Robert Mueller on possible collusion between the Trump campaign and Russia.
Last Friday, the Senate disclosed that Kushner did not hand over emails about WikiLeaks, an allegation his attorney denied.
While Trump continues to defend his son-in-law, sources close to the president say he is partial to sending Kushner and his daughter Ivanka Trump back to New York to alleviate them of the increasing media scrutiny they have come under.