Jared Kushner Jokes That Disappointing His Father-in-Law Is Worse Than Disappointing the President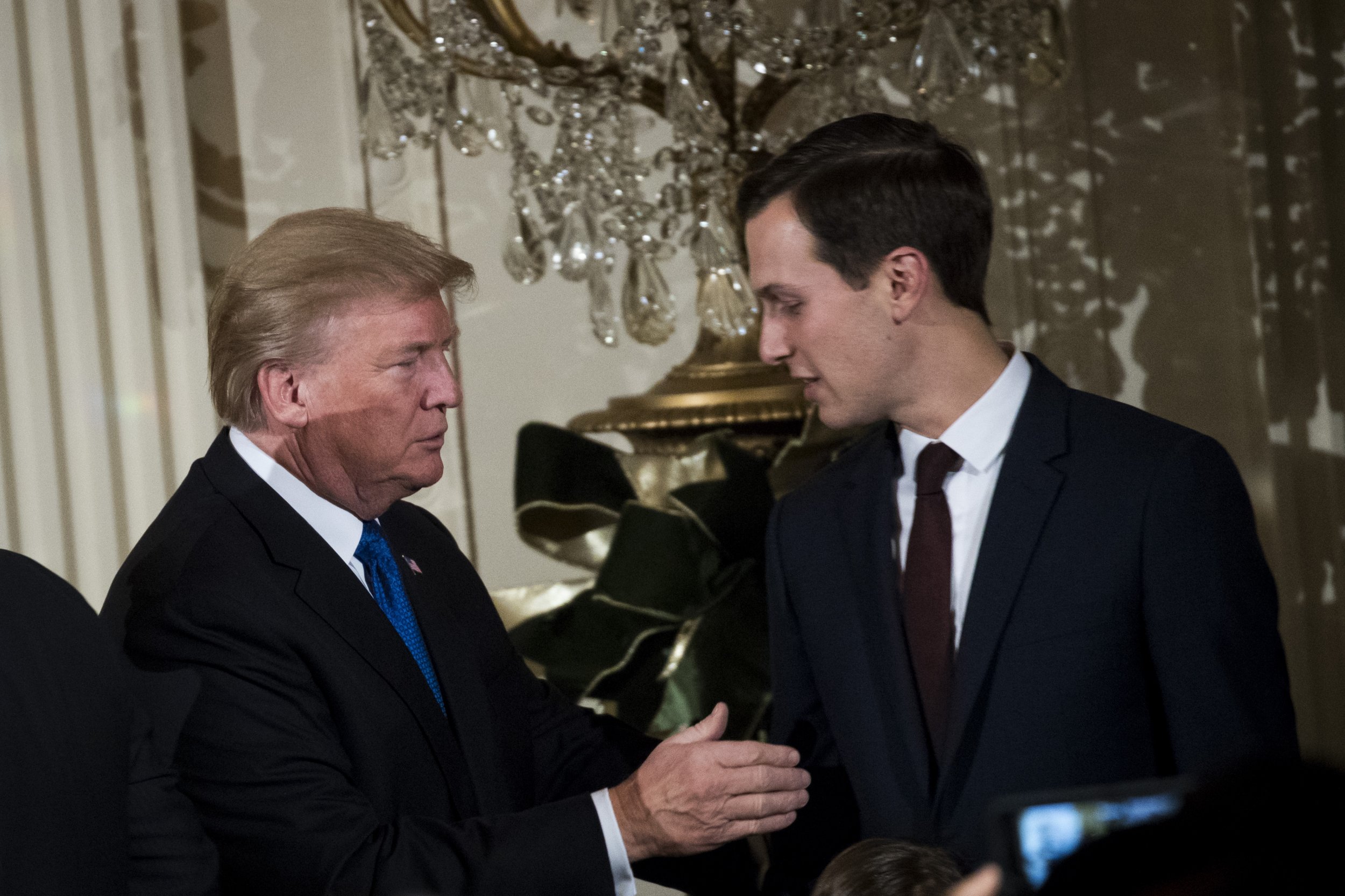 During a Thursday night interview about his forthcoming Middle East peace plan, senior White House adviser Jared Kushner joked that disappointing Donald Trump as his father-in-law was worse than letting him down as the president of the United States.
During the Washington Institute for Near East Policy's Soref Symposium dinner, Robert Satloff, the organization's executive director, presented a scenario for the president's son-in-law the eve of the release of the long-awaited peace plan.
"Sometime before you go public, I assume there will be some Oval Office meeting or Mar-a-Lago family dinner, perhaps, where the president turns to you and asks, 'OK, Jared, honestly, this plan is going to have my name on it,'" Satloff said, channeling Trump. "'Is this going to be a winner? You know I like winners. I really hate losers. Which is this? We don't have to do it. Is it worth it?'"
Kushner replied, "So when you work for a president, you try hard not to disappoint, but you can disappoint." He continued, "When you work for your father-in-law, you can't disappoint."
His answer prompted an uproar of claps from the audience.
"So I think I've established a good track record now on all the different tasks he's given me," Kushner said. "I've come back with results and I've come back with good advice, and I do think that this is something that I do think he will be proud of. I do think this will be a document that will be elevating a discussion that is hard."
Trump entrusted Kushner, who had no prior government experience, with the hefty job of forging peace among Israelis and Palestinians. Kushner has been working on the plan with Jason Greenblatt, the president's envoy to the Middle East, for the past two years. Their task became more challenging when Trump recognized Jerusalem as the capital of Israel, causing the Palestinian National Authority to refuse to participate in negotiations initiated by the White House.
"I think that when you're in the White House, I think the biggest mistake is to not try to solve problems," Kushner said.
The president's son-in-law offered the trade deals with Mexico and Canada as an example, though Congress has yet to approve them, as well as the bipartisan criminal justice reform effort he successfully spearheaded.
"If you're in the White House, where we are, you're supposed to try hard to solve problems, and if you're not spending your time trying to solve hard problems, then you're wasting your time," he said.
Kushner then praised his father-in-law.
"I think that this president is not afraid to fail at things and he's not [saying] 'What is the political calculus on this or that,'" Kushner said. "He's saying 'This is what I think is right, this is what I think is wrong'; I think that's what the American people like about him."
Kushner said the president was "willing to let us swing big at hard problems as long we're doing it in a smart and responsible way, so I do think this is something that the president will be proud of."
He said the plan is "something that hopefully the community will look at, and hopefully people should should root for this to succeed."
The senior White House adviser he felt "very honored" that his father-in-law gave him such a tall order and that it has "been very interesting working on this."
"This is not kind of the plan I had," Kushner said, referring to his career. "But I think it's an honor to work on, and if we can make breakthroughs that can help people live better lives and live safer lives, there's nothing more noble than trying to pursue peace between people, even though it's really hard."