Did Jared Kushner Violate the Hatch Act? Democrats Request Investigation After Kellyanne Conway Findings
The Office of Special Counsel's recommendation last week that Counselor to the President Kellyanne Conway be removed from service for violating the Hatch Act led two Democratic congressman on Monday to demand an investigation into whether the president's son-in-law Jared Kushner similarly broke federal law.
In a letter to Special Counsel Henry Kerner, who last Thursday recommended that Trump remove Conway, Representatives Donald Beyer Jr. of Virginia and Ted Lieu of California requested a probe into whether Kushner violated the Hatch Act by "engaging in prohibited campaign fundraising activities."
The Hatch Act prohibits federal employees from fundraising for political candidates and only the president and vice president are exempt. Butthe congressmen, citing recent media reports, accused Kushner, in his official White House role, of "taking a direct role in raising funds" for Trump's reelection campaign.
In February, a Trump 2020 campaign release referred to Kushner as "Senior Advisor and Assistant to the President, and President Trump's son-in-law," before being amended to simply, "President Trump's son-in-law."
Last month, Yahoo reported that Kushner had several discussions per day with Trump campaign manager Brad Parscale and plays a key liaison role. The New York Times then reported a meeting Kushner arranged at the White House with Parscale, the Republican National Committee chair, Treasury Secretary Steven Mnuchin and major donors to talk about the fundraising strategy.
"We have strong reason to believe that Jared Kushner is in violation of both the spirit and the letter of that Act," the congressmen wrote.
Beyer and Lieu stated that Kushner's "poor track record of compliance with the spirit of the Hatch Act," including the discussions and using his official title in Trump campaign materials, "merit enhanced scrutiny."
"Jared Kushner has repeatedly benefited from special treatment; as with his many deceptions regarding his security clearance this is something no rank-and-file federal employee would get away with," Beyer tweeted. "He shouldn't."
Lieu has been a longtime critic of Kushner and his top security clearance, which was revoked and then reinstated against the advice of career national security officials reportedly after Trump intervened.
"National security is more important than party. Jared Kushner lied on his SF-86 form and must lose his security clearance," Lieu tweeted in July 2017, along with the hashtag #RevokeKushner.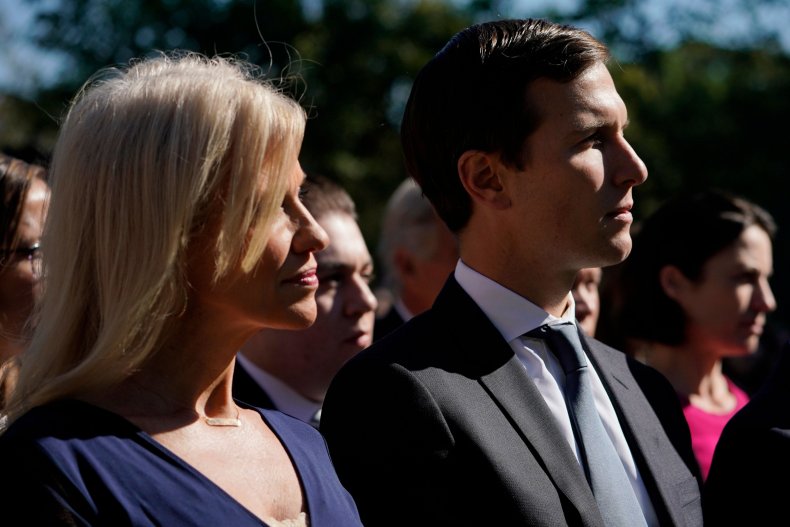 The White House and the Office of Special Counsel did not immediately respond to requests for comment from Newsweek on Monday on the call to investigate Kushner.
Trump on Friday refused to fire Conway and defended her by saying, "it looks to me like they're trying to take away her right to free speech and that's just not fair."