Jared Kushner Laughed as Trump Used Made Up Hispanic Names to Discuss Immigrants Committing Rape, Murder: Report
President Donald Trump used made up Hispanic names as he predicted that his supporters would react with delight if he threw criminal immigrants out of the United States in a manner to match his rhetoric on the campaign trail, according to a Washington Post report Thursday. The scene is said to have played out in the Oval Office shortly after his inauguration last year, the night before his first speech to Congress.
Related: Trump's Deployment of National Guard a 'Colossal Waste,' Says Border Patrol Union
Also in attendance were the president's son-in-law, and senior adviser, Jared Kushner, as well as senior policy adviser Stephen Miller. Both laughed at Trump's use of fake Hispanic-sounding names and description of potential crimes, like rape and murder, they could commit, The Post reported.
A senior White House official responded to The Post that, while the president did discuss the "crowd enthusiasm for crackdowns on criminal aliens," he did not use Hispanic names. The White House did not immediately respond to Newsweek's request for comment.
The scene was described in the context of a report of Trump's growing frustration with his Homeland Security Secretary Kirstjen Nielsen. A New York Times report earlier this month stated that Nielsen almost resigned over a particularly severe dressing down from the president over what he said was her failure to prevent more immigrants from entering the country illegally. Nielsen later denied that she threatened to resign.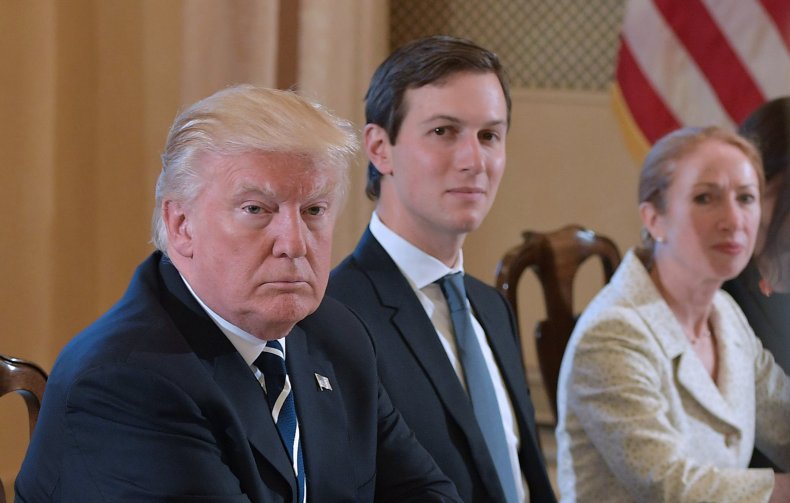 Trump has made securing the nation's borders a focus of his message since the very beginning of his insurgent run for the White House. When he announced his candidacy in the summer of 2015, Trump talked about Mexican immigrants as rapists, drug dealers and criminals.
Since entering the White House, he has converted that rhetoric into policy, issuing a series of controversial travel bans, repeatedly pushing for a wall on the entire U.S.-Mexico border and sending National Guard troops to the border.
Behind the scenes, Miller is believed to be an important voice in those hardline immigration policies. In an interview with Breitbart published Thursday, Miller said: "The big fight this summer is going to be with the open borders Democratic caucus in Congress."
Kushner, in contrast, has been widely portrayed as a moderating voice on a range of issues, including immigration. Along with his wife, Ivanka Trump, he was a former Democratic donor. However, as time has moved on both he and Ivanka Trump have been criticized for not sufficiently reining in the president's more hardline urges.