Jared Kushner's Lawyer Praises Mueller: 'I Don't Know of a Special Counsel Who's Done Better'
Jared Kushner's personal lawyer Abbe Lowell actually praised special counsel Robert Mueller, who is leading an investigation into Russian interference and possible collusion with the Trump campaign that could possibly see Kushner indicted.
"I don't know of a special counsel who's done it better," Lowell told NPR on Thursday.
However, Lowell, who has represented Cabinet officials and members of Congress in big cases, said he was concerned that Mueller's findings, regardless of what they are, could be interpreted in a partisan way by lawmakers in the "big white dome" in Washington, D.C.
After Mueller was appointed special counsel, members of Congress began asserting that the Department of Justice and FBI could be engaging in cover-up operations. Earlier this week, Republican Senator Lindsey Graham again called for a second special counsel to probe possible transgressions within the Justice Department.
Mueller appears to be wrapping up his report on the probe he started almost two years ago. Among the subjects of his inquiry is a July 2016 Trump Tower meeting Kushner attended with a Russian lawyer, who promised damaging information on his father-in-law's 2016 election opponent Hillary Clinton.
Last year, Kushner was accused of failing to turn over emails to Senate investigators relating to his contacts with WikiLeaks, which released emails hacked from Clinton's campaign during the election.
Kushner does not speak often publicly beyond policy issues he deals with as a senior White House adviser, unlike the president's eldest son. Donald Trump Jr., who also participated in the Trump Tower meeting, has told friends and people in his circle that he expects to be indicted by Mueller, according to various reports.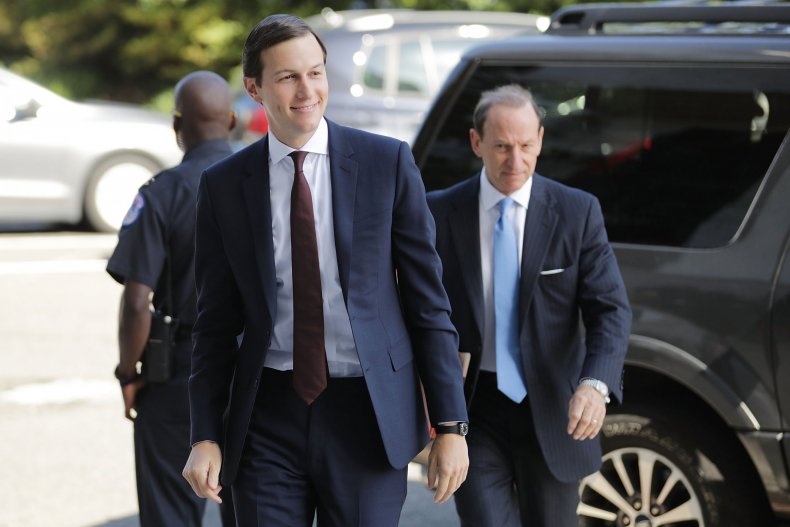 Lowell also said he has "great confidence in the career public servants" and employees of the Department of Justice under recently confirmed Attorney General William Barr.
Lowell's comments came shortly after a lawyer for former Trump campaign manager Paul Manafort incorrectly said that two judges on Manafort's case determined there was "no collusion" between the campaign and Russia. In fact, the judges said they could not weigh in on the matter because Manafort's cases did not involve collusion allegations.
Kushner has been all over the news recently, following a Washington Post report that the president pressured then-chief of staff John Kelly to grant him top-secret security clearance, against the advice of career national security officials.
Lowell did not immediately respond to a request for comment from Newsweek on Friday.
Jared Kushner's Lawyer Praises Mueller: 'I Don't Know of a Special Counsel Who's Done Better' | U.S.