Jared Kushner Told New York Times Columnist to Write 'Nice' Columns and Tweets to Get in Trump's 'Good Graces'
Senior White House adviser Jared Kushner apparently told a New York Times columnist to write positive columns and tweets to get back on the good side of his father-in-law, President Donald Trump.
"I think you could get back in his good graces with a nice column and two nice tweets or two nice columns and a tweet," Times columnist Maureen Dowd said Kushner told her during an interview with Australian Financial Review on Friday.
Kushner reportedly made the suggestion to Dowd after she wrote during Trump's presidential campaign that he was a hypocrite for criticizing Bill Clinton for his infidelities. Dowd had also asked Trump if he had had relations with any woman who later had an abortion.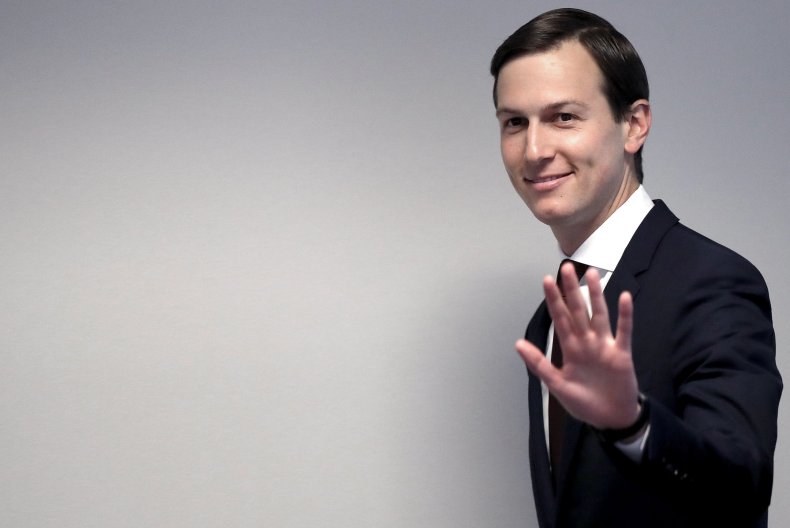 "That's not going to happen," Dowd said she told Kushner in their exchange after Trump had won the presidency.
Trump in September 2016 attacked Dowd on Twitter.
"Wacky @NYTimesDowd, who hardly knows me, makes up things that I never said for her boring interviews and column," Trump tweeted. "A neurotic dope!"
"Crazy Maureen Dowd, the wacky columnist for the failing @nytimes, pretends she knows me well—wrong!" Trump said in another tweet.
Trump's or any other president's comments have never stopped Dowd, who has written satirical pieces that imitate Trump's voice.
"As great as the White House reporters are, if you put a nanny cam on Trump for two weeks and left him alone you would end up at the same place because he is so intent on self-destruction," Dowd said in Friday's interview.
Trump has continued to bash major newspapers and media outlets and accuse them of putting out "fake news."
He tweeted late last month: "90% of media coverage of my Administration is negative, despite the tremendously positive results we are achieving, it's no surprise that confidence in the media is at an all time low! I will not allow our great country to be sold out by anti-Trump haters in the dying newspaper industry. No matter how much they try to distract and cover it up, our country is making great progress under my leadership and I will never stop fighting for the American people! As an example, the failing New York Times."
Before he joined the White House, Kushner had been the publisher of the New York Observer, where a software developer said recently that Kushner had him delete stories that were critical of his real estate friends in 2012.