Jared Kushner Will 'Report Back' to Trump After Middle East Trip Instead Of Announcing Peace Plan
President Donald Trump's son-in-law and senior White House adviser Jared Kushner is spending this week in Israel and Arab countries trying to sell his Middle East peace plan, but will reportedly have to return to Trump rather than release the long-awaited plan, as Israeli officials have speculated.
Kushner departed Monday for Israel, Jordan, Egypt, Saudi Arabia and Morocco to further promote his plan to boost Palestine's economy, which he pushed at a conference in Bahrain in June.
As Kushner arrived on Wednesday, the Israeli newspaper Yedioth Ahronoth reported that Trump would introduce the peace plan in broad terms to Arab leaders at the Camp David summit before Israel's September 17 election. The newspaper claimed that Kushner would hand out invitations for the summit during his Middle East trip.
But a White House official told The Washington Post on Wednesday that "no summit has currently been planned" and that Kushner would "report back" to Trump, Vice President Mike Pence and other officials "to discuss the many potential next steps to expand upon the success of the Bahrain workshop."
The White House did not immediately respond to a request for comment Thursday from Newsweek on the matter.
Kushner has not met with any Palestinian leaders, who believe the peace plan favors Israel, The Wall Street Journal reported on Thursday. Jordan's King Abdullah told Kushner on Wednesday that he expected a peace plan had to have an independent Palestinian state with East Jerusalem as the capital.
But Jason Greenblatt, a senior Trump administration official who has been working with Kushner on the peace plan, last week said the plan would not promise the capital in East Jerusalem.
"Let's remember: an aspiration is not a right," Greenblatt said at the United Nations. "That does not mean that the Palestinians can't aspire to have a capital in East Jerusalem...only the parties themselves, through direct negotiations, can work this out."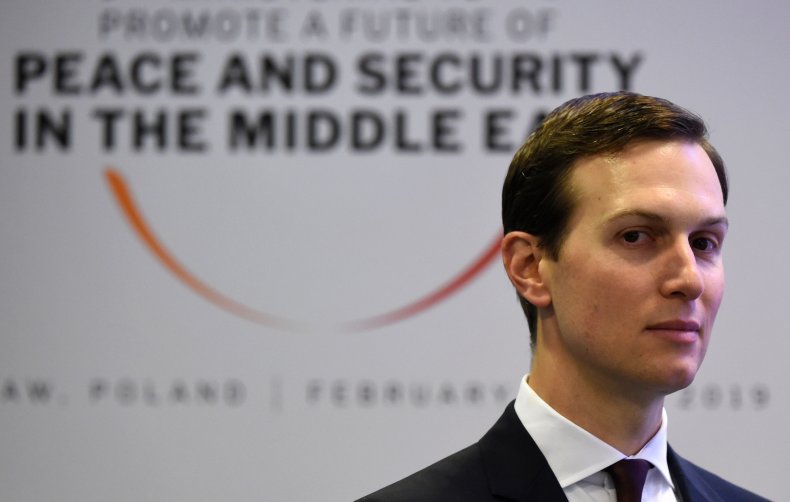 Kushner has said the plan will not include a two-state solution. In May, the Washington Institute for Near East Policy's executive director Robert Satloff asked Kushner if he was concerned about how Trump would react if the plan failed.
"So when you work for a president, you try hard not to disappoint, but you can disappoint," Kushner replied. "When you work for your father-in-law, you can't disappoint."
Kushner continued that he believes he has "established a good track record" on tasks his father-in-law has given him and, "I've come back with results and I've come back with good advice, and I do think that this is something that I do think he will be proud of."