Jared Kushner is 'Not Moral' For Defending Donald Trump's Refugee Cuts, Bernie Sanders Says
Senior White House adviser Jared Kushner "is not moral" for defending President Donald Trump's decision to limit the number of refugees who will be allowed to enter the U.S., 2020 presidential candidate Bernie Sanders opined on Tuesday.
Sanders shared an Axios report from Sunday quoting Kushner, who is the grandson of refugees and Trump's son-in-law, saying that his family going from "the precipice of life and death" to the White House in two generations shows "how great this country is." But he added a caveat about refugees saying "you can't have all of them come into your country."
"I cannot understand this way of thinking from White House advisor Jared Kushner," tweeted Sanders, an independent Vermont senator vying for the Democratic nomination. "It is not moral to have benefitted from the safe haven America provided our parents and grandparents fleeing violence, only to then slam the door shut on today's refugees."
In his interview from Axios on HBO, Kushner responded to a question on if he backed Trump's refugee cuts by saying it "doesn't make a difference one way or the other the number." There are about 68.5 million refugees worldwide.
"I think the amount of money you can spend to help refugees to resettle in their countries and deal with aid is very impactful," Kushner said.
Trump's 2020 budget request calls for a nearly 90 percent budget cut to a refugee program run by a sub-agency of the State Department. Trump also requested that the State Department stop providing funds to Guatemala, Honduras and El Salvador. Many refugees on the southern border have been fleeing to the U.S. amid social, economic and political turmoil in those nations. Turmoil that many experts believe the United States is largely responsible for.
Kushner reportedly supported an administration decision last year to halt funding to a United Nations program that aided about 5 million refugees from Palestine. The president's son-in-law has also spoken in favor of dealing with refugees through the asylum system.
"We're doing our best," Kushner said, "To make sure that you're funding these situations so that the people who are immediately becoming refugees can have as much care as possible."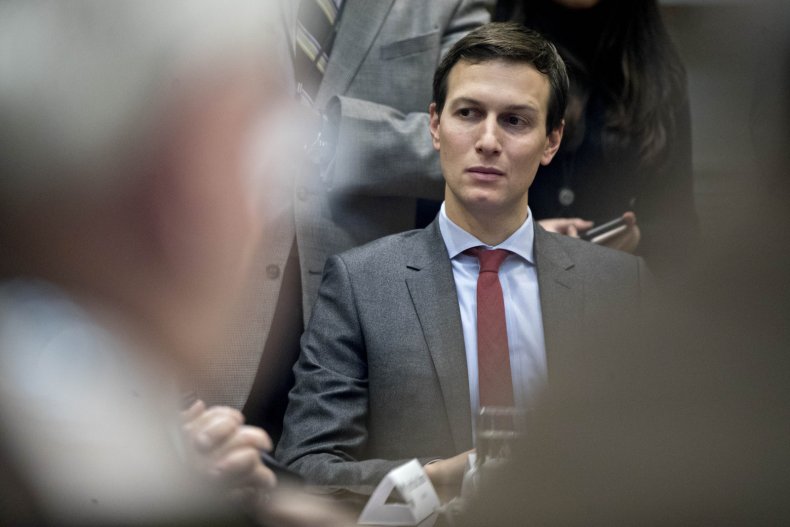 Sanders's foreign policy adviser Matt Duss on Monday criticized Kushner over his comment from the interview that Palestinians deserve "self-determination" but was not confident they are capable of governing themselves.
"This is the racist subtext of so much conservative pro-Israel advocacy, but Jared is too inexperienced to know it's supposed to stay subtext," Duss tweeted.
"To anyone who has spent time in Palestine and seen the strength and resilience of Palestinian communities amid decades of Israeli occupation and repression, amid repeated failures of their own leaders," Duss continued, "The idea that 'they can't govern themselves' is just stupendously ignorant."